Australia — Whitsunday Islands/Great Barrier Reef
Being so far away from home, family and friends can be rough. Ken and I were saddened to learn a dear friend finally lost her battle with cancer. While the news didn't come as a surprise, it was awful not to be with everyone at this time.
We departed Port Vila, Vanuatu on May 17th and started out sailing dead downwind, wing and wing with the pole out. A lot of our sailing has been dead downwind, my least favorite point of sail. The wind came and went and we motored off and on in really confused seas. The spinnaker went up a couple of times. There were a few squalls throughout the passage. Looking back at our log, we had a bit of everything on the almost 7 day passage to Mackay, Australia.
Ken & I have traveled a bit in Australia (Tasmania and Melbourne) on this trip, but this was the first time in Australia for Harry and Altair. As we drew closer to Mackay and the Great Barrier Reef on Australia's east coast, the charts made our entry through the Reef look impossible, but there are passages. We took the Hydrographers Passage, which is a deep water shipping channel. Altair parked on the Customs dock next to Vela at 0200 on May 24th.
Later that morning the Customs and Immigration team arrived on the docks in force. They were very thorough, very pleasant. We were glad we had everything in order, all the forms completed, food all sorted out, etc. Before they finished with us they brought a black lab and a blonde lab aboard and searched Altair end to end. I swear they must have groomed the dogs while they were aboard because we're still finding lab fur all over.
So May is a big Oyster World Rally birthday month! There were many celebrations in the Marina. Each boat that had a birthday received a big bright balloon bouquet, which was really sweet but not very eco-friendly to the marine environment, as a few other yachts pointed out. Just jealous . . . It was very nice to be surrounded by OWR friends so far away from home. Cards, little gifts, really fun b-day!
It seems everything in Australia is lethal. Jellyfish, spiders, sharks, crocodiles, etc. We're all a bit intimidated about swimming and hiking.
Why did we stop in Mackay? Well, it is an easy place to check in with immigration/customs and then launch into the Whitsunday Islands cruising grounds in the heart of Australia's Great Barrier Reef Marine Park. So, send passports off to Indonesian Consulate in Sydney for visas, do laundry, and provision. Visit the kangaroos and wallabies on the beach at dawn. Crocs were spotted swimming around the marina.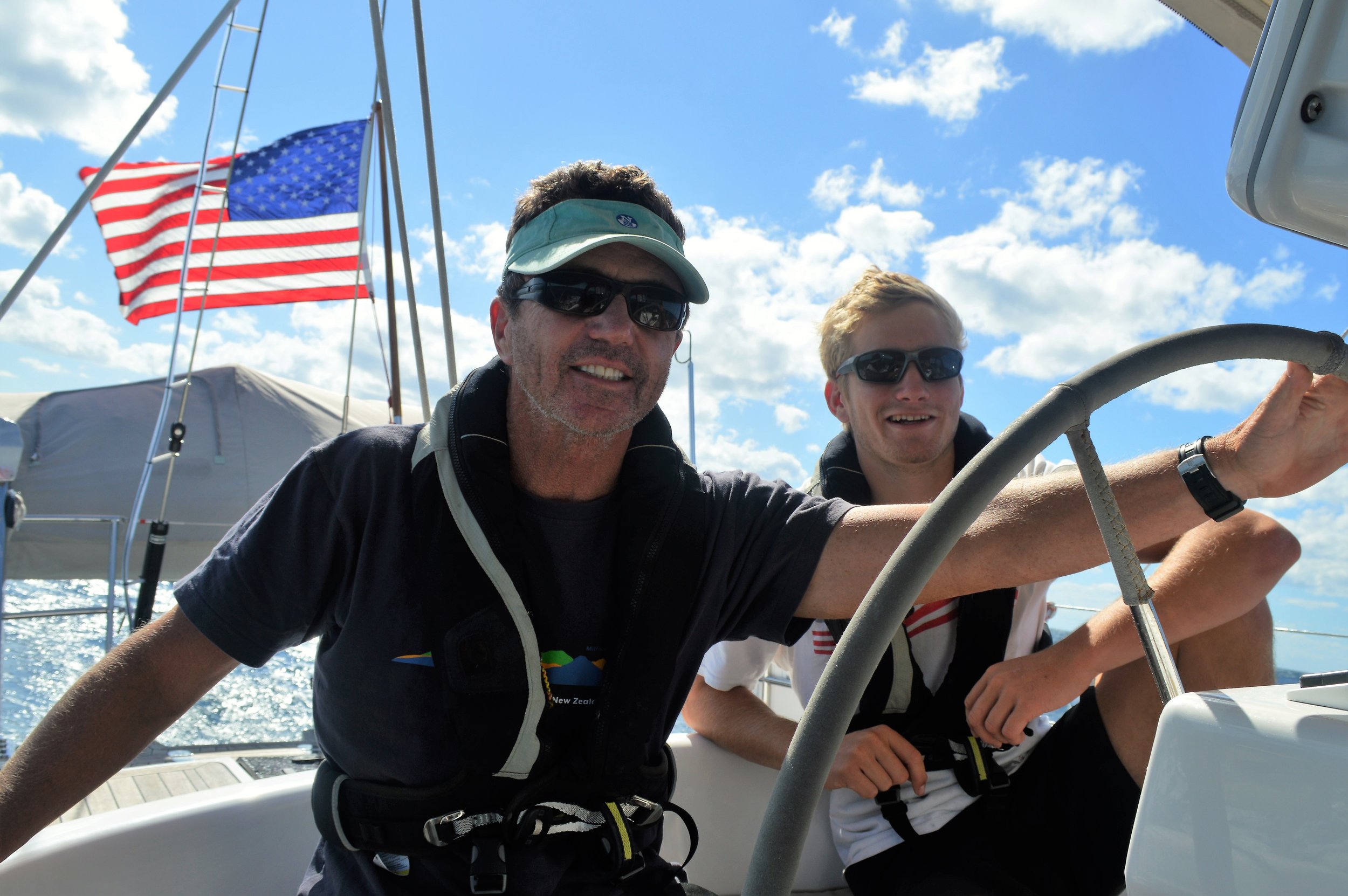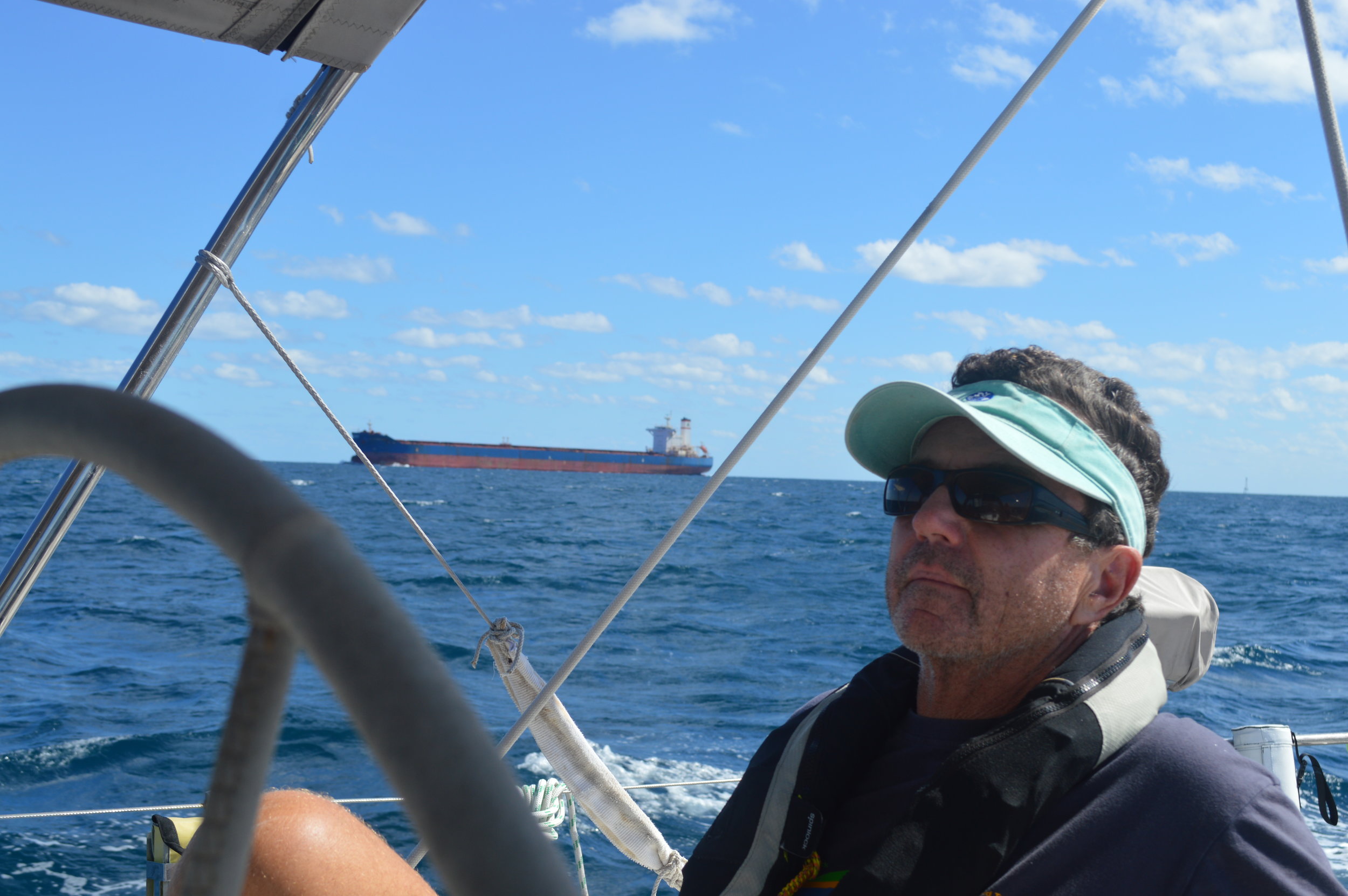 From Mackay the OWR boats set off in small groups with no particular itinerary to see the Whitsunday Islands, so named by Captain Cook in 1770. He failed to account for the International Date Line, so it was really Saturday. Oh well.
We're in the heart of the Great Barrier Reef National Park and we're all terrified to get in the water. Just kidding. The Whitsundays, or Cumberland Islands, were formed by two submerged mountain rages cut off from the mainland by geological events. Oyster had sort of organized a beach barbeque on Whitehaven Beach, also a nice large bay to anchor in. So most of the fleet showed up to eat, drink, swim, play cricket, etc. Harry is an old pro at cricket, as were several other Brits. When Ken joined in they described it as an "abomination". Ken says he "dominated". OK.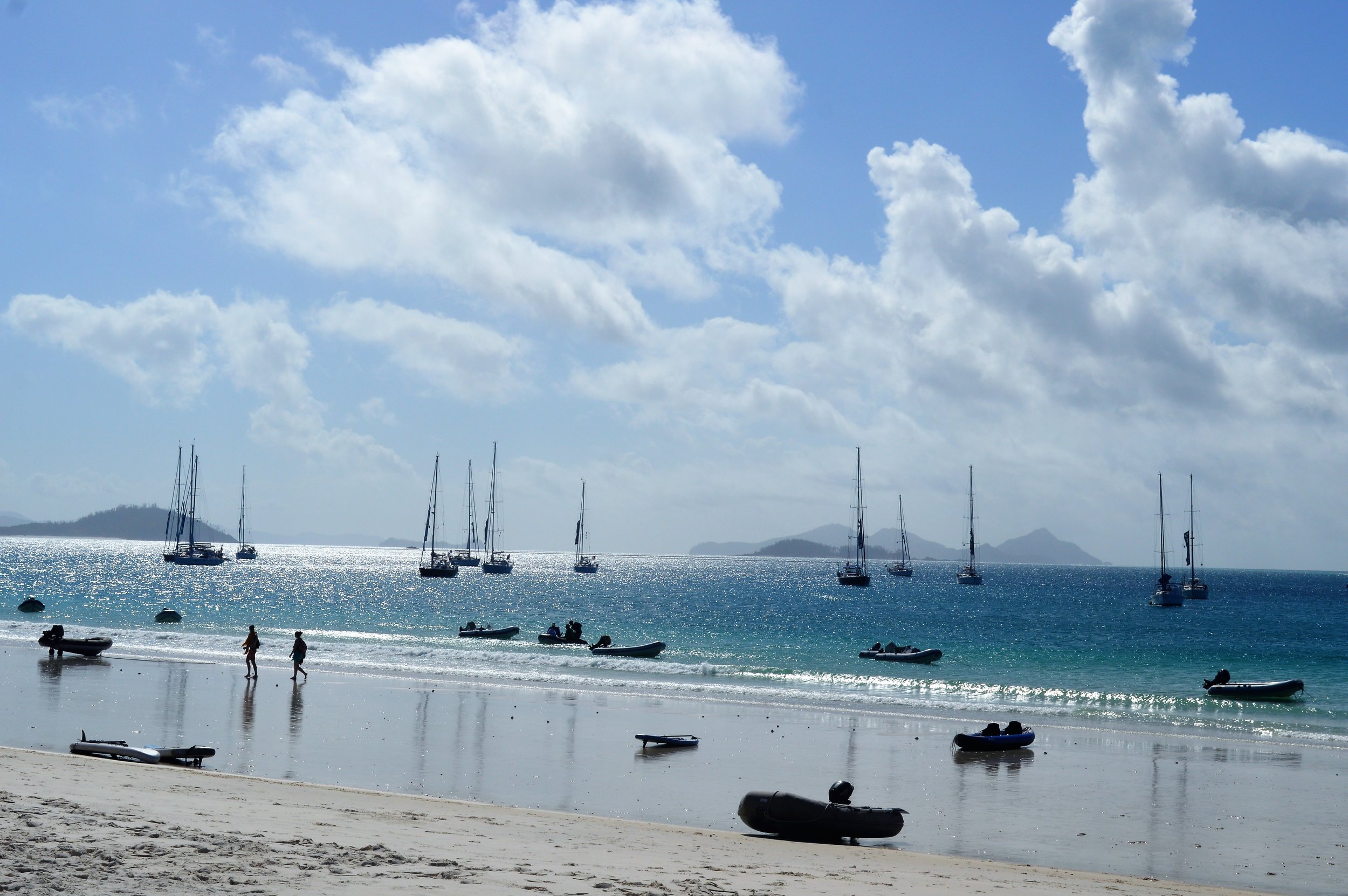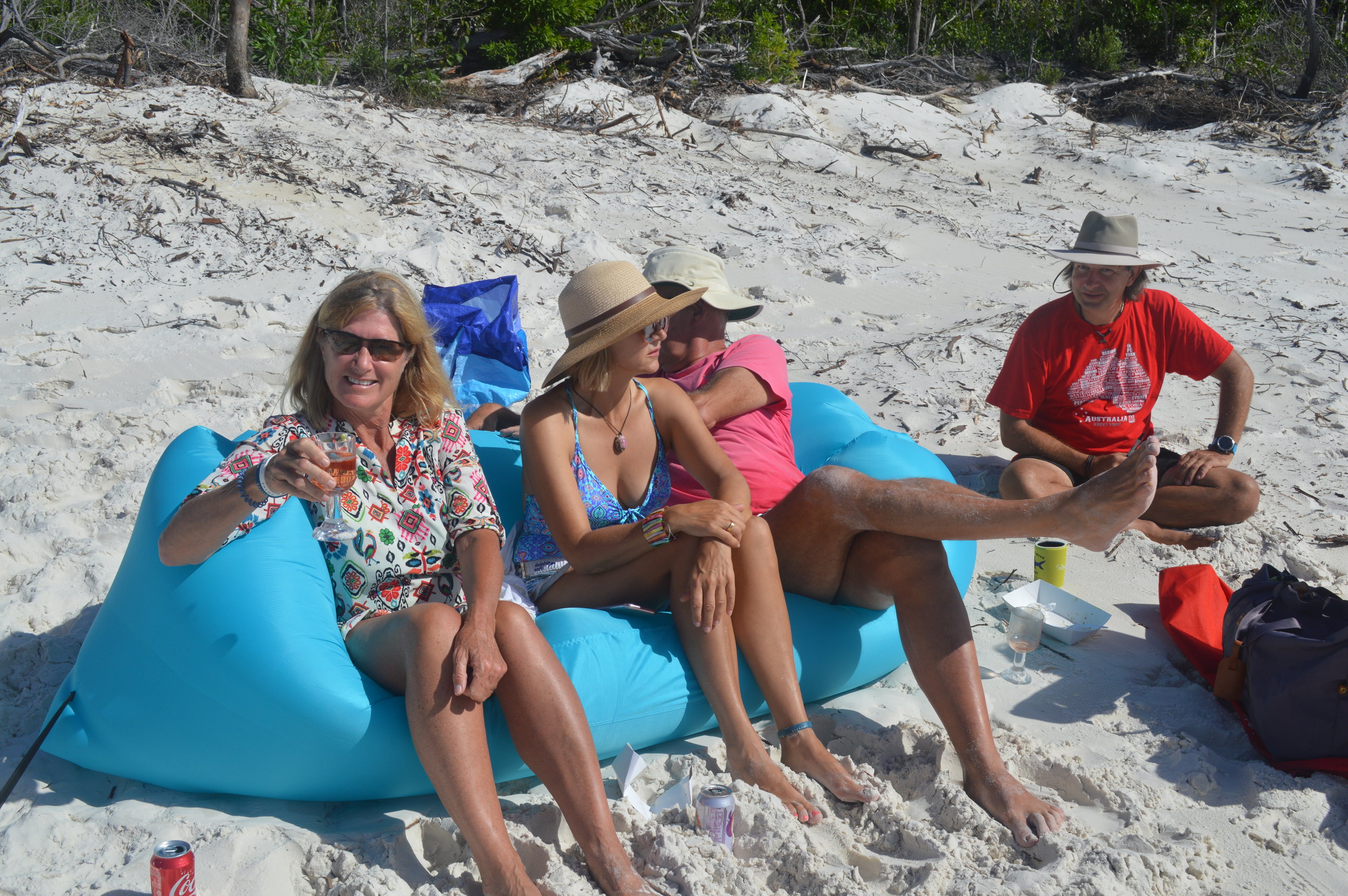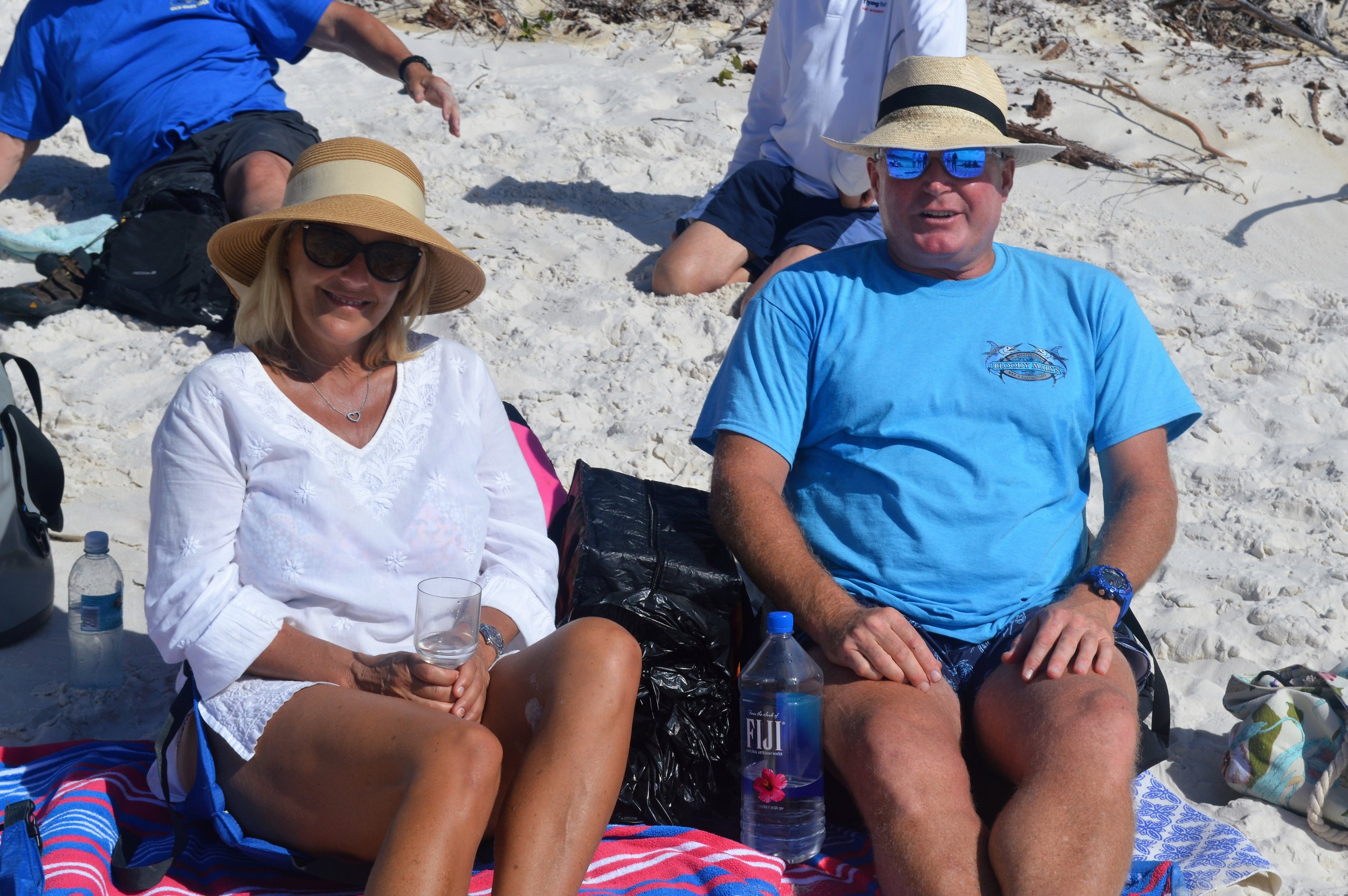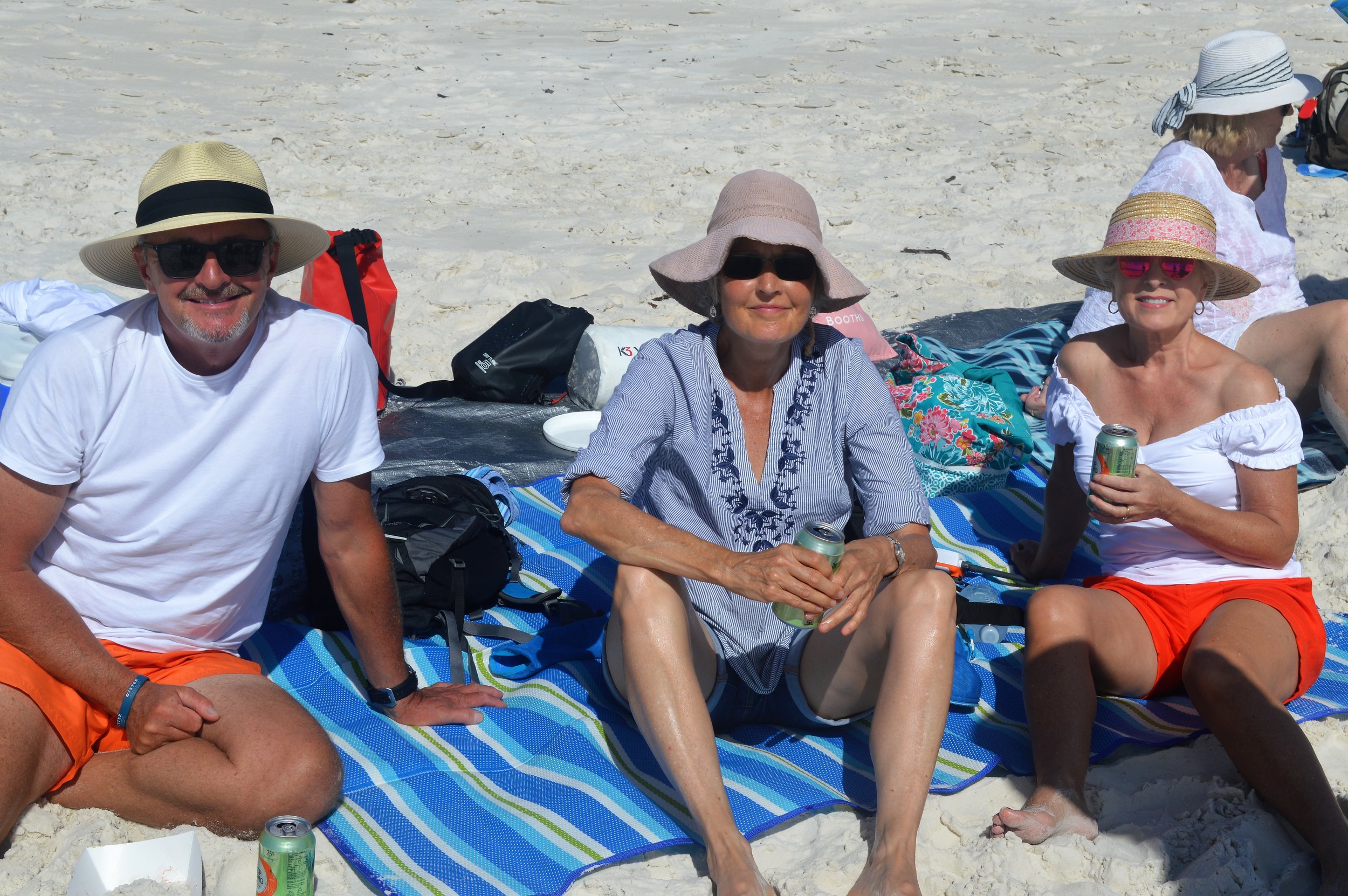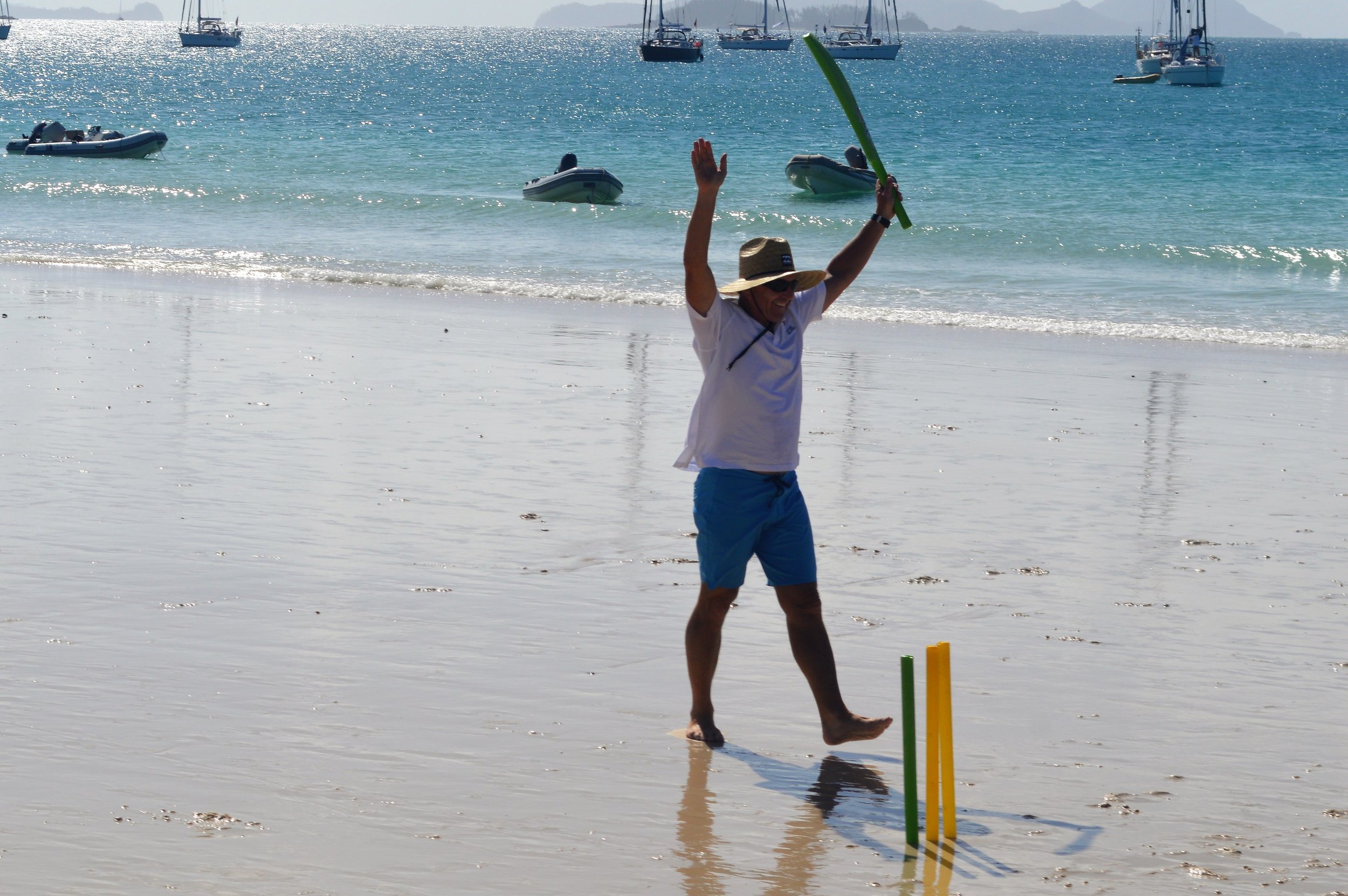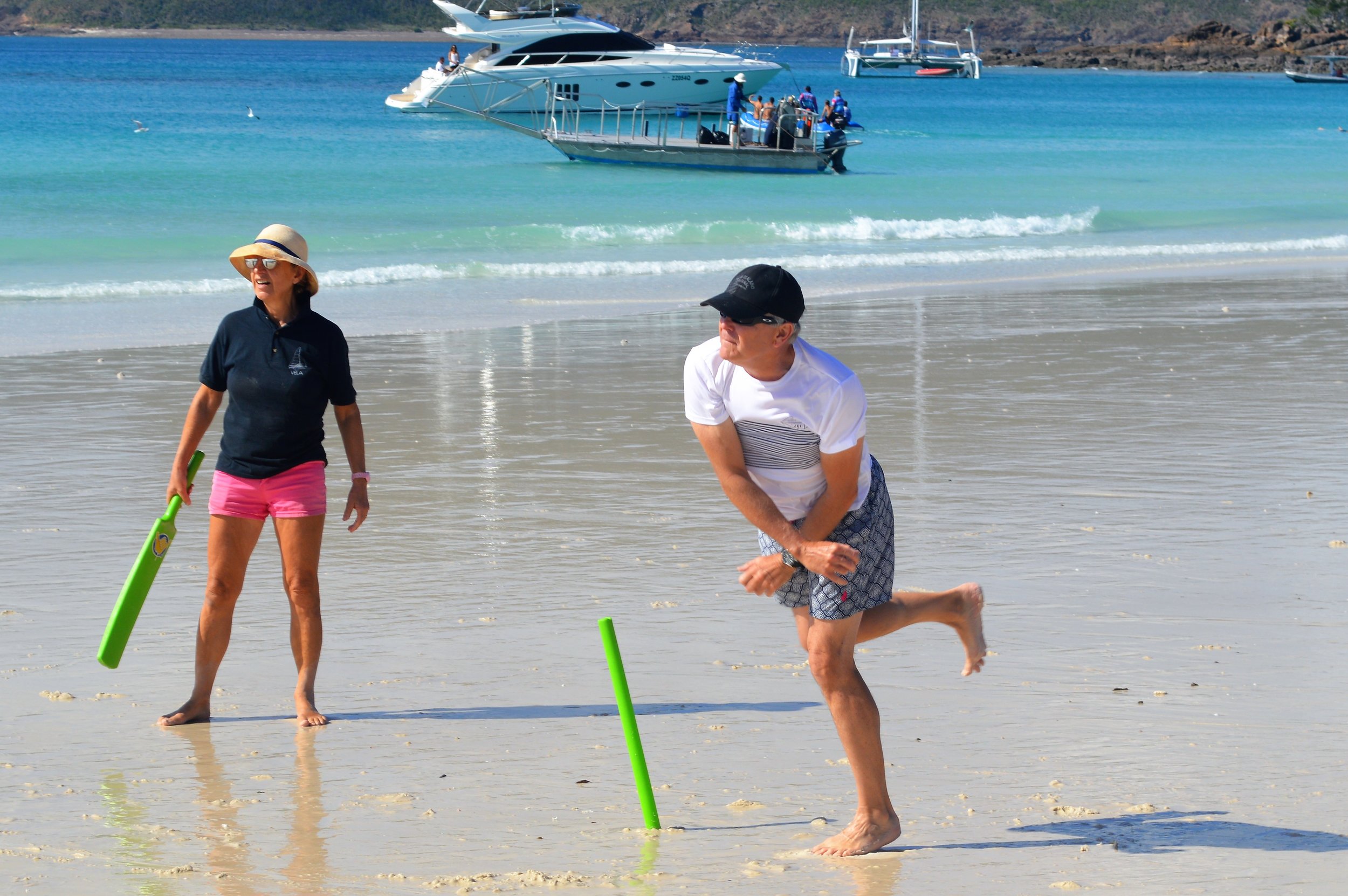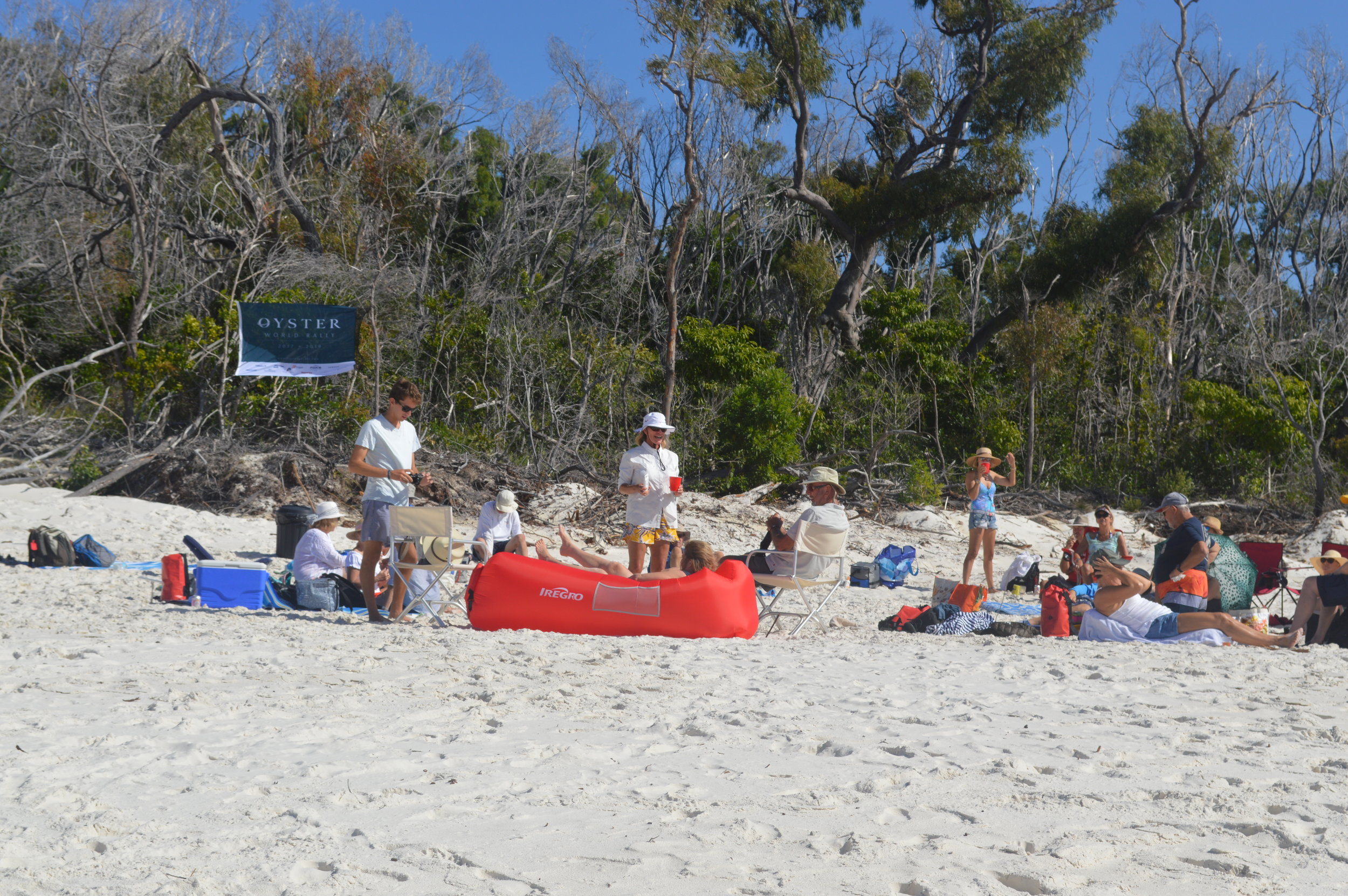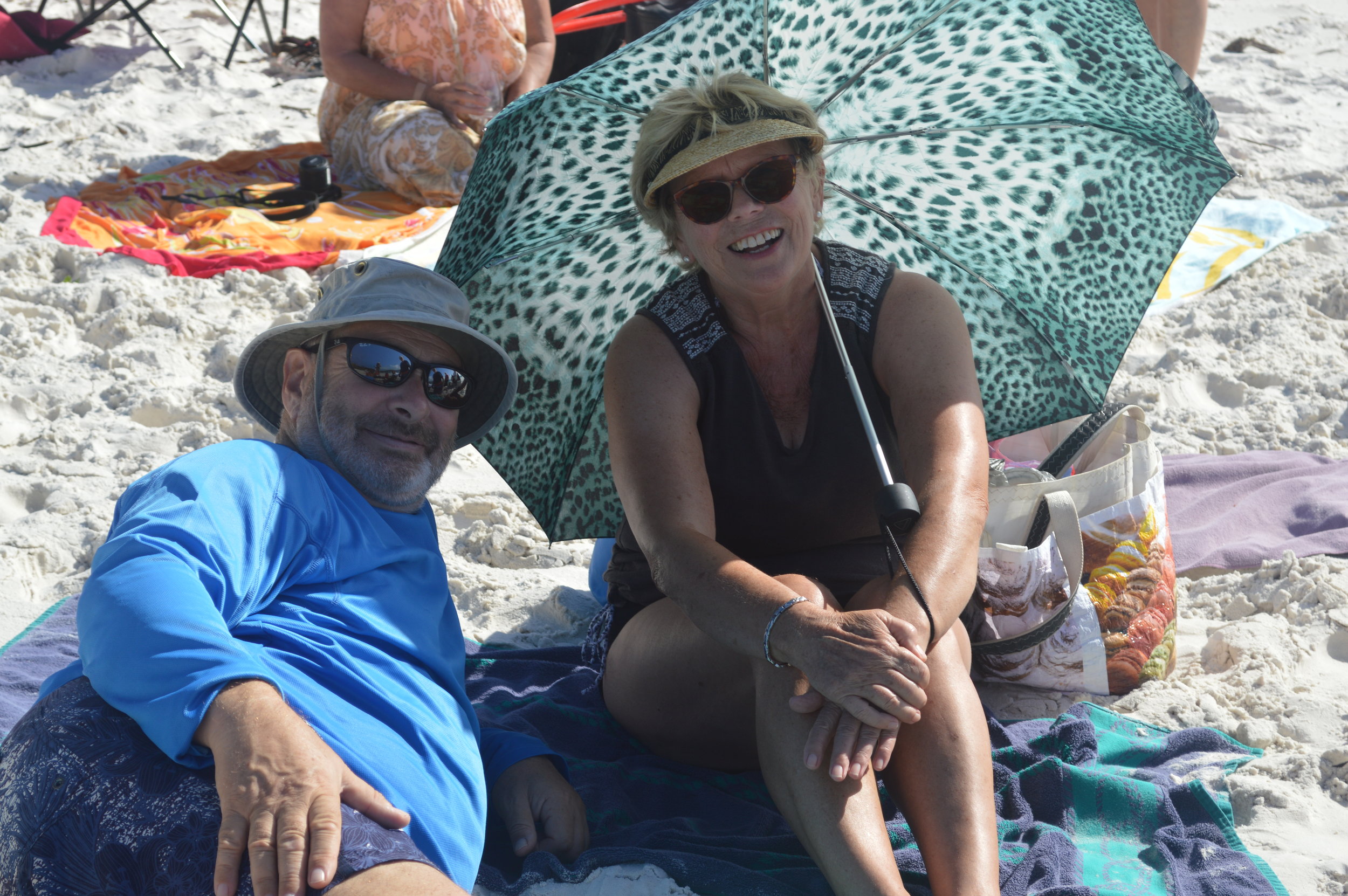 We continued day hopping and then stopped in Airlie Beach, always needing to pick up some part or repair something. While there we went on a crocodile safari – kind of goofy but we did learn a lot. And it is nice to see something besides coastline and marinas.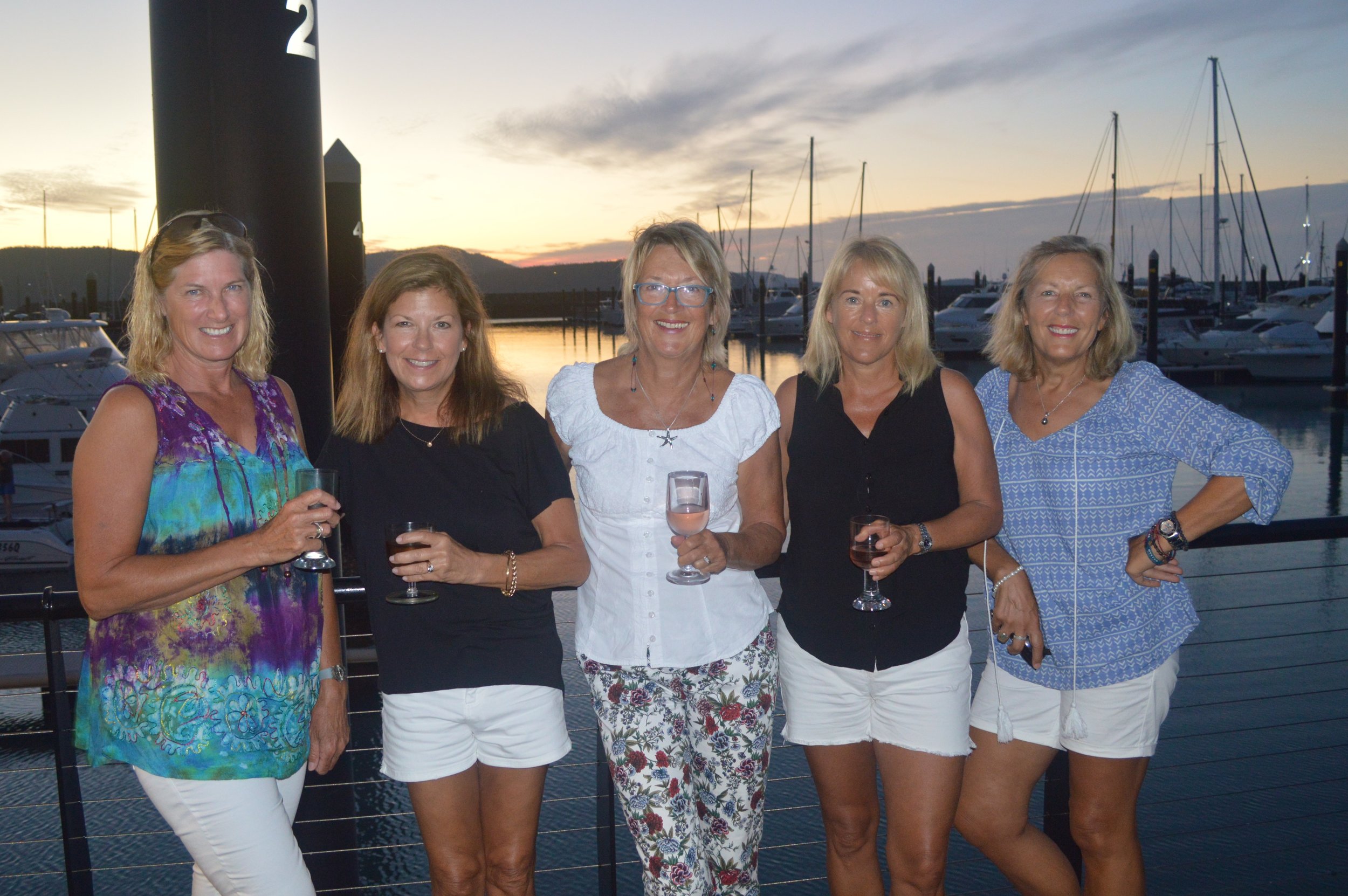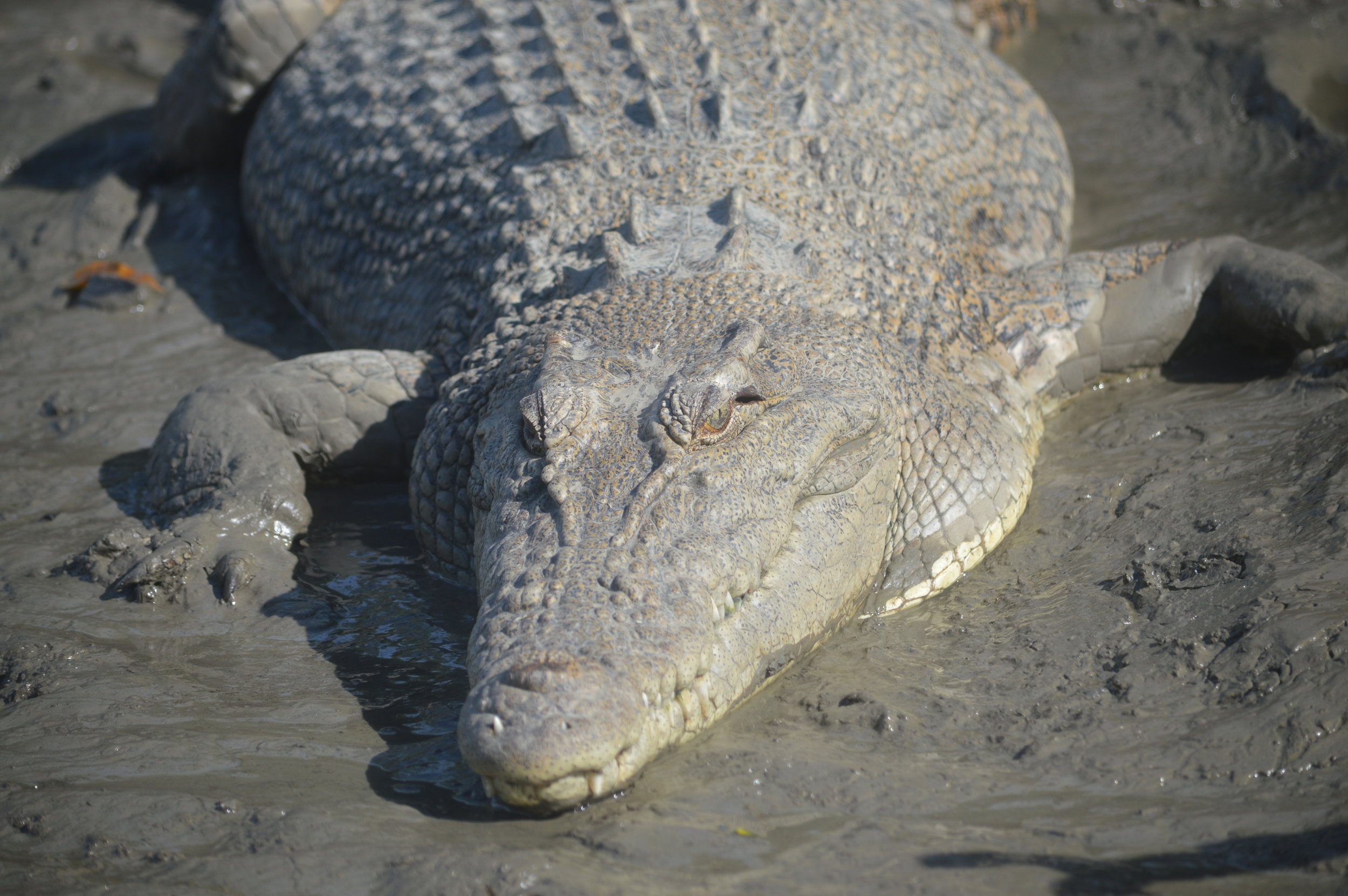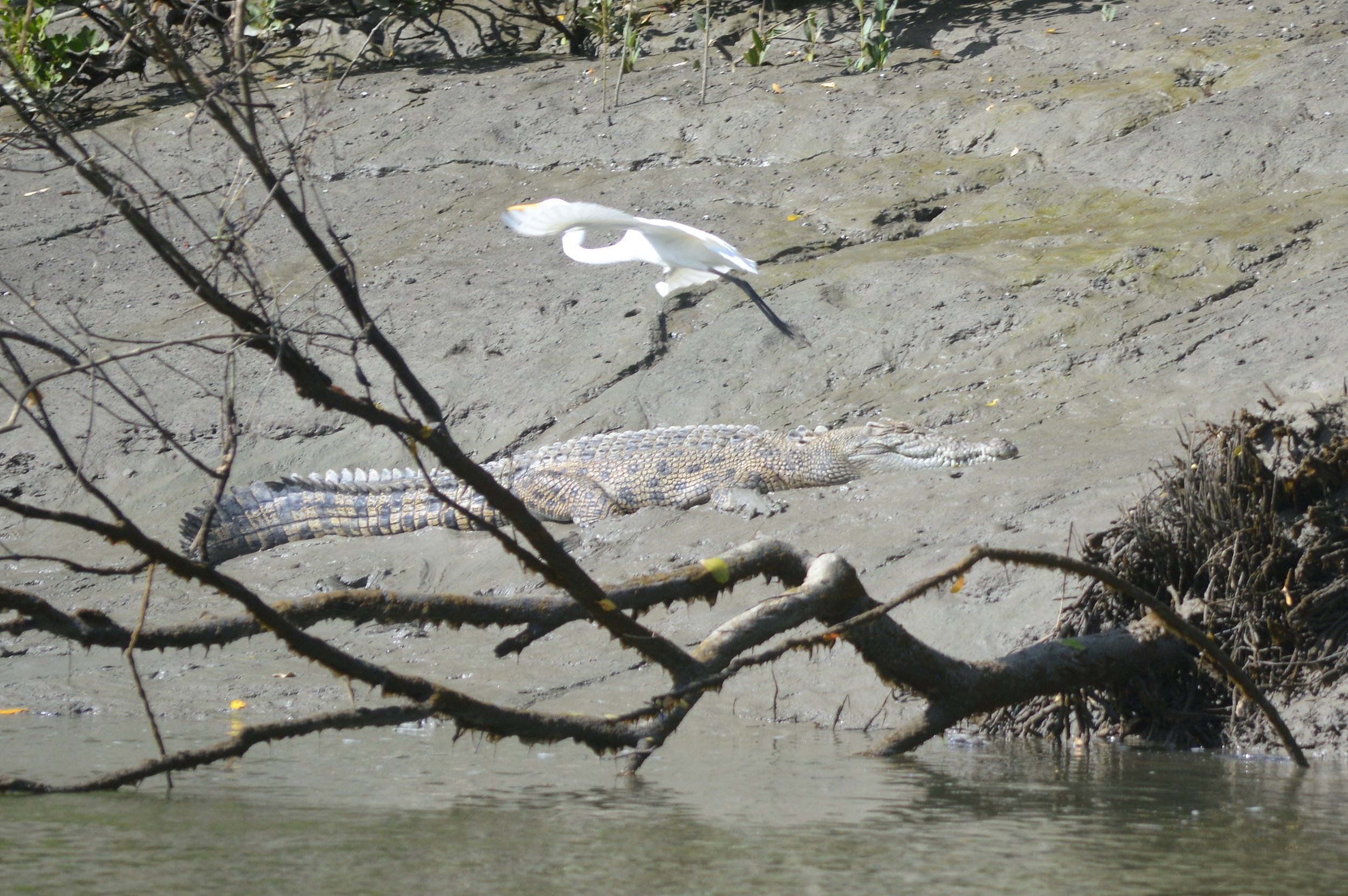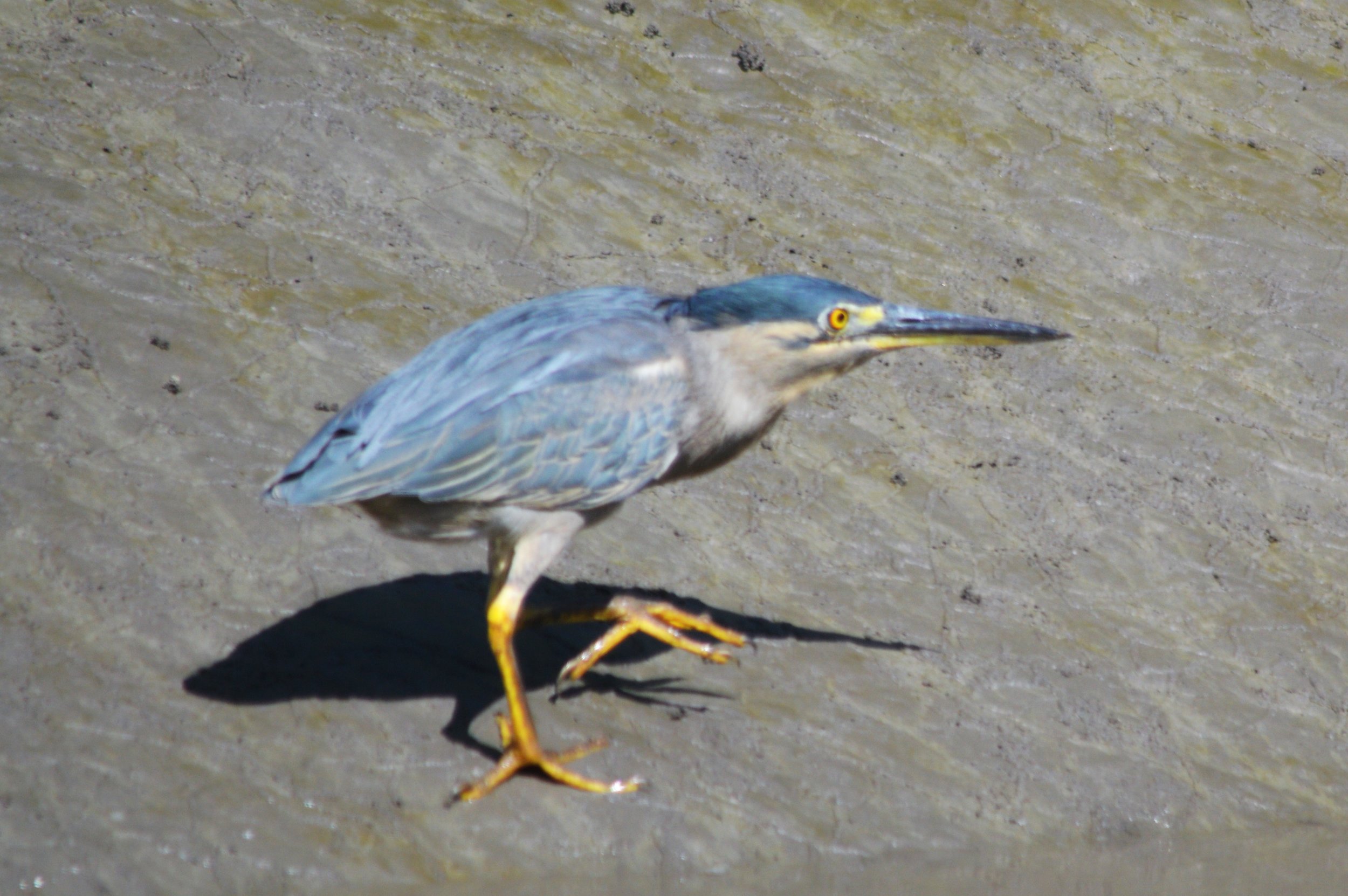 From Airlie Beach we continued on to stalk Manta Rays in Butterfly Bay, Hook Island. These beautiful creatures were all around us. It was fantastic to float in our dinghy next to them and just observe. Of course we also had to jump in and swim with them. I made a pathetic attempt with my go pro camera to get some shots, but it was better just to watch. Tom Pedley of Sea Flute, a professional, was kind enough to share some of his shots. I think you can tell which are his!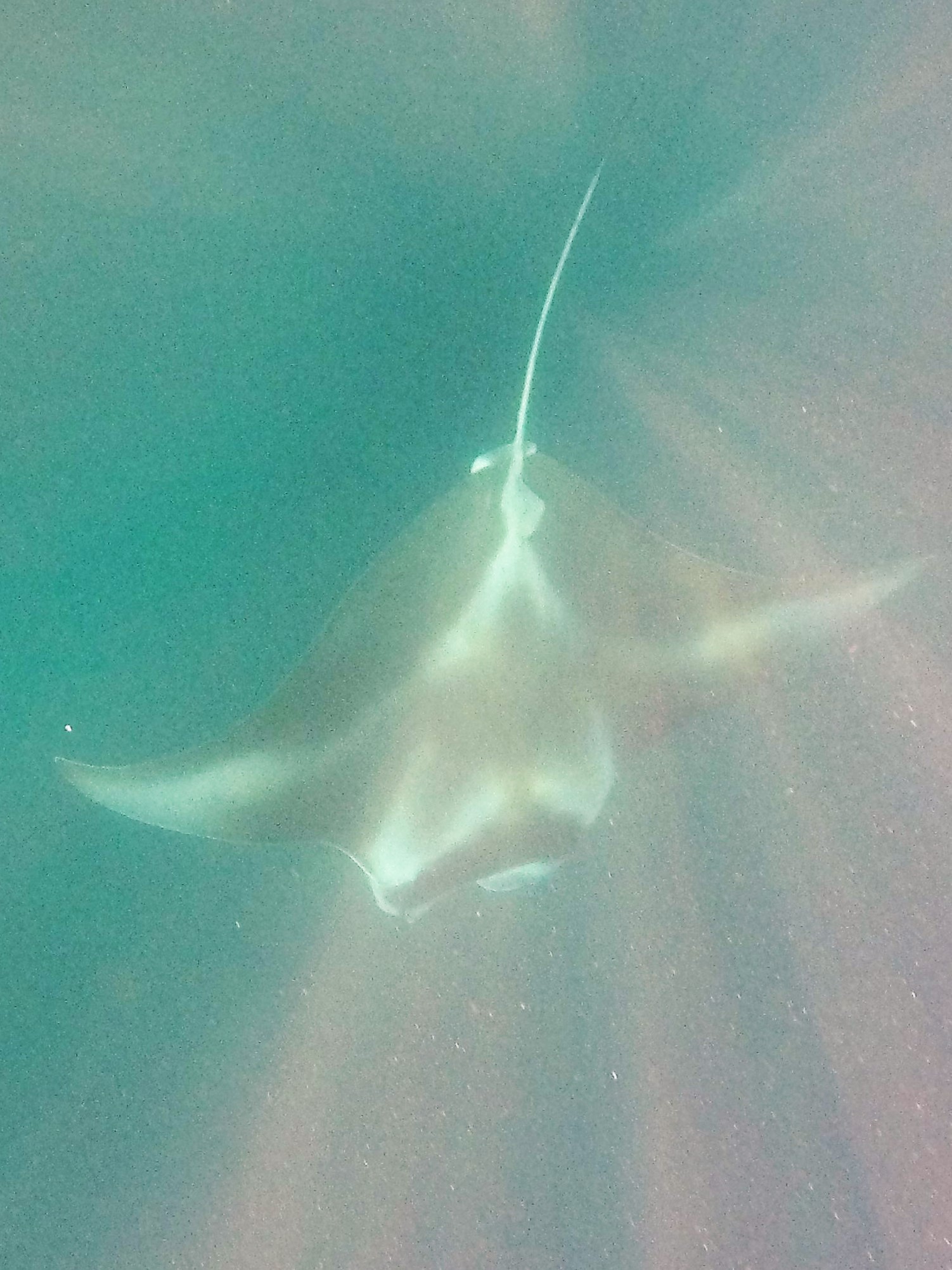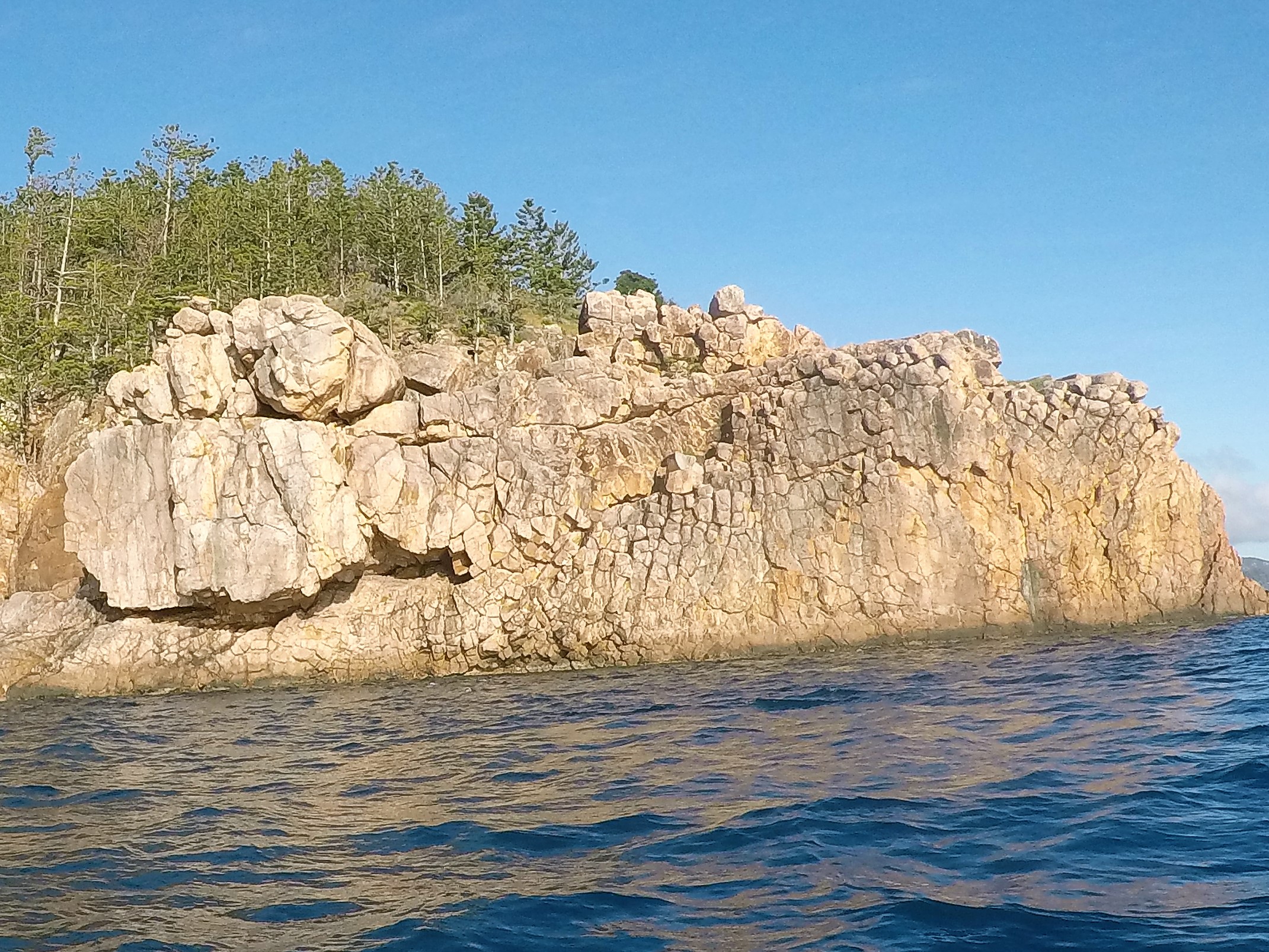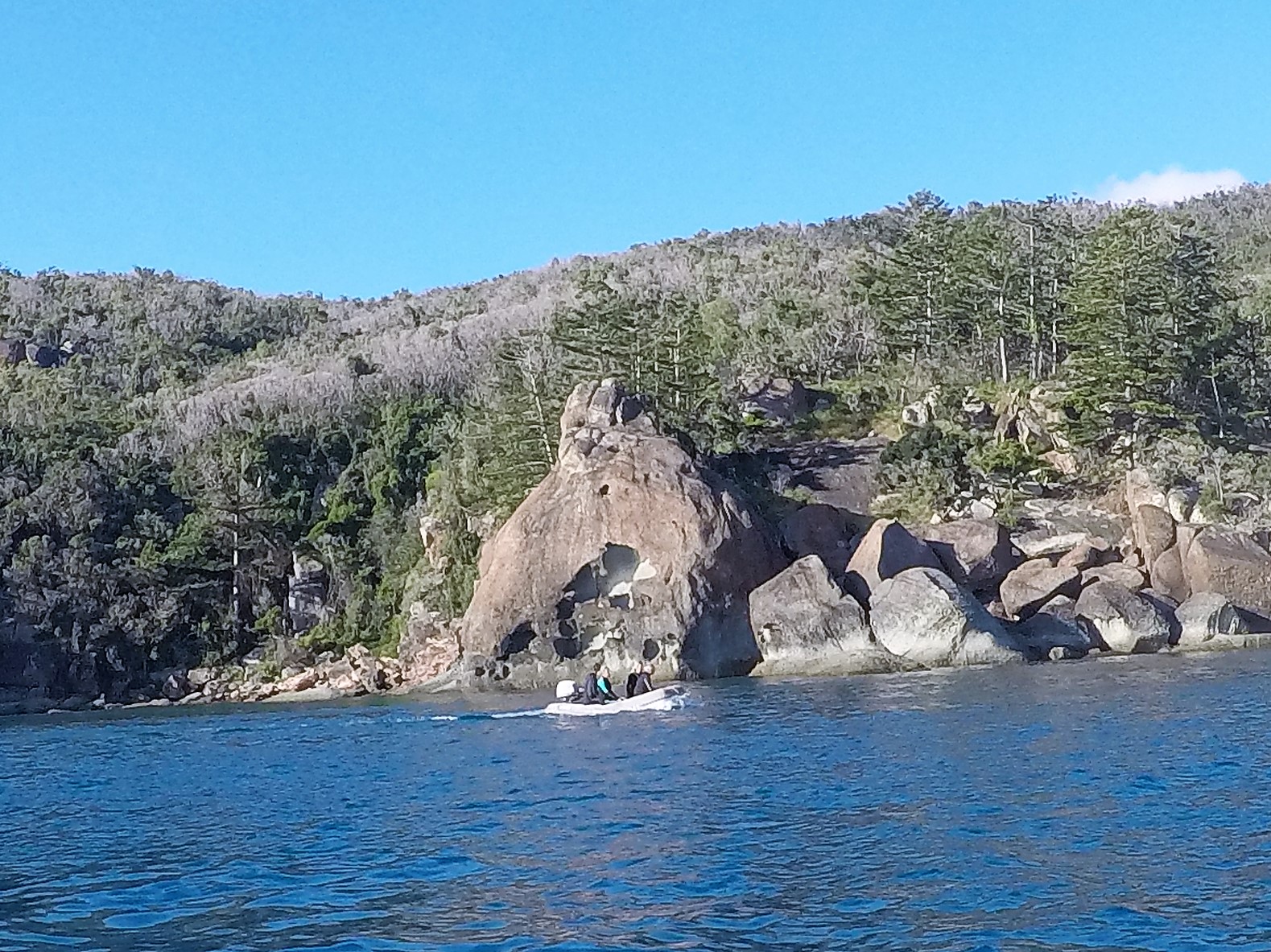 What is one of the most iconic creatures of Australia? Koala Bears! While I guess I'd like to hug one, I really didn't want to see them in a petting zoo, plus they apparently have a koala strain of chlamydia. If you find one in the wild it's not hard to get a picture because they pretty much sleep most of the time, 20 hours of the 24 hour day. The awake hours are apparently spent fighting and spreading little koala STD's. We made a stop at Magnetic Island, another island name bestowed by Captain Cook as his compass went wonky while passing by. Magnetic Island is home to 800-900 Koalas, I had several conflicting reports. Magnetic was also an important strategic defensive point during WWII. Home to large fleets, artillery batteries and observations posts.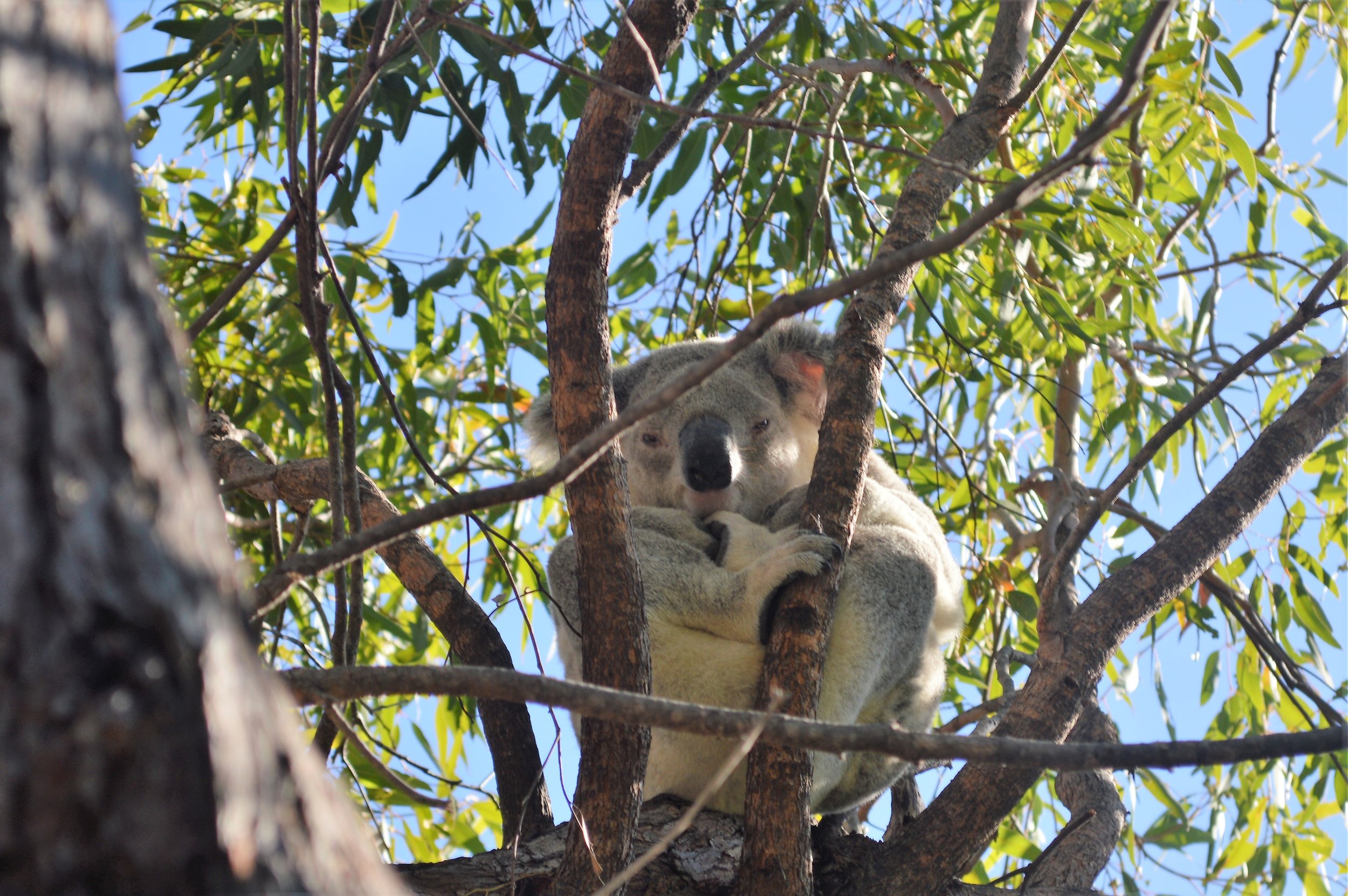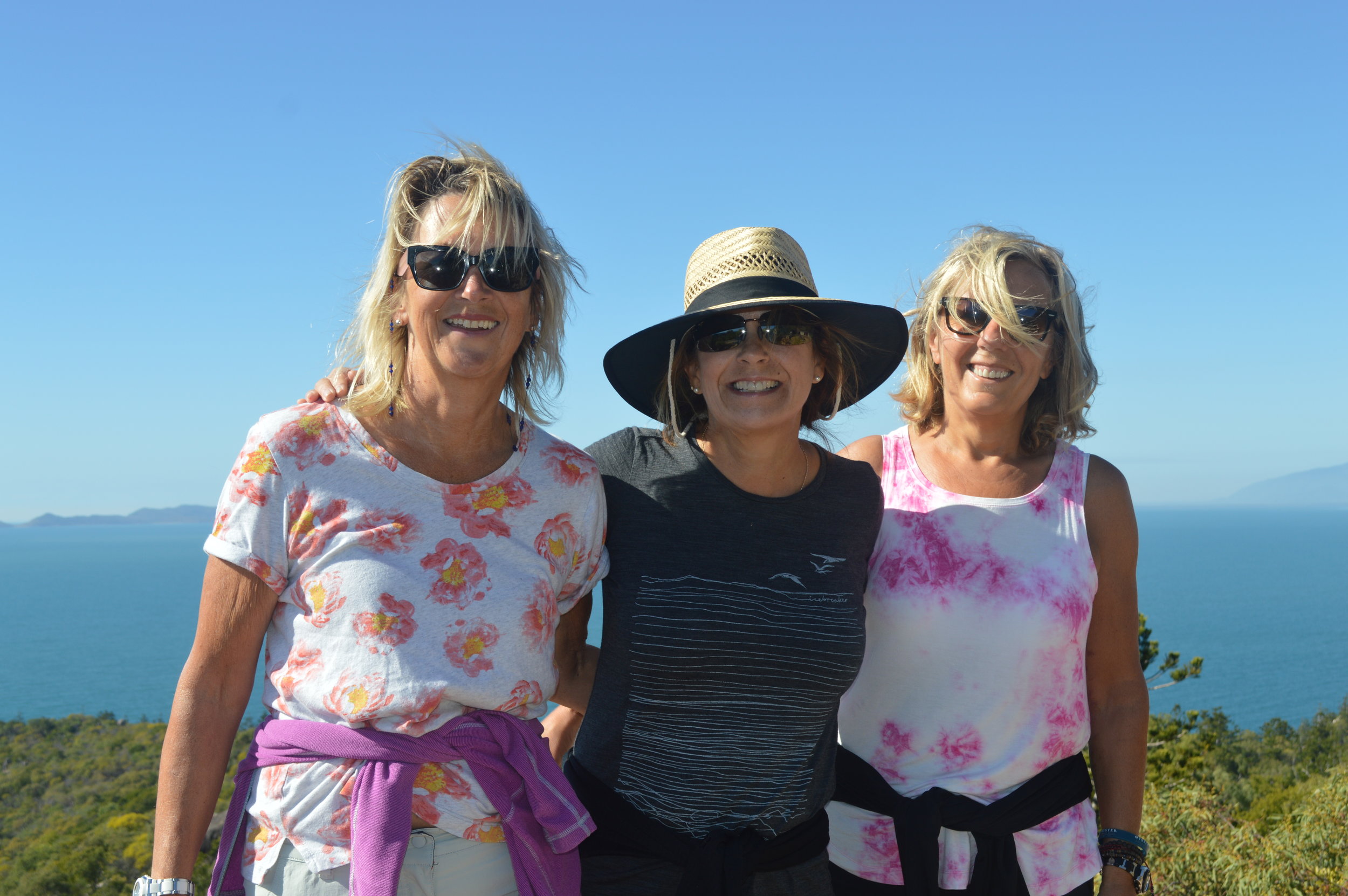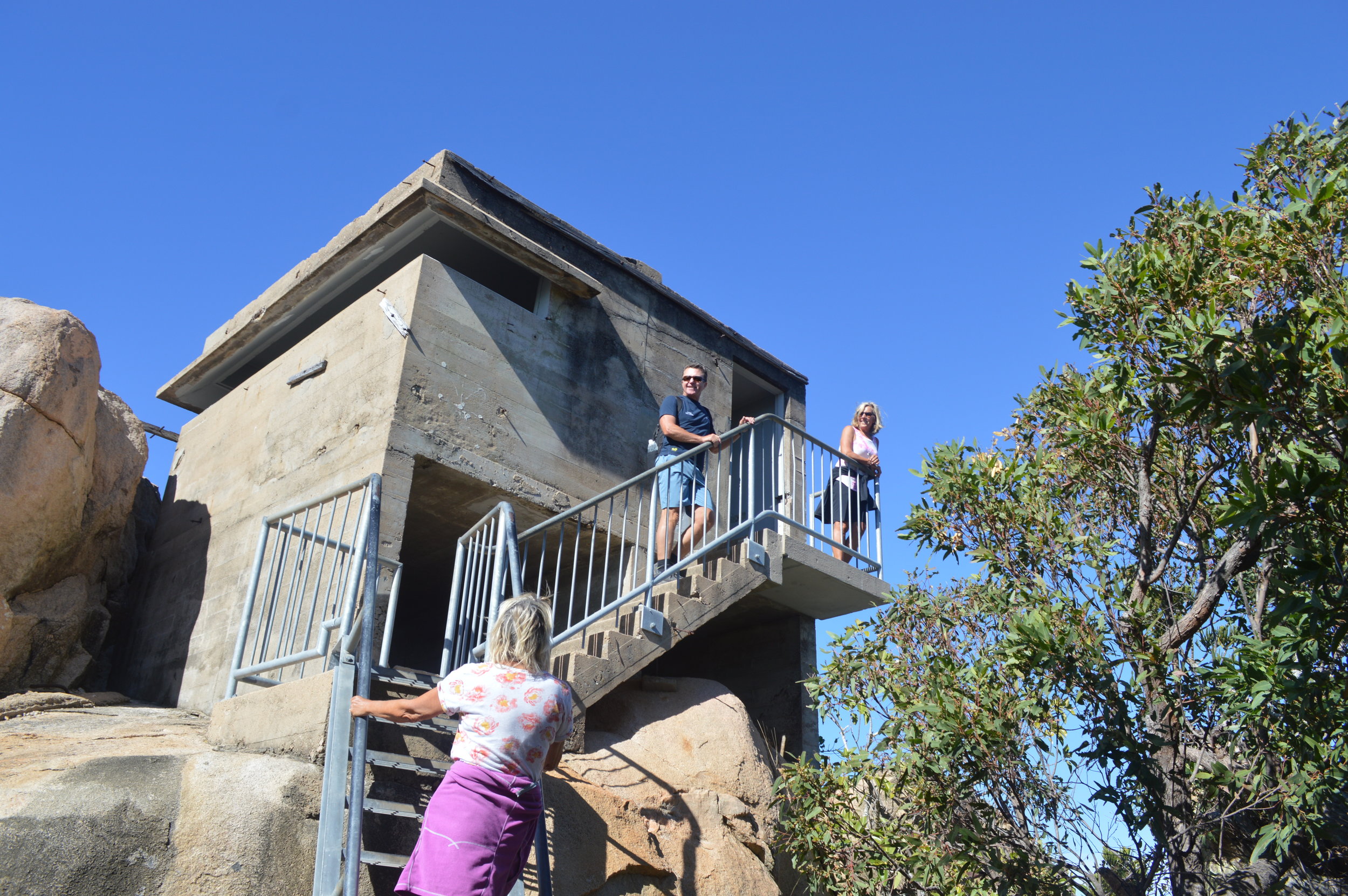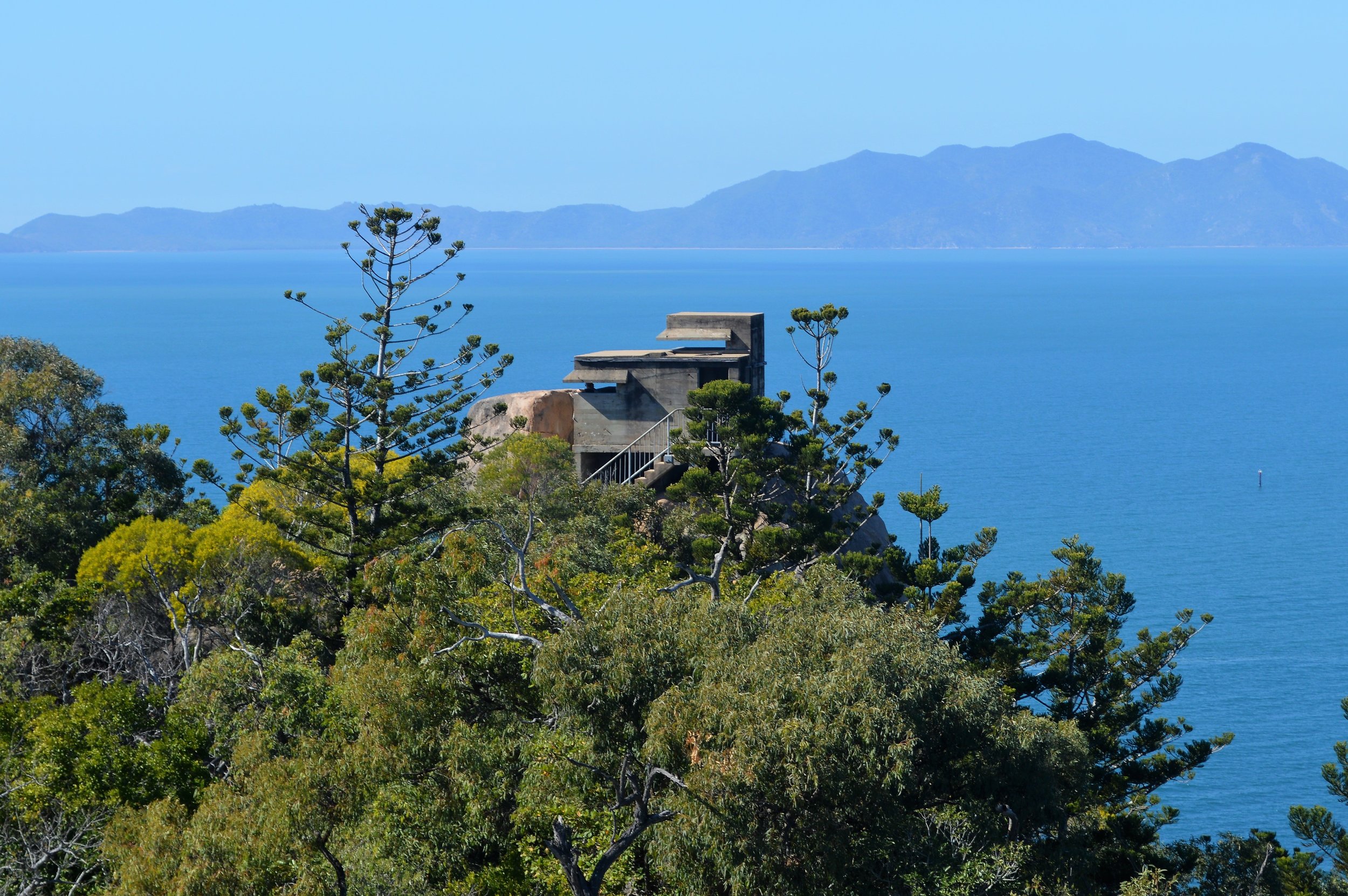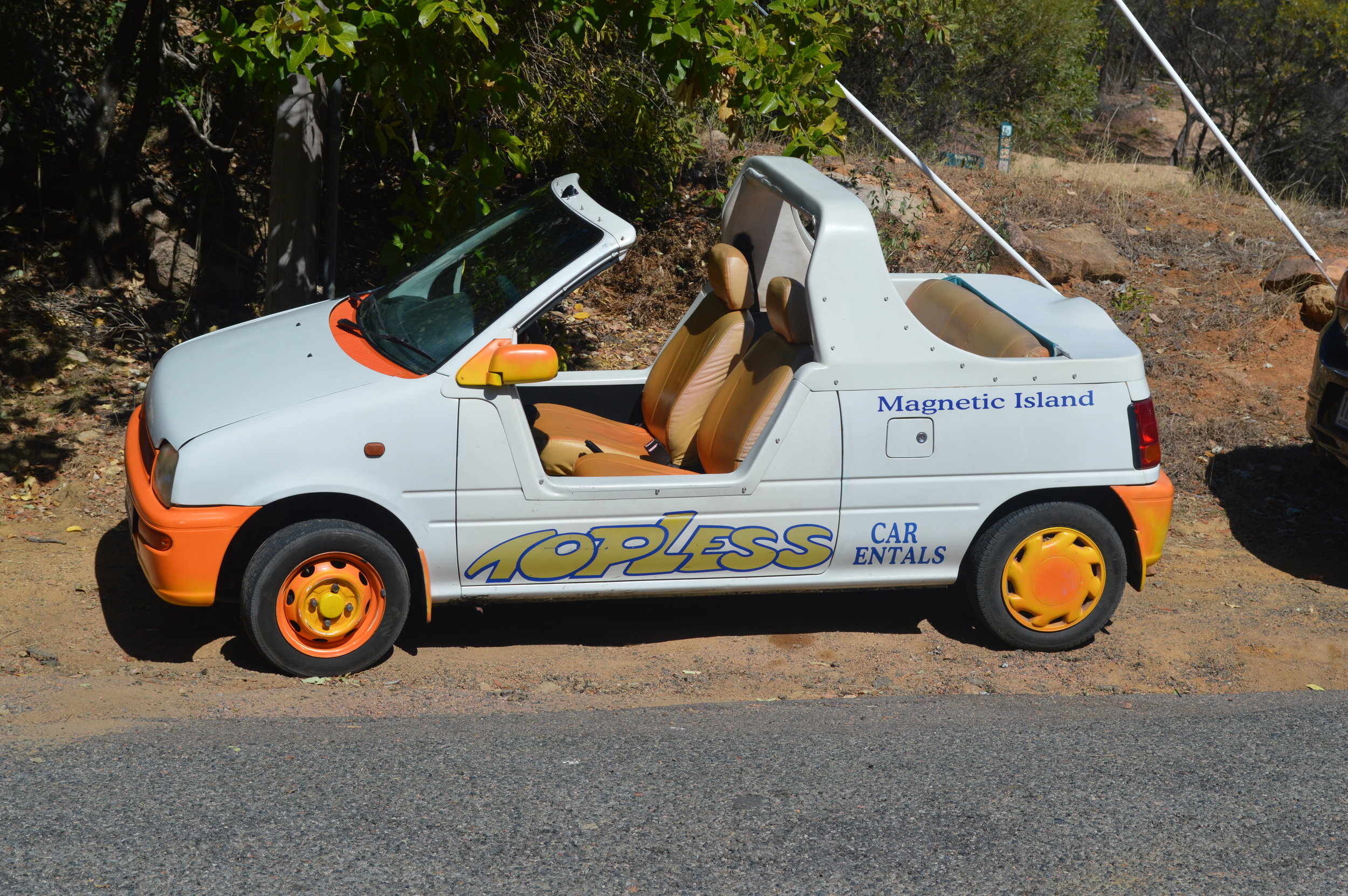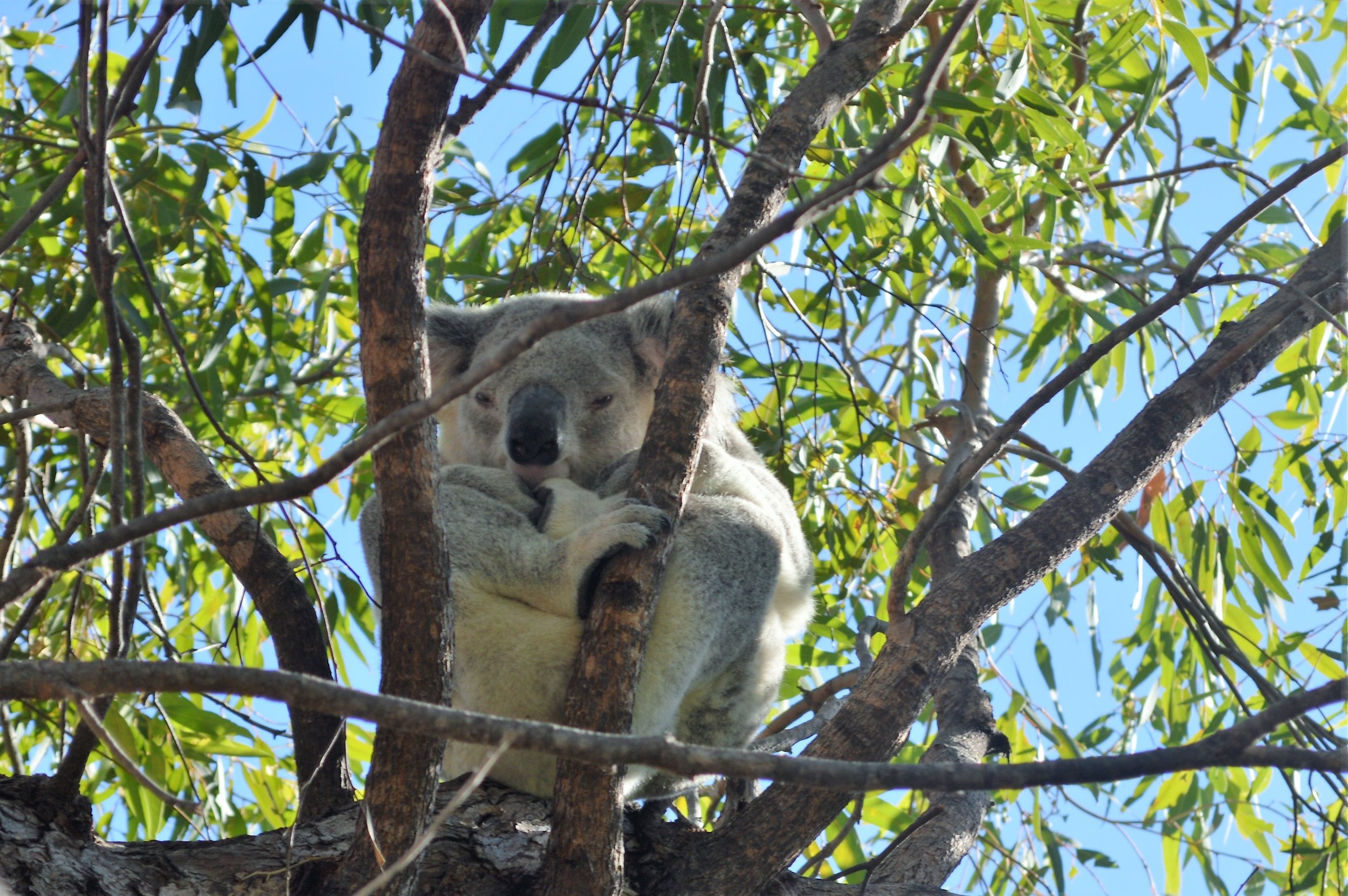 Last but not least, how can divers visit the Great Barrier Reef without going diving? A strong sense of self-preservation, perhaps. Well, when we arrived in Cairns (pronounced Cannes) the OWR's own James Nathan Tours once again stepped up and organized an Oyster Dive Day. A huge catamaran dive boat just for us! A bumpy ride way out to one of the best Great Barrier Reef spots. Many people think the Reef is Mecca for divers, but it is cyclical and many parts are sort of dead or recovering. The dive boat even had a bar which opened after dives were done for the slog home.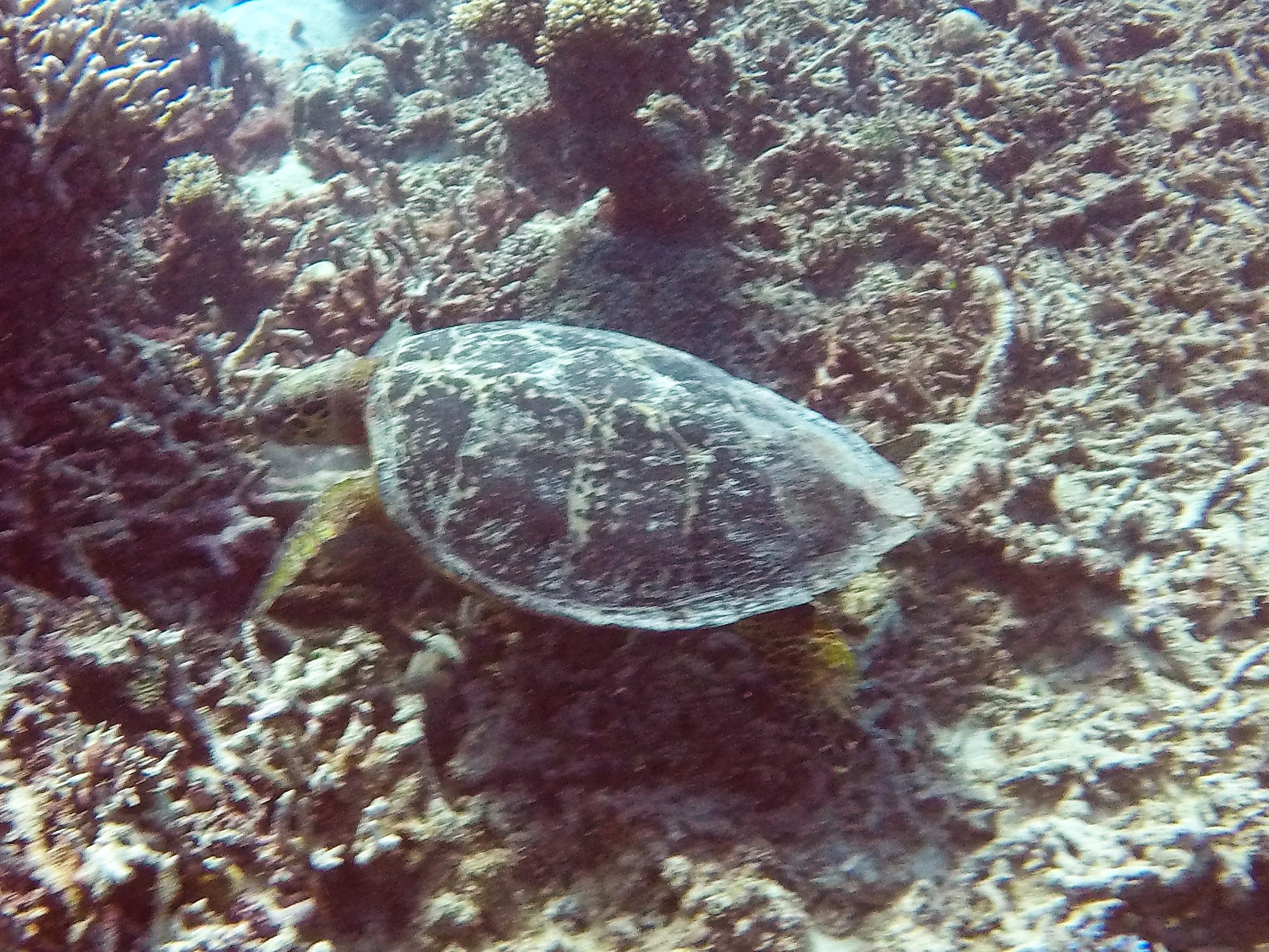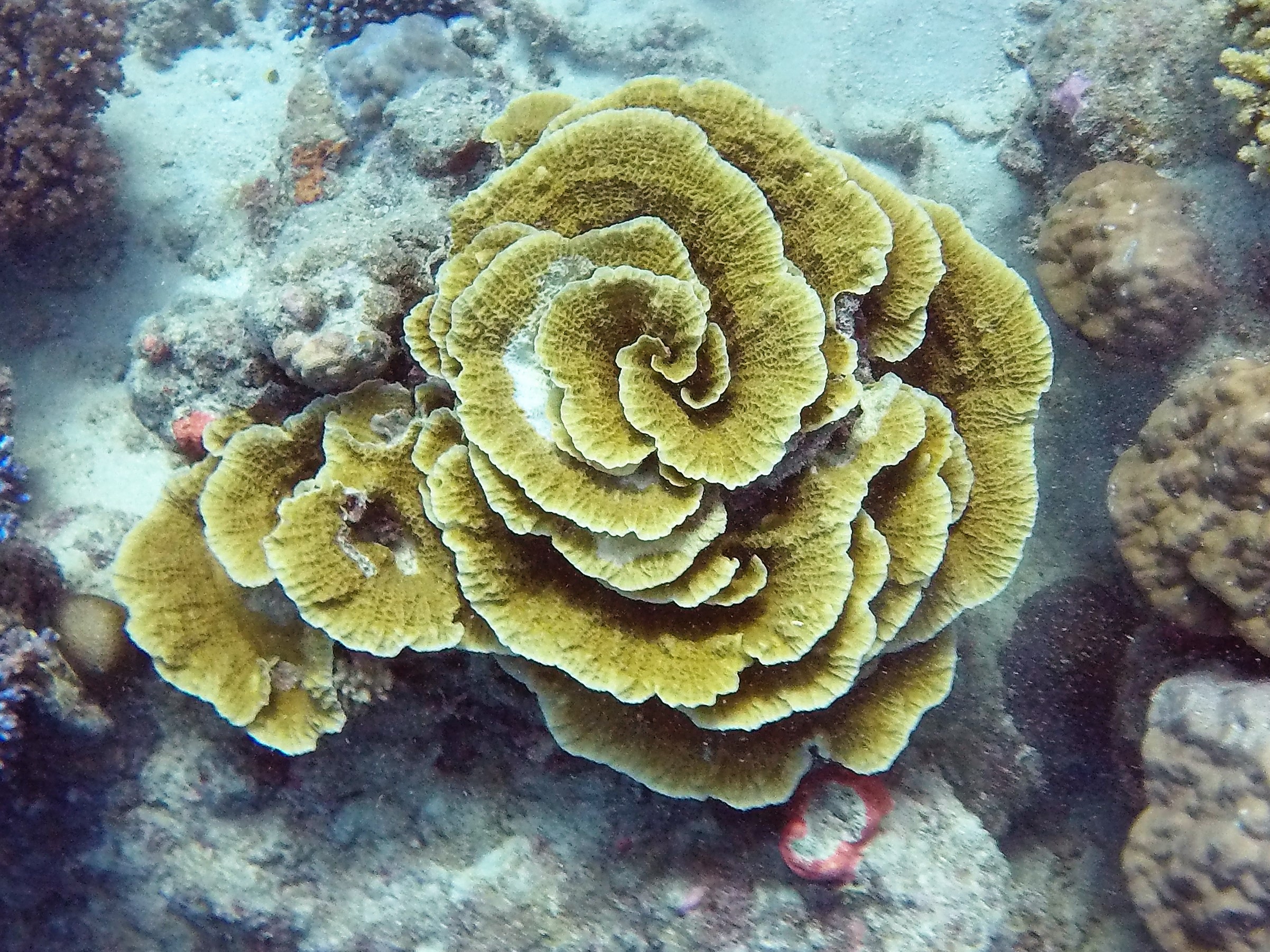 Well, I have to end here as I have to get started on the Indonesia blog! We made a lot of other cool stops; Whitsunday Island, Hamilton Island etc. Wonderful place to sail! So ends the Antipodean Leg of the Oyster World Rally. We checked out of Thursday Island, Australia and headed for Kupang, Indonesia. The Asian Leg begins!