Carnival and Canal
Shelter Bay Marina in Panama is the Oyster designated spot to prepare and wait for the Panama Canal transit. We were told our transit would be March 14th but to be prepared for last minute changes. The Marina had been much maligned. We arrived at Shelter Bay expecting the worst, but we were pleasantly surprised. It is a clean, friendly place. The facilities were great; swimming pool, laundry, mini-market, water and power, nice docks, haul out, a very decent bar and restaurant, etc.
We found some shady running routes and an afternoon water aerobics class. Cliff, a fellow Oyster sailor, taught a morning yoga class. So, we settled in comfortably to wait on our transit. Altair was short hauled to do a bottom clean (required for Galapagos entry) and change some anodes. Altair was also measured and inspected by a Panama Canal representative.
Oyster arranged a Carnival Party at Fort San Lorenzo. Great view, fantastic food and entertainment. All the costumes, many makeshift from whatever people had on board, were hilarious.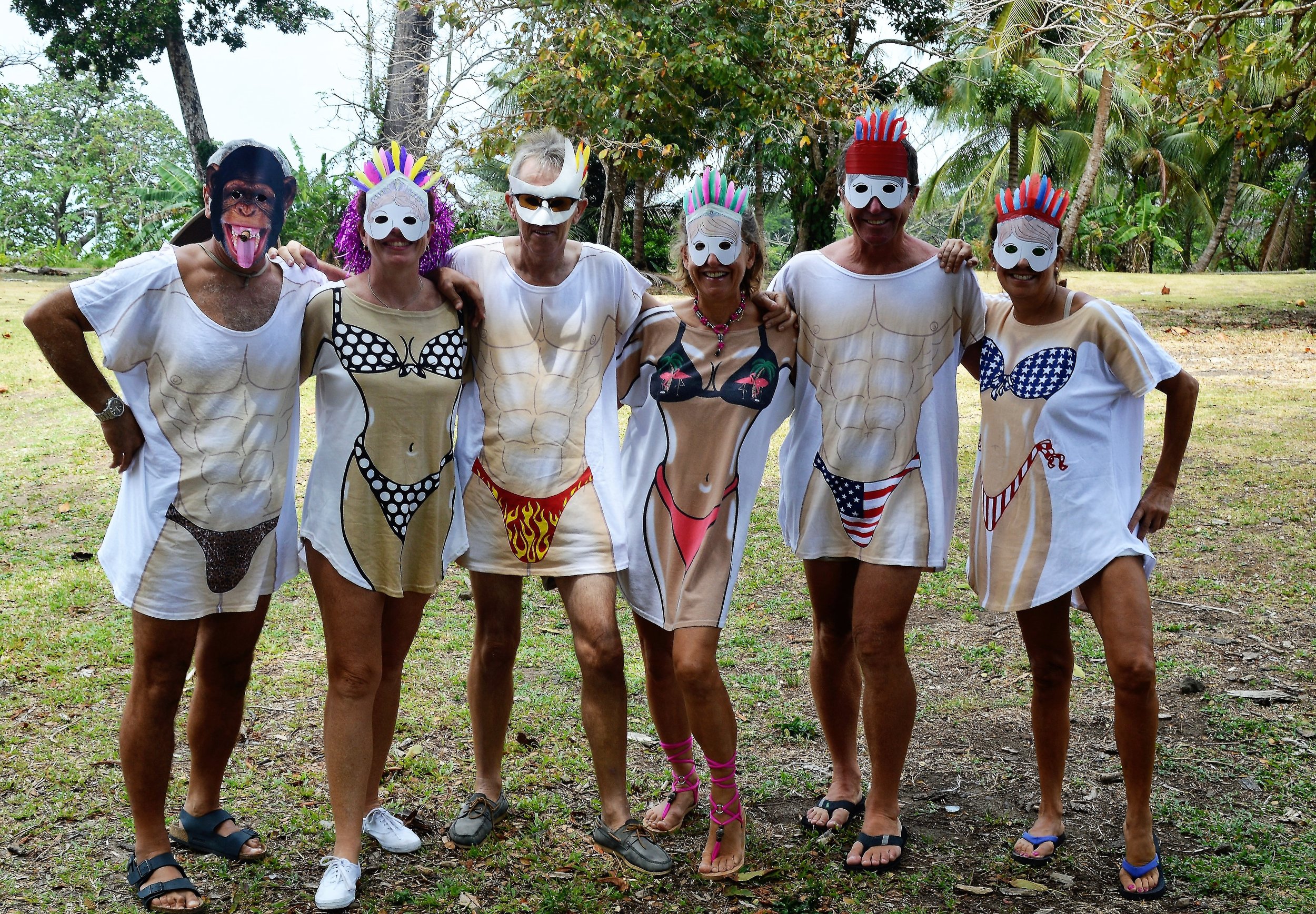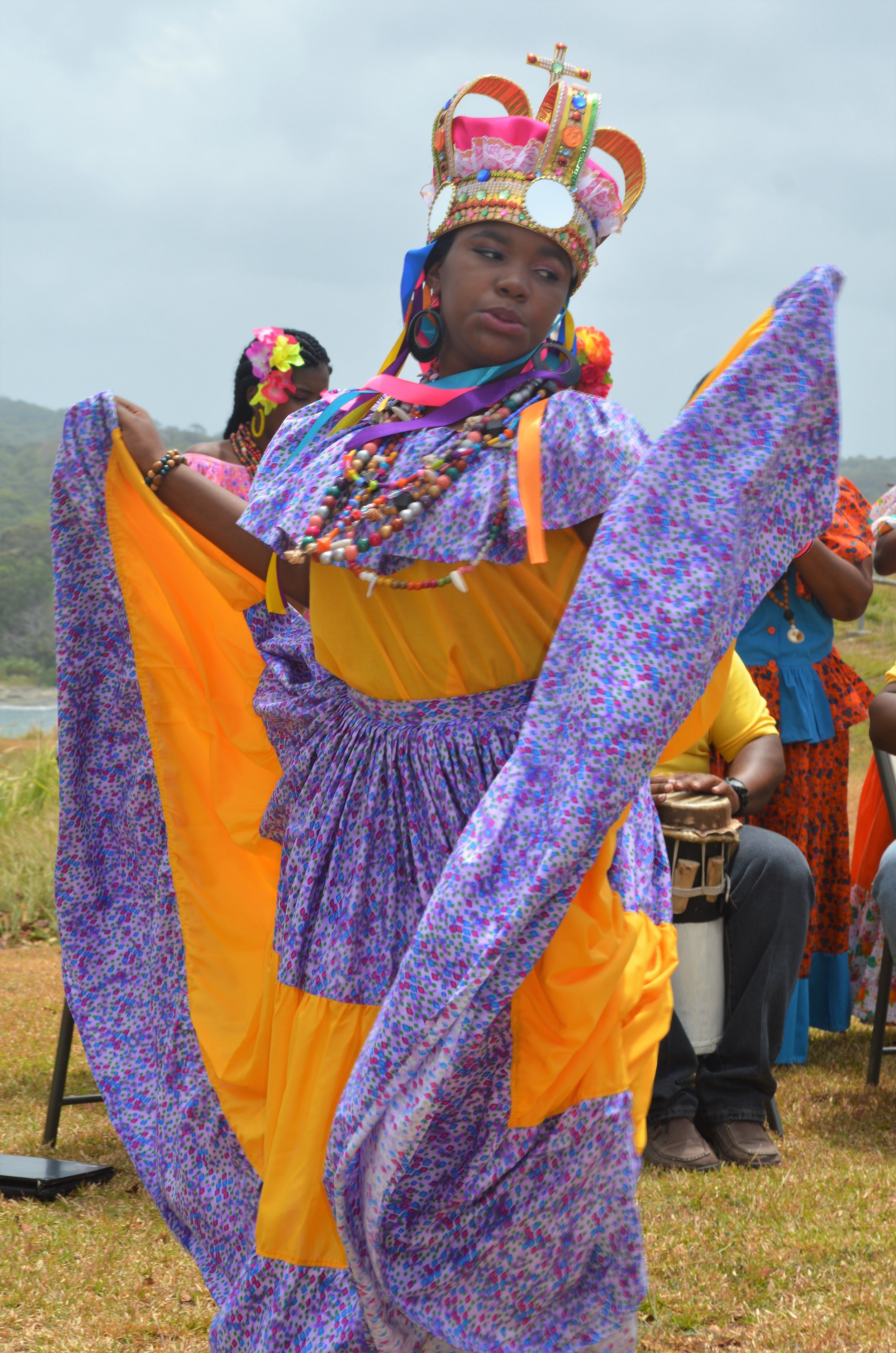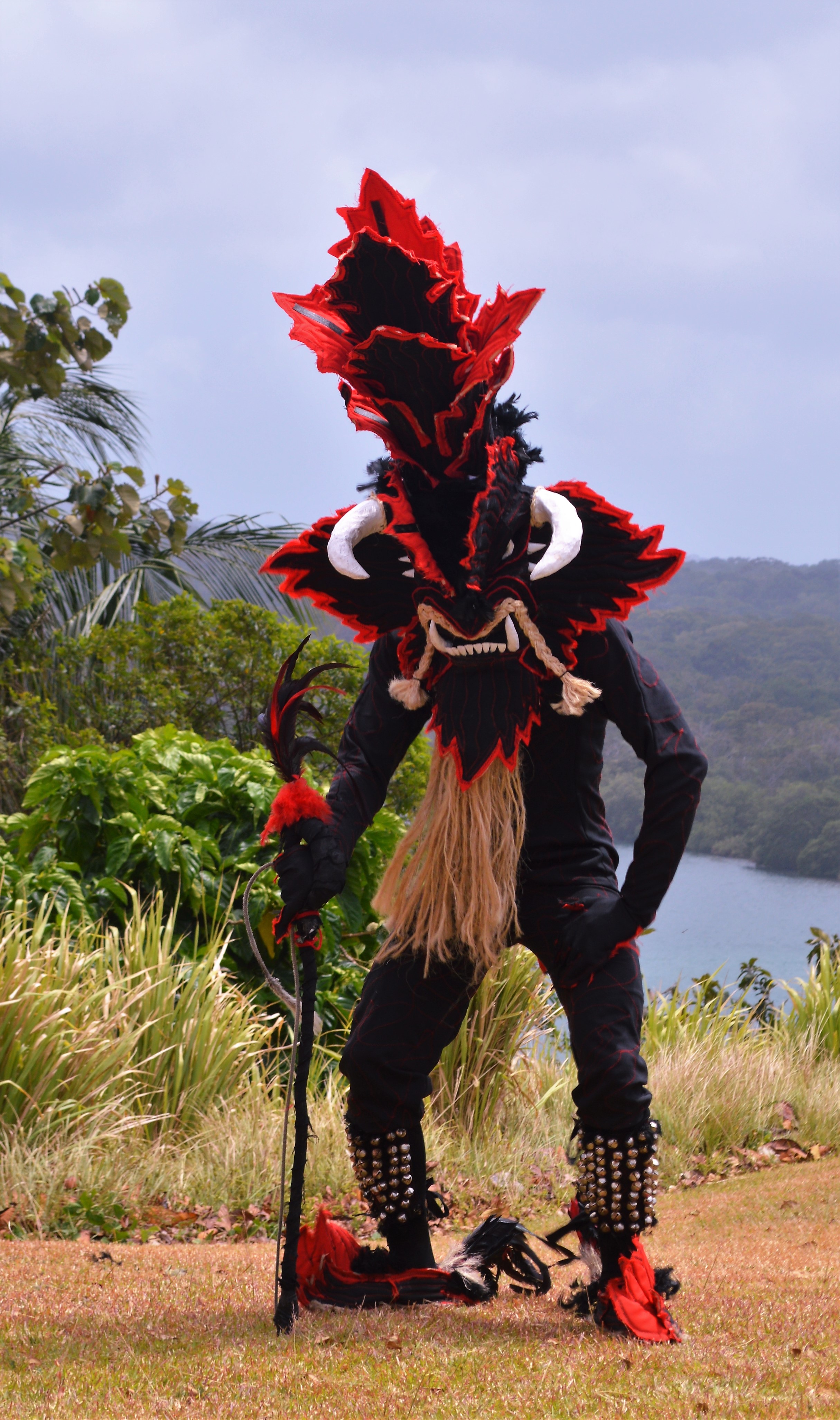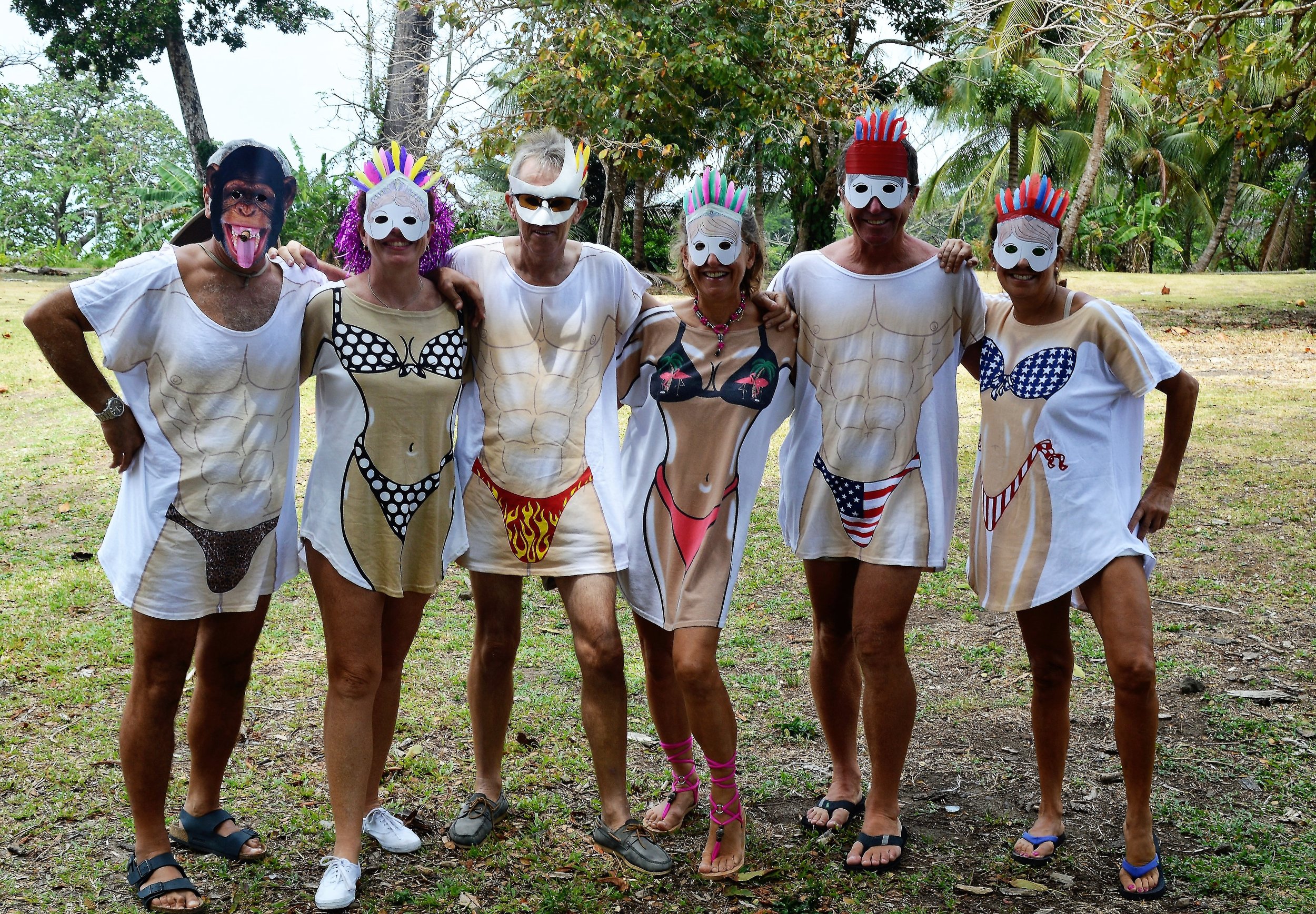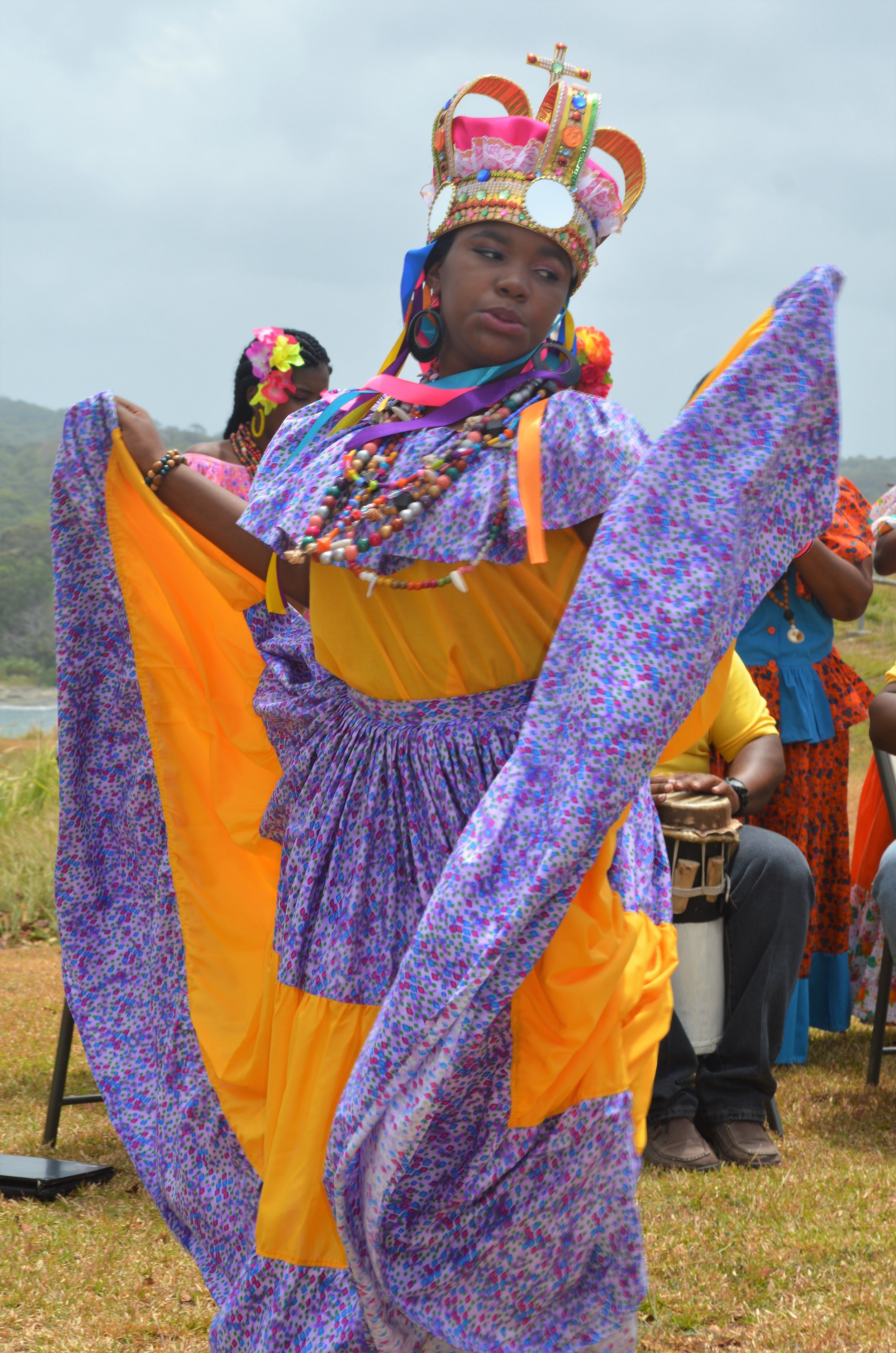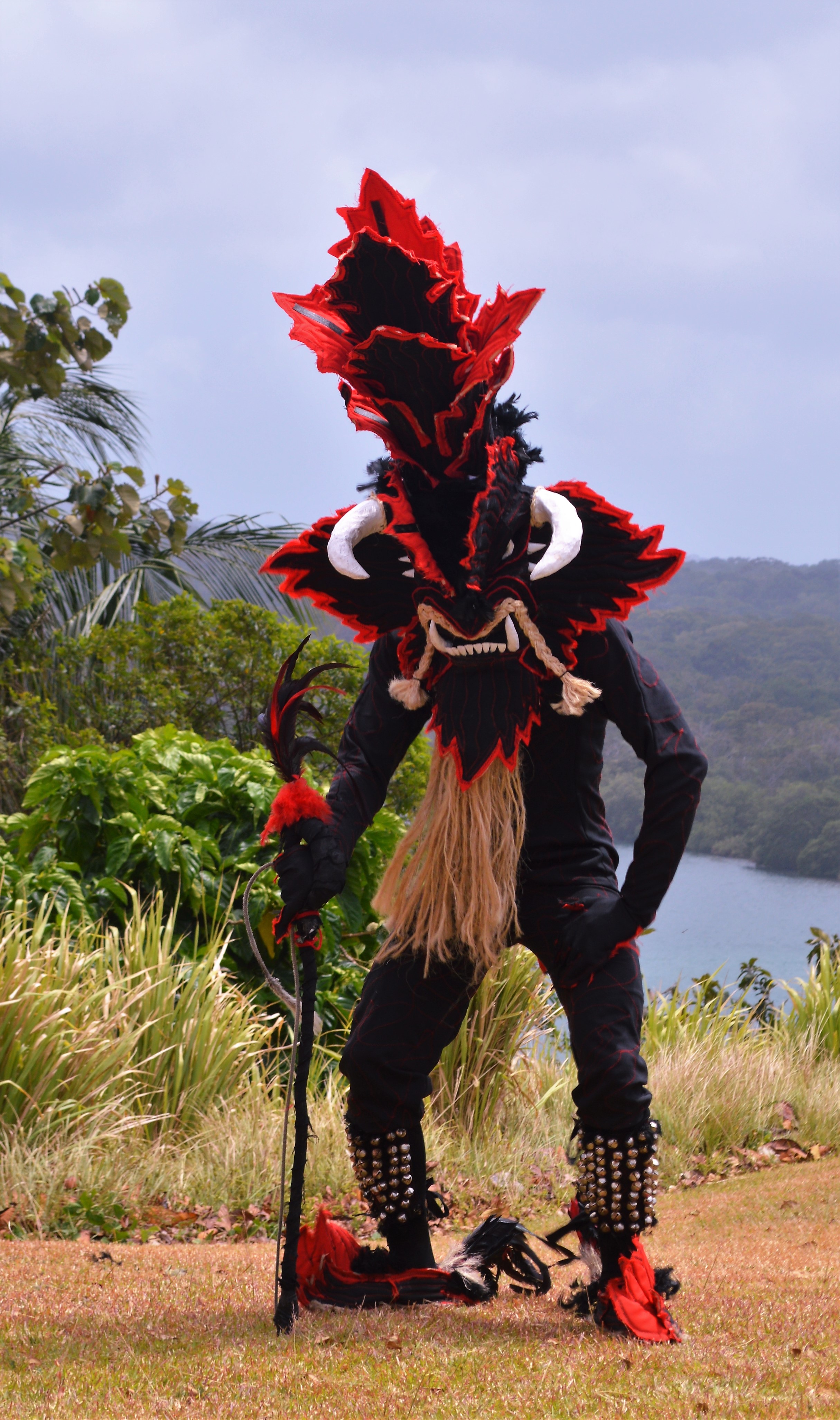 We were pleasantly surprised once again when it came time to transit the Panama Canal. March 14th - just as planned. We left the dock around 10:00 and proceeded to the Flats, an anchorage next to the channel leading to the locks. I think there were about 13 of the smaller boats in our group. We were assigned "nests". Three boats raft together, the largest in the middle. Each boat is assigned a PCA Advisor to be on board during the transit. Each boat is required to have 4 big dock lines and 4 designated line handlers in addition to the skipper and advisor. There were too many OWR boats to enforce that - not enough lines to go around. The middle boat doesn't need lines or line handlers, just the two outer boats. Harvey, from OWR sailing yacht Safiya, and his friend Andy joined Altair for the transit.
A lot of OWR crew did the transit twice as they went through with a smaller boat, then returned to Shelter Bay with lines, and then brought their own boats through. The cooperation and comradery of the OWR really make this undertaking seem a lot friendlier. We also had the locks to ourselves, so there were no huge ships creating turbulence.
All the advisors came aboard on time at 1430 as planned, and our group headed toward the Gatun Locks, a series of three locks. Our advisor, Oswald, was professional, patient and a really nice guy. Before the locks, we had to raft up into our nests. Not an easy task with the current, the wind and the wakes from all the boat traffic. And three captains and three advisors, each one thinking he is in charge! We'd all heard stories of the advisors being late, having to wait hours to go into the locks and doing the transit in the dark, or being put in a lock with a huge tanker, but all went well. We stayed rafted in our nests for the three locks which lifted us up and released us into Gatun Lake. It was thrilling, really. A big bucket list item for cruisers, for anyone. It was dusk as we approached the buoys where we would raft up for the night. No anchoring, there's a teak forest under there! Gin and tonics, beef stew, bed.
The next morning, sausages and pancakes. Our advisor, Oswald, showed up on time at 7:30, and off we all went down Gatun Lake. The scenery was lovely, and Oswald pointed out the sights and told us a lot about the construction and history of the Panama Canal. At the end of the Gatun Lake is the Galliard Cut, a narrow section, where we had to wait for a Panamax (huge carrier) to go though. We rafted up in our nests again and went through the Pedro Miguel Lock, the Miraflores Lake to the Miraflores Locks, and we were lowered down to the Pacific Ocean!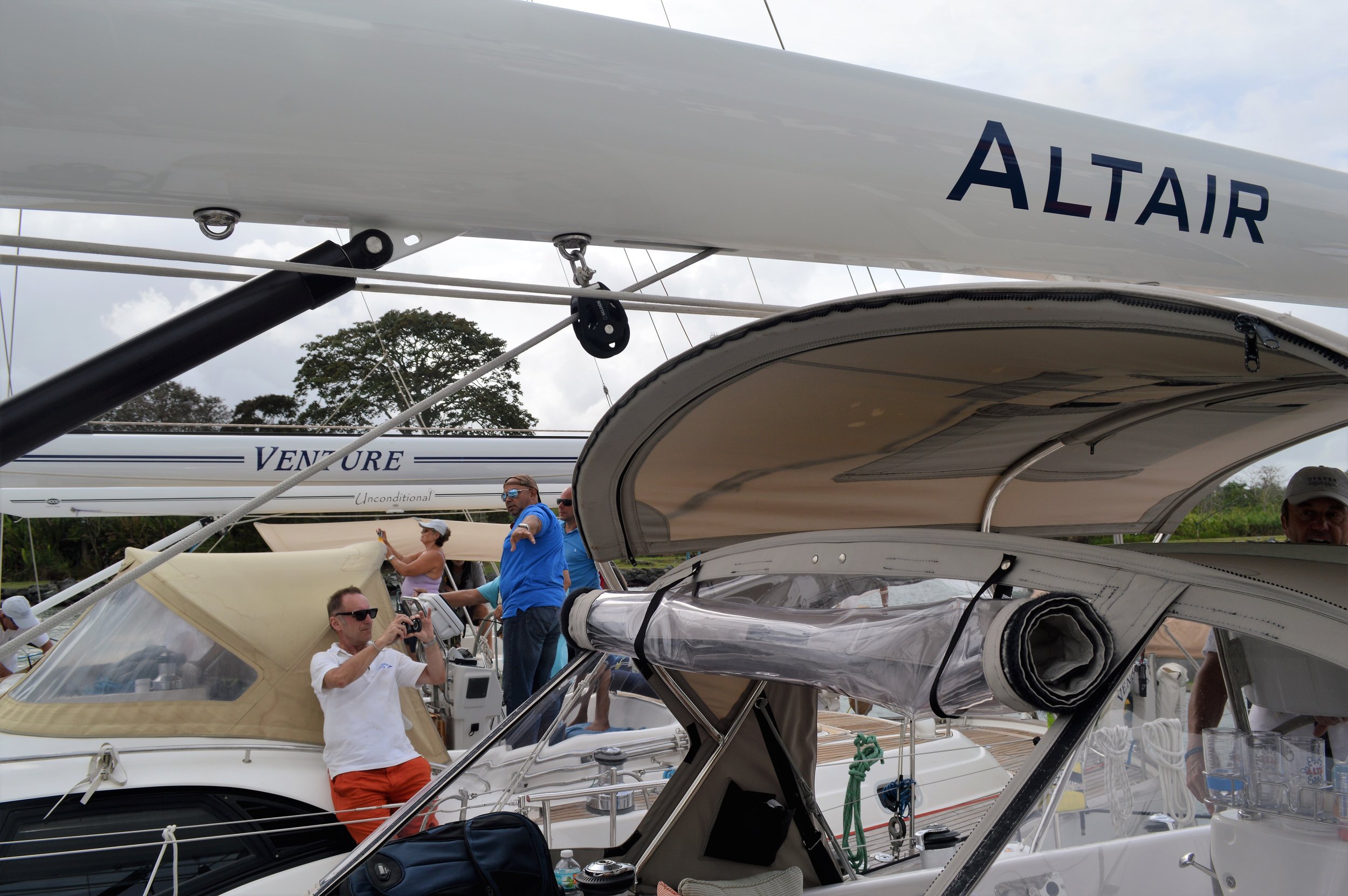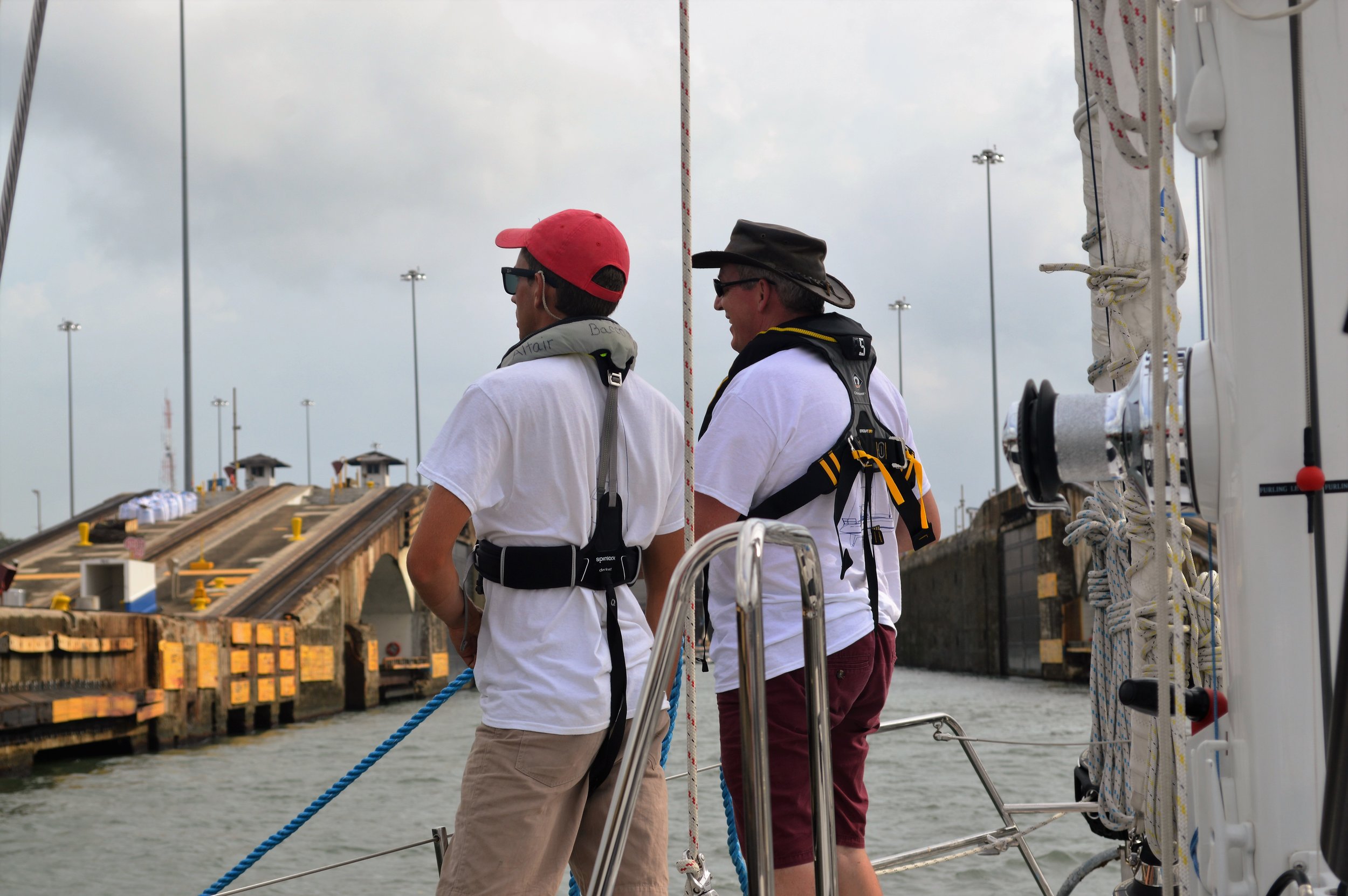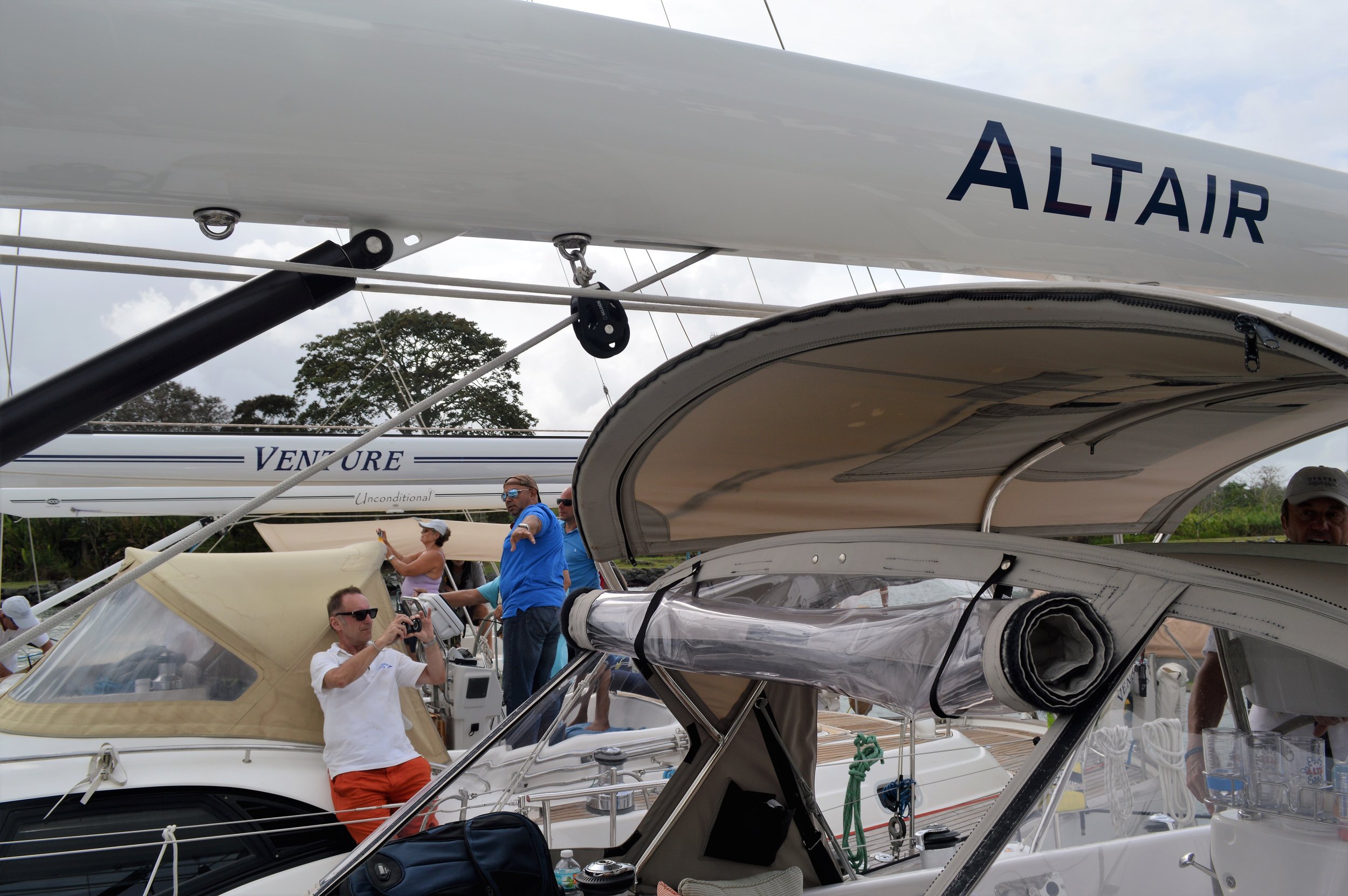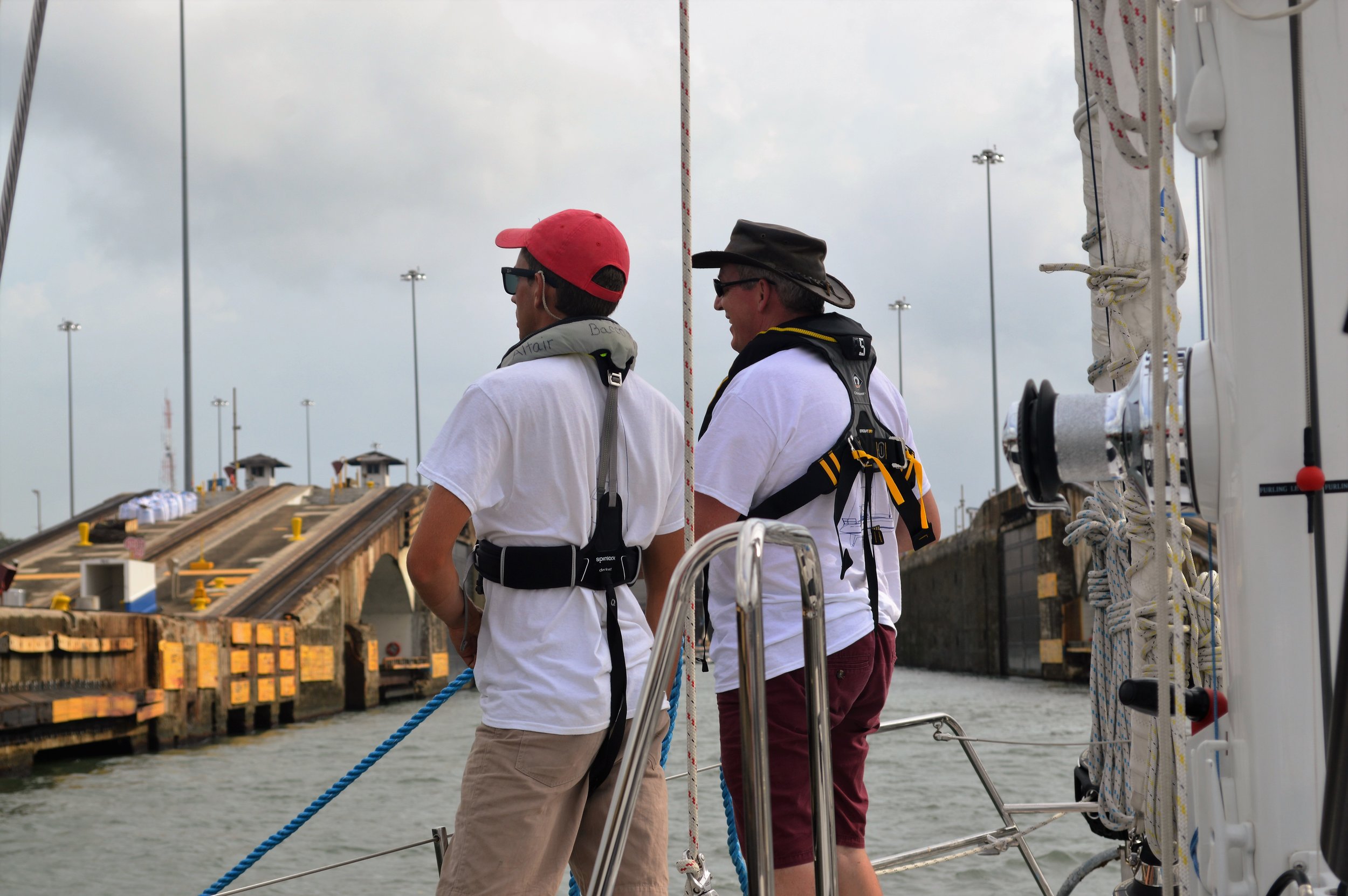 So now we are in Panama City, poised to head off to the Galapagos Islands with a quick stop in the Las Perlas Islands on the way. I hope I haven't downplayed the Panama Canal experience by making it sound so easy. A lot of things can go wrong. We were very fortunate to have been prepared by the OWR, we knew what to do, what to expect. And we were surrounded by other OWR boats, all supporting each other.