Galapagos
We were ready to leave La Playita Marina and Panama City. We enjoyed our stay; the Marina was nice and Panama City was quite impressive. The Panama City skyline is modern and unique, there is obviously a lot of money here, and the city had pretty much every amenity you could want. Haircuts, pedicure, and a fantastic mega market, Riba Smith. Thomas' Original English Muffins!
Every day Altair's deck would be covered with threads of black soot, which also spread to the interior. We found out this was from burning the sugar cane fields. Anyway, we were ready to go. There was a busy fuel dock in the marina, and we were able to fill up with good diesel. We officially cleared out of Panama,
Most of our usual group of smaller Oysters planned to travel together. Unfortunately, our friend Tom on Vela is ill and had to be hospitalized for a few days. They stayed behind to continue treatment. The healthcare seems to be excellent, the hospital was spotless and modern. We hope they will join up with us for the Marquesas passage.
Here I should mention that there are several healthcare professionals among the Oyster group. They have been unfailingly kind and generous with their time and expertise for the several serious medical problems the fleet has had so far.
So, Altair took off for Las Perlas on March 22th.
Las Perlas is an archipelago just off the coast of Panama City. Most cruisers stop here on their way to the Galapagos and the Marquesas to break up the trip. It was an easy, pleasant beam reach to our first anchorage between Chapera and Mogo Mogo where we joined up with Boysterous. The next day we jumped to Isla Pedro Gonzales where we found a beautiful long beach to walk on. There is a large resort there and another one being built. The next day found us anchored at Isla San Jose, the second largest of the Perlas Islands and privately owned. The Las Perlas stops were unofficial as we were already signed out of Panama. The next morning Altair and Boysterous set sail for the Galapagos. Along the way dolphins and rays jumping out of the water doing back flips. No whales yet.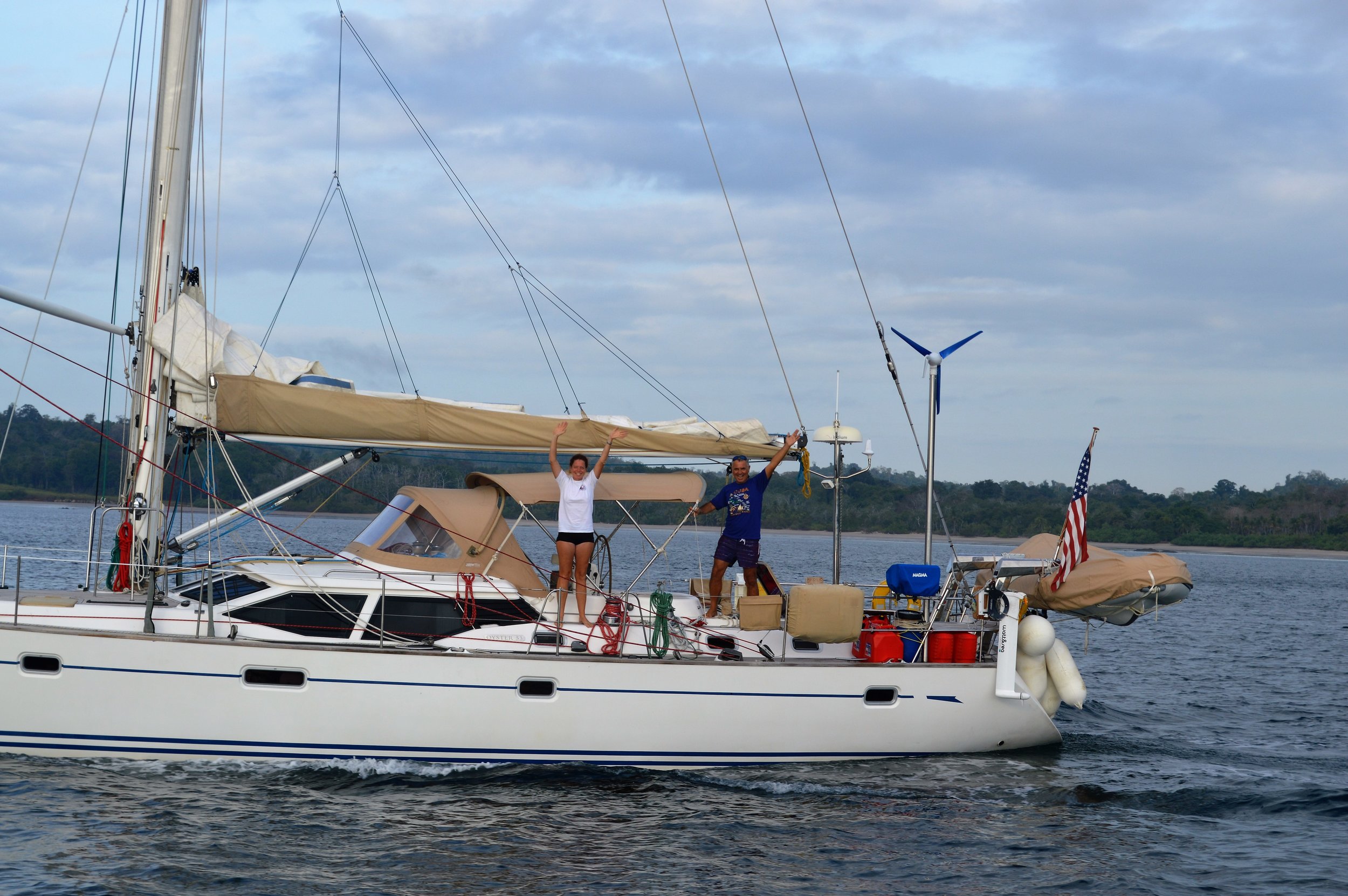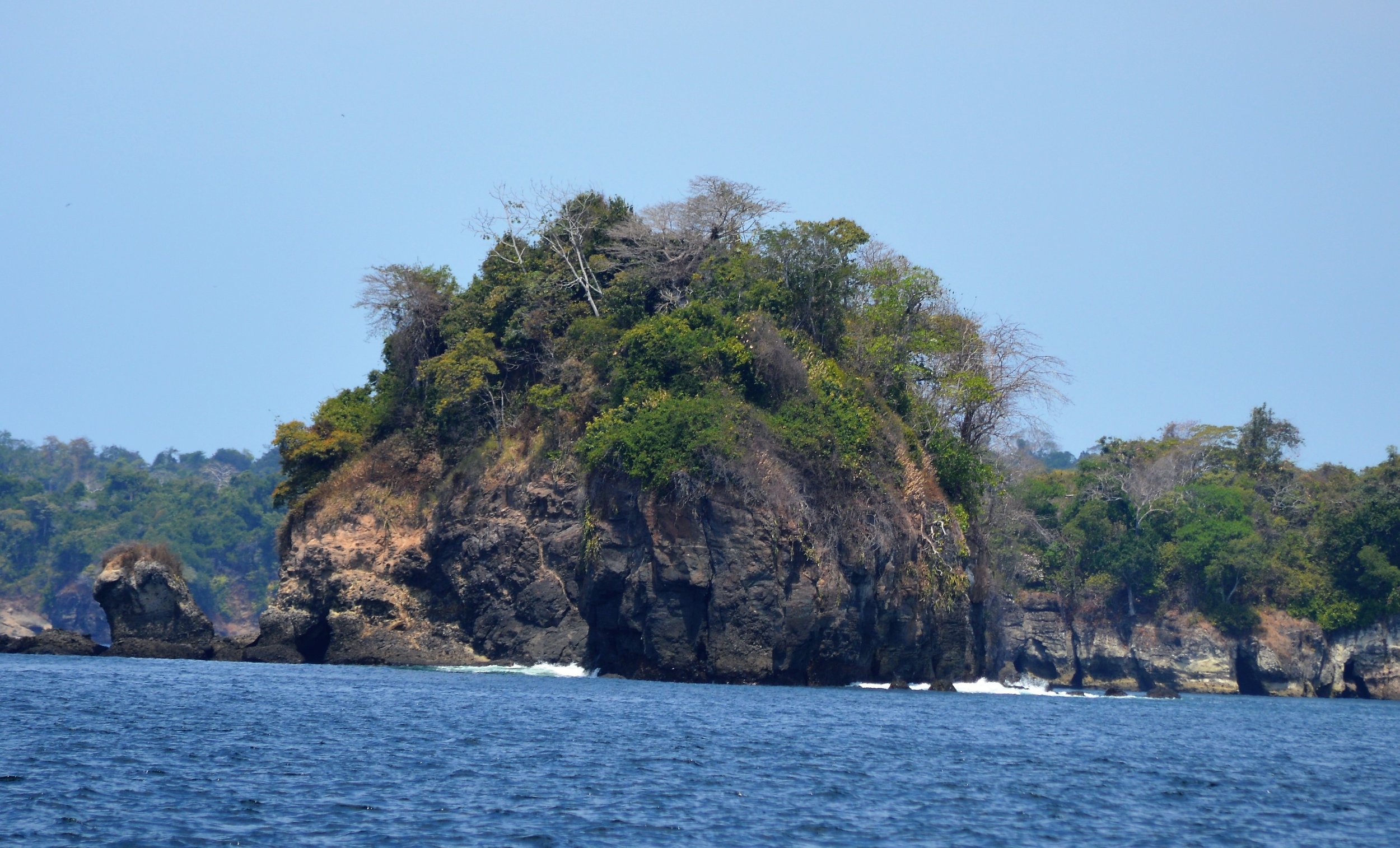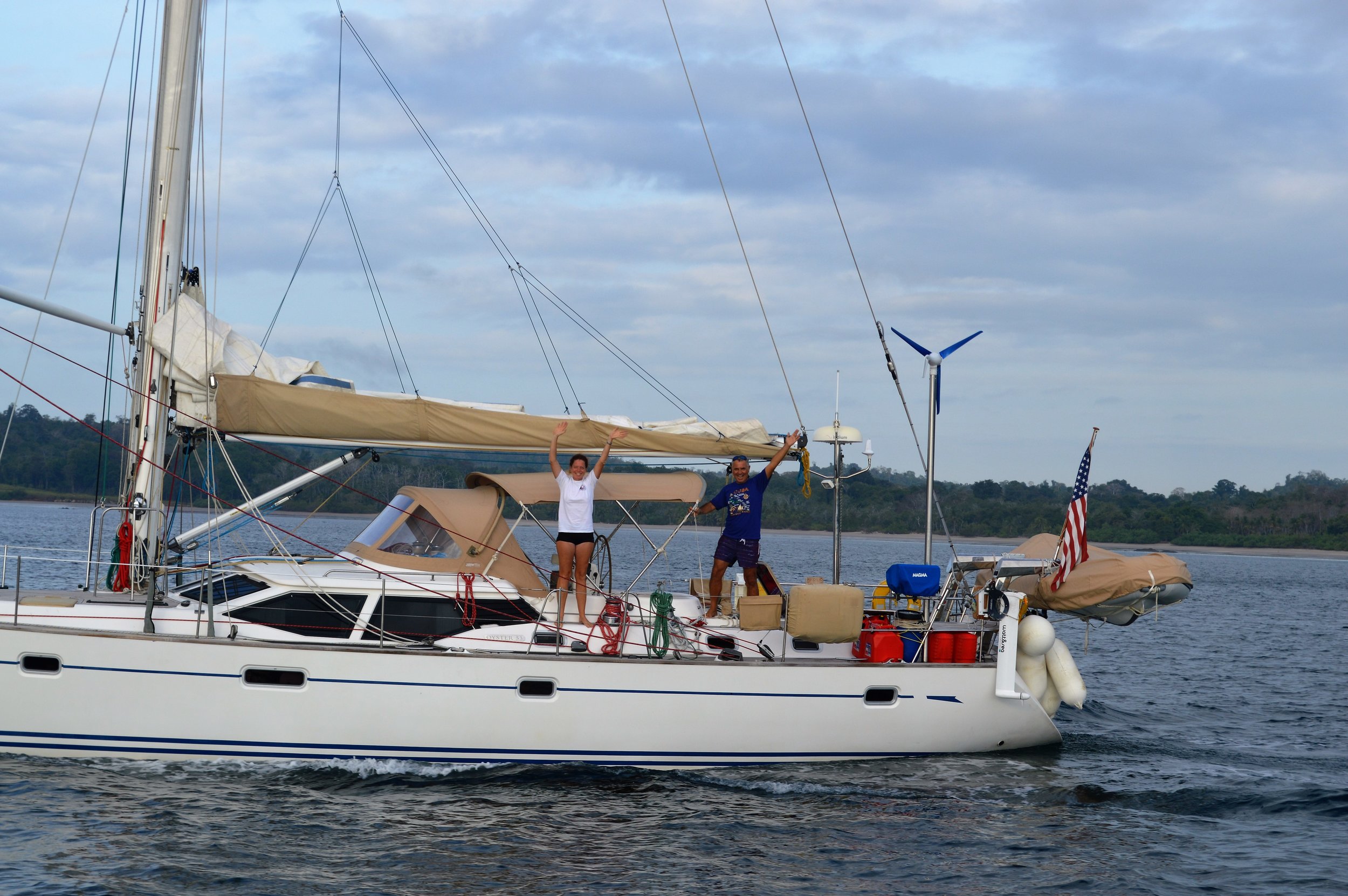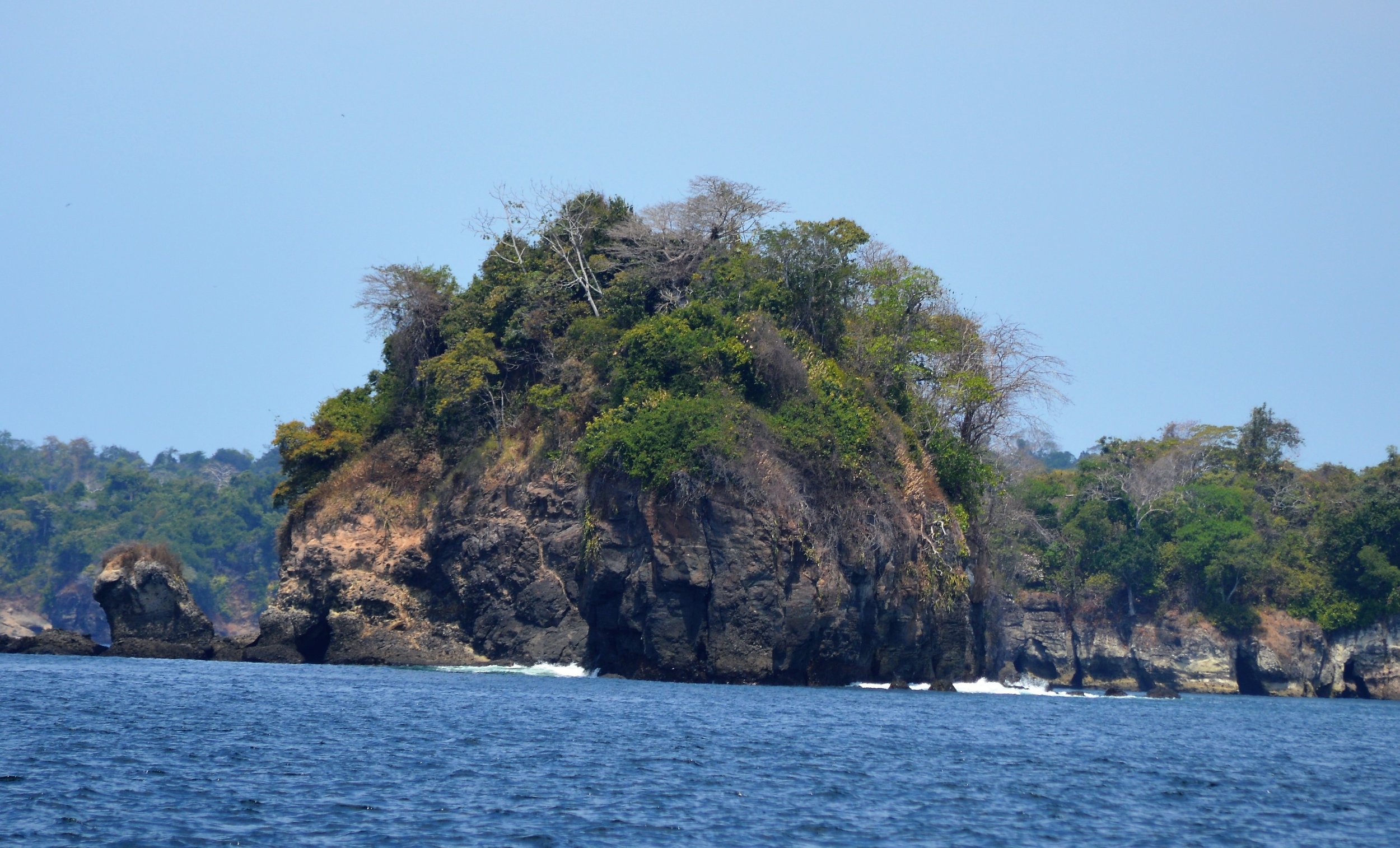 It is about 850 miles to the Galapagos Islands, also known as the Archipelago de Colon, and we were expecting little or no wind. We did get a couple of nice sailing days before the wind died. We motored full speed, feeling optimistic about acquiring fuel in the Galapagos. We crossed the equator at about 0630 am on March 30th. We paused there with Boysterous for a tot of rum (not Mount Gay - we're out!) and to share a tot with Neptune. Silly costumes and toasts as per maritime tradition.
The Galapagos Islands consist of 13 major islands and several minor ones. They are volcanic in origin and considered young geologically. The Galapagos are a province of Ecuador and a national park. And of course Charles Darwin visited in 1835 and formulated his theory of evolution based largely on the observations he made in the Galapagos.
We arrived in in Puerto Baquerizo, Isla Santa Cristobal that afternoon to check in and get inspected. To enter the Galapagos Islands as a private vessel is not a simple matter. The vessel cannot have any sort of growth on the hull, in order to avoid bringing in foreign matter that could harm or contaminate the unique indigenous species of the Islands. We have to provide proof Altair's bottom was painted with anti-fouling material, and we did the short haul in Panama to have the bottom cleaned. Then just before we left Panama we had to pay a diver to inspect the bottom again and provide a certificate, even though we have a receipt and certificate from the marina that did the short haul. I even hand scrubbed the waterline in Las Perlas. Oyster provided a fumigation certificate and other mysterious certificates and receipts. Four copies of everything, passports, registration, etc. You cannot discharge black water (sewage) here, yet they have no pump out facilities. We have to show that we are set up to separate trash (recycle, organic and general), but it all gets dropped in the same pile on the dock. And we have to post signs in the boat about garbage and black water. They have good intentions.
Boats cannot travel freely between the islands. A private yacht can only visit 2 or 3 spots on its own, but you have to check in and check out at each stop! Yachts can hire a guide and a naturalist to cruise with, some of the larger yachts have done this. Very expensive. We have opted to do a four day cruise on a tour boat, leaving Neil on board Altair, as you cannot leave a boat unattended. Other boats will do day trips with guides. There seems to be no do it yourself inexpensive options. Oyster has a local agent, Ricardo, to simplify and expedite matters. Within 15 minutes of dropping anchor there was a diver inspecting Altair's bottom, and Ricardo came on board with 6 immigration officials. No problem. Enough of that.
Needless to say, as Altair approached the Galapagos we were very excited. Our first sightings did not disappoint. Dramatic rock islands, our destination, Isla San Cristobal, as a backdrop with rolling green hills. Once in the harbor we quickly saw we had to blockade the stern of our boat with fenders to prevent a smelly sea lion from taking up residence. We cannot take the dinghy to town for the same reason. Sea lions are everywhere. Sounds cute, but it's not really. Very smelly, messy, and they're not easy to move.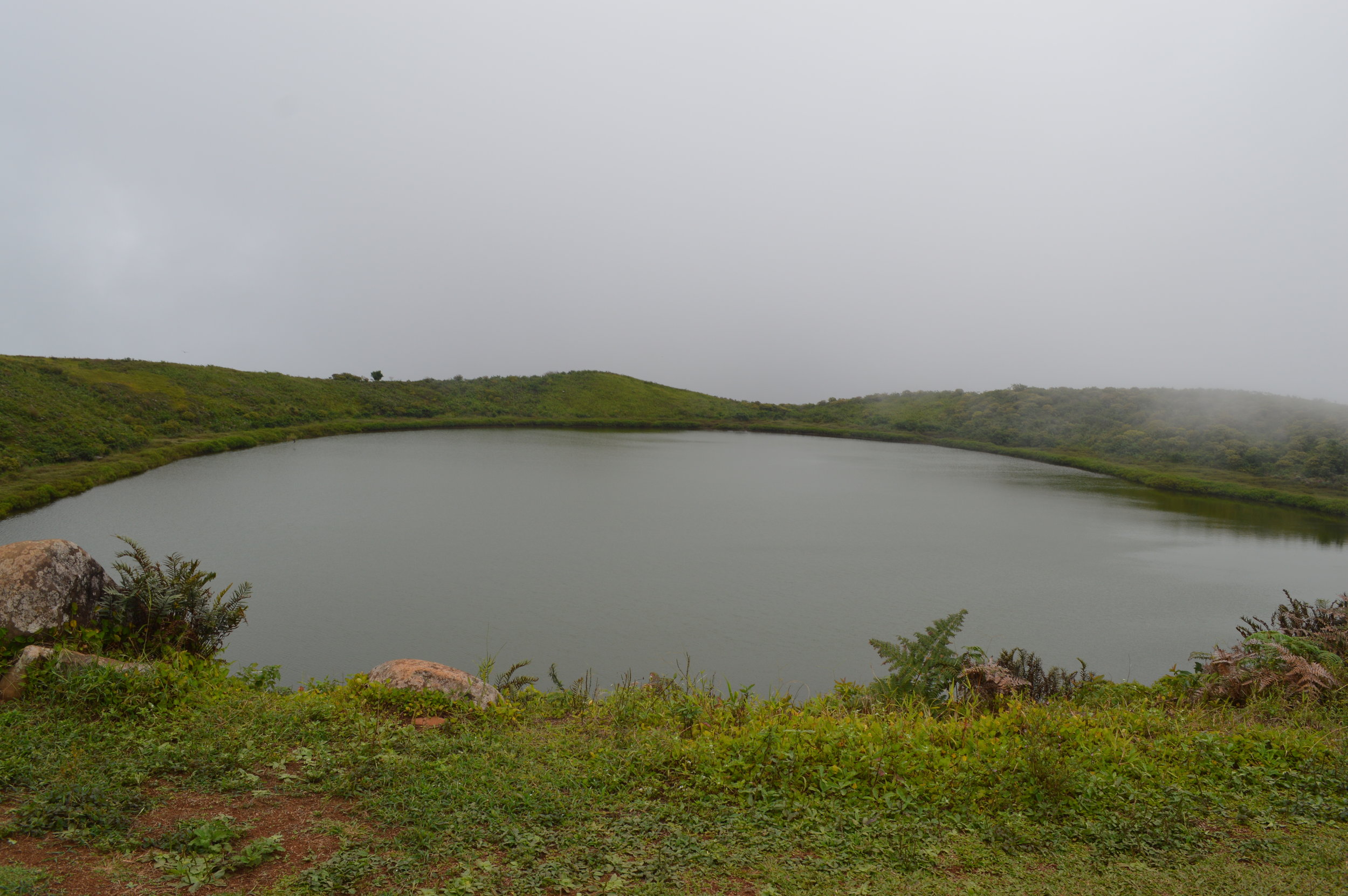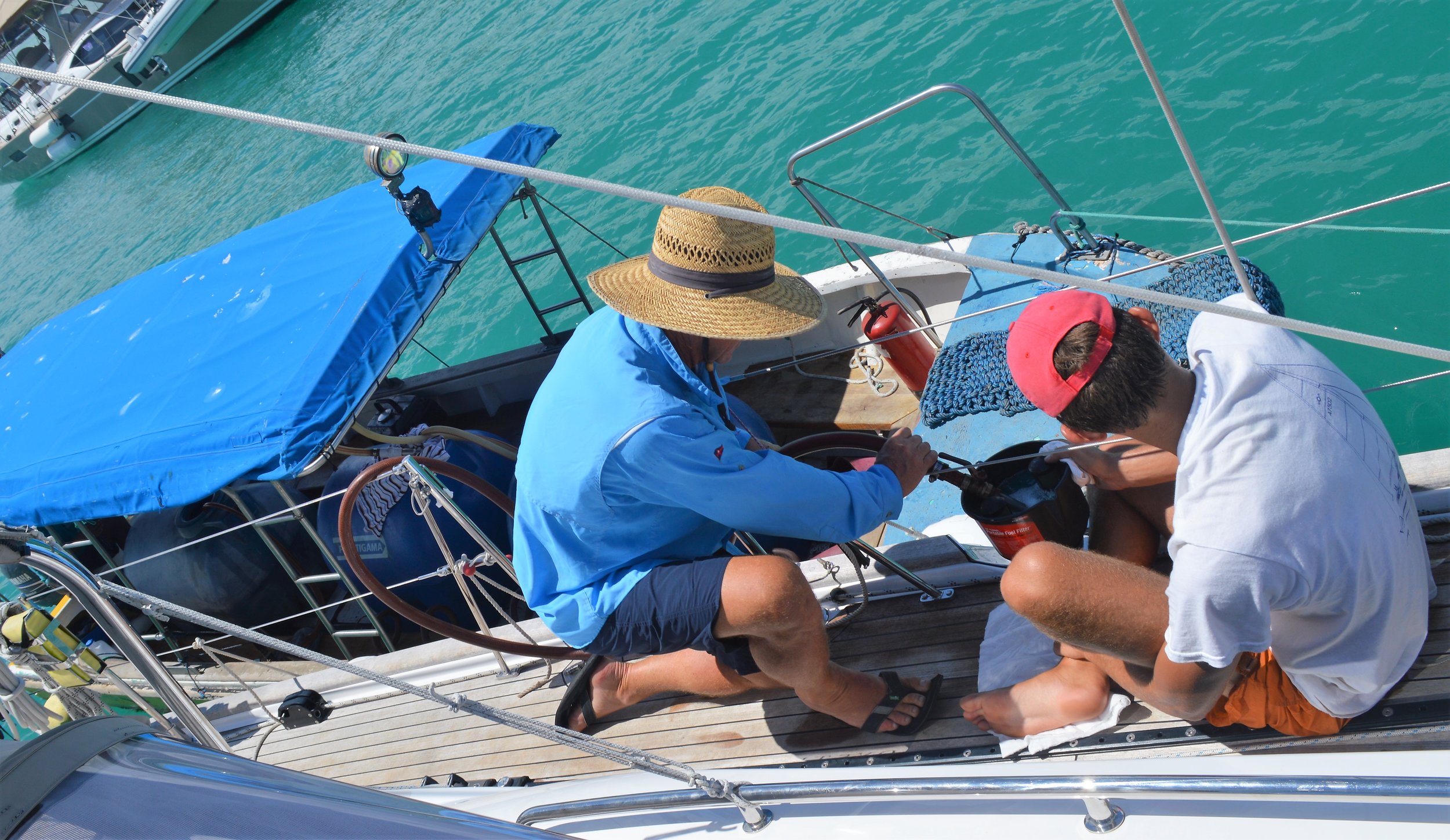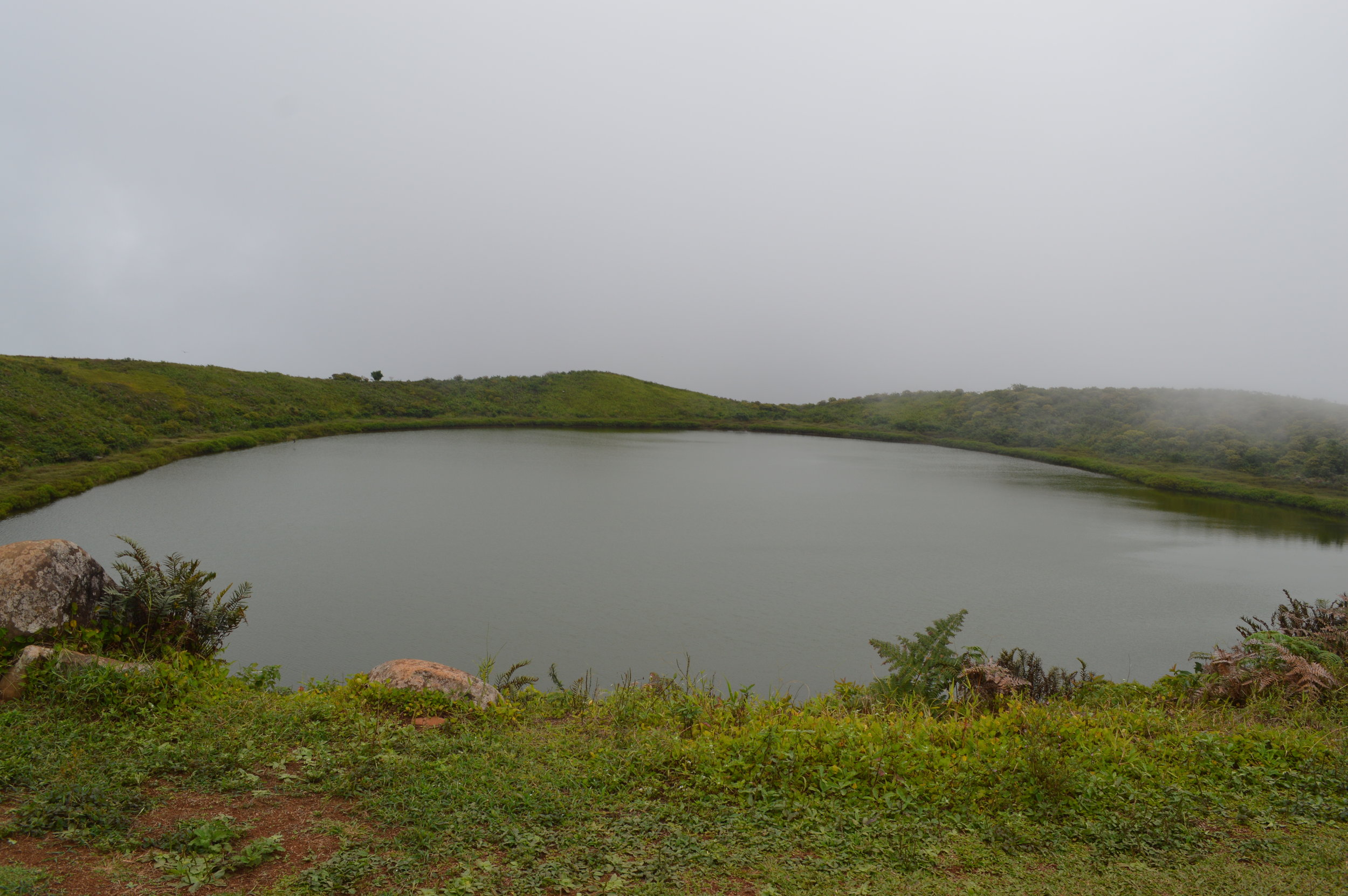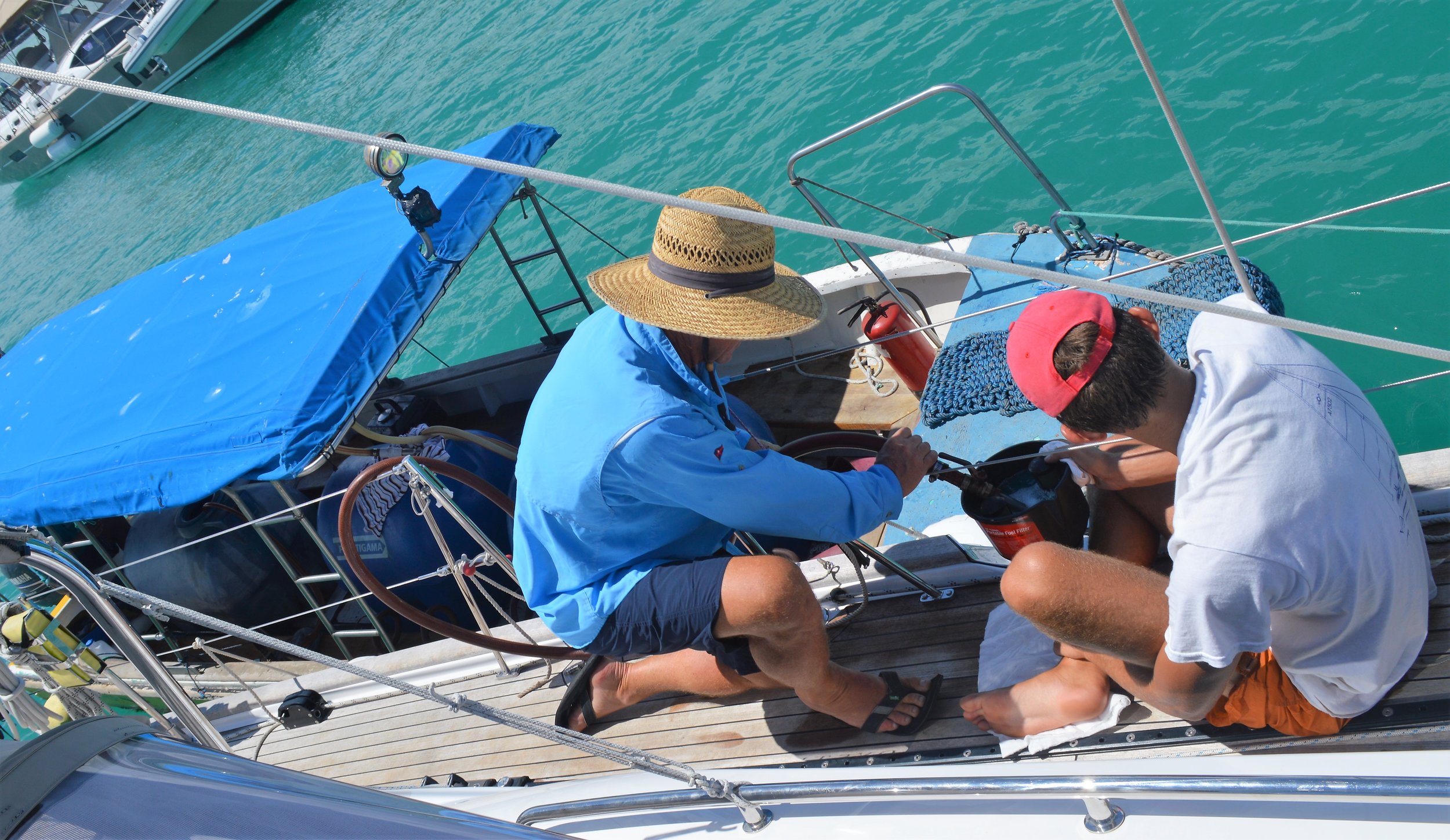 Our first day we set up a dive trip with other Oyster people – two boat dives ($150 US/person – not cheap) on the dramatic rock formation we saw on the way in, Kicker Rock or Leon Dormido (Sleeping Lion). The Darwin Tours dive operation was very professional and fun. We dived with seals, sea lions, white tip sharks, black tip sharks, hammer heads, turtles, so many beautiful fish, and rays. And that was just under the water! Back on the boat we were surrounded by red foot boobies, blue foot boobies, frigates, crabs, more sea lions, etc. We were with the Tianelle, Talaba, and Boysterous crews, so there were lots of laughs, and naturally beer and wine had been smuggled into the cooler for the ride home.
There was not much in the way of provisions in town. I was assured that the provisions would be better at the next stop. We joined Sydney from Oyster yacht Elise for a "highland tour". We taxied up into the hills for a short hike to a volcanic crater, which is now a beautiful lake. Stopped for a grilled fish lunch with a water view, and then visited a small tortoise reserve.
Altair gave 48 hours' notice of our intention to leave Cristobal and, after some drama, received our zarpe which is required to move between islands. I think the local agent has gotten a little overwhelmed with our fleet. On to Puerto Ayora on Isla Santa Cruz.
Puerto Ayora is a shallow, rolly harbor. It is tight quarters made even more constricted as many boats put out bow and stern anchors to control the rolling. The water here seems cleaner and is very bright blue/green. Sitting on the swim platform we have visits from small black tip sharks and sea lions.
A quick note on fuel. How exciting. Fuel is available in the Galapagos, but we had to order it in advance through the local agent and pay for it in cash before getting it delivered. You have to make a calculated guess about how much to order and, if you are next headed to the Marquesas 3,000 miles away, you want to be sure your tank and jerry cans are full to the brim. In Cristobal they deliver the fuel in 10 gallon cans and then you have to syphon it through your filter into you tank. Back breaking. In Puerto Ayora it is easier as a small boat comes along side with a tank and a small electric pump. We expected delivery at 0900 and the boat came to us at 1530.
The town is pleasant with lots of shops, restaurants and a good grocery market close to the dock. We started our four day boat tour at 0730, with friends from Oyster yacht Lisanne. First we took a water taxi to the docks. Then we took a taxi across Santa Cruz and boarded a ferry across to the small Isla Baltra, then a bus to the airport. We hung out at the airport for about 2 hours, running into other Oyster people coming and going on their own tours. We finally met up with our guide, Ruben, who put us on another bus to a dock where we climbed into dinghies that took us to the tour boat, Eden. Whew. The Eden had been anchored very near to Altair in the harbor the day before!
The Eden is an older boat. There are 8 cabins, each with 2 twin beds or bunks. The foods was simple and good. There was also a little bar where you could run a tab. We were kept very busy with snorkeling, hiking and exploring by dinghy. Every day we visited 1 or more locations, each one featuring something special to experience. To make a long story short: we saw thousands of birds, many of which are only found in the Galapagos – boobies, magnificent and great frigate birds with their bright red inflated gullets, unique little doves, gulls, owls, etc. Also land iguanas, marine iguanas (only found here), and bizarre looking Sally Lightfoot crabs. We saw beautiful little Galapagos penguins at Isla Bartolome before breakfast and went snorkeling with them later in the day. Sharks, rays, sea lions, fur seals and turtles. Isla Genovese – Playa Darwin and Prince Philips Steps to a bird sanctuary where we actually saw all three species of boobies up close (red footed, blue footed and the masked Nazca boobies), some with eggs, some with newborn chicks. We stopped by an island that was a volcanic crater just above the surface that forms a lake where flamingos hang out. Santa Cruz – Caleta Tortuga Negro – a mangrove cove that serves as a sort of nursery for the young of many species. Also a haven for turtles - we even saw turtles mating. Haven't you always wondered how that works? Cerro Dragon, on Santa Cruz, is a "new" lava field with amazing patterns and swirls frozen in time.
Just too much to describe, but hopefully this post, in addition to the photos, will motivate some to visit the Galapagos.
I will end here for now. We plan to leave in a couple of days – immigration and provisions allowing. The voyage to the Marquesas in French Polynesia will be the longest we've done by far – about 3000 miles/20 days. A fantastic note! Oyster yacht Vela has arrived in the Galapagos with a happy, healthy crew. We will make the passage together (sort of) as planned. You can track us by clicking on our blog and Follow Us.