New Zealand South Island & Milford Track
After tucking Altair in at Half Moon Bay Marina in Auckland NZ, with a long to do list for the Chris Smith of Boat Smith, we headed to the USA!
We had a nice Christmas in Alta, with a side trip to New York City and Connecticut. Despite a lack of the deep powder we usually enjoy in Alta, it was great to be together as a family and see friends. And dentists, eye doctors, etc. And a nice surprise visit from my brother Paul!
We headed east to enjoy an extravaganza at NYYC 44th Street with dear friends and then headed to Barb & Phil's beautiful welcoming home in Easton. We had a great time just chilling out with them, Laura and Matt, our sweet niece Casey, and the puppy Fiona.
Back to Utah where we stocked up on all sorts of crap to bring back to the boat, including our back packs, hiking boots, etc. for the upcoming antipodean adventures awaiting us.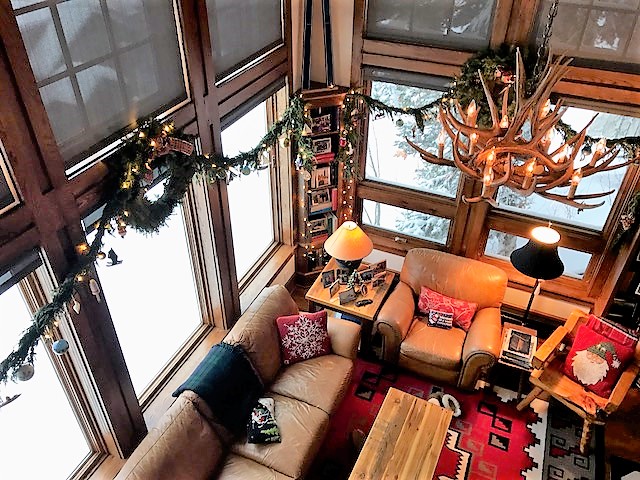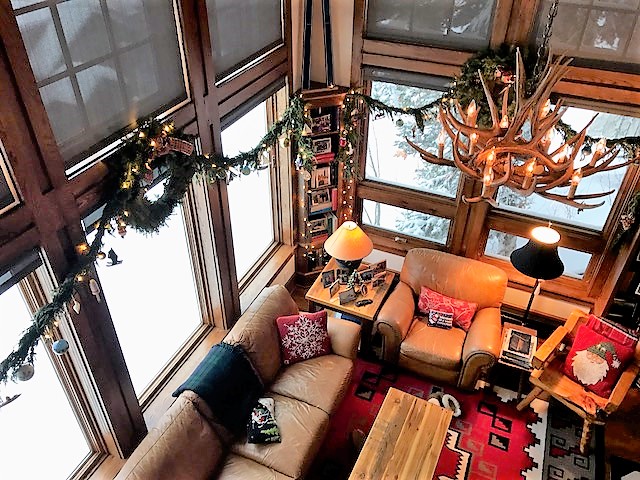 Well, as for the return to New Zealand, I could go on a big rant about cancelled flights, lost luggage, stress, etc., but we've most all been through it, right? Four huge duffel bags of vitamins and medication, hiking gear, and boat crap did not make it to Auckland. And because we had to change between three different airlines, things were not looking good for our Milford Track. In the end, one tenacious lady from Air New Zealand (not one of the airlines involved) tracked our bags and had them delivered to us the night before leaving. Enough.
The Milford Track
We flew to Queenstown, New Zealand on the South Island. Flying into Queenstown is always sporty and there was a big storm the day we were all trying to get there. Lots of wind. The pilot announced they would try twice and then return to Auckland if they couldn't do it. Gulp. Our pilot nailed it on the first attempt, with Ken's guidance, of course. Last flight for the afternoon.
The Meteorites had to endure two attempts and then were redirected to Christchurch, which meant a six hour drive to make the start in the morning. The Tiggy's were stranded up on Fox Glacier with roads closed, no power, etc. We felt lucky.
The next morning we met up with our friends from Meteorite; Debby, Janis, Andy and Hugh. No news from Tiggy and James, still stranded at Fox Glacier. Bus to Milford Sound, boat to head of Lake Te Anau, short walk to Glade House, our first lodge on the track. A short nature walk, cocktails and a great night's sleep. Beautiful spot, wonderful food. Accommodations simple but great.
Day 2 Pompolona Lodge 10 miles. Get up have breakfast and make/pack your own lunch/snacks. Sore feet for me. I really haven't worn shoes for the past year. Everything is a competition with this group. We started to come to the realization that Ken's pulled groin muscle was probably more serious. Best guess was a hernia. We all know he tends to be a bit of a whiner, but he's a mountain man, a Clydesdale, a hike forever person. So, we started to worry.
Day 3 Quintin Lodge 9 miles up hill. Cold, windy, raining. Beautiful scenery. The uphill walking has seriously aggravated Ken's hernia. Which he continues to refer to as a hemorrhoid because at this point he is exhausted and doesn't care. Our friends take stuff out of his pack to lighten his load at the lunch stop. Not without giving him a lot of crap. We received word that the Tiggy's were on the Milford Track a couple of days behind us.
Day 4 Mitre Peak 14 miles At this point my toes are shot, nails turning blue, big blisters, etc. Nothing compared to Ken's hemorrhoid/hernia pain. Actually, once most of the uphill was done he felt a lot better, but he did finally admit he should go to a clinic. The walk ends at a spot aptly called Sandfly Point. Point Misery. As we waited for our boat ride to the last lodge we were eaten alive. At the lodge we had a great celebration! Truth be told, we celebrated every night at each lodge, with our team achieving the largest bar tab always.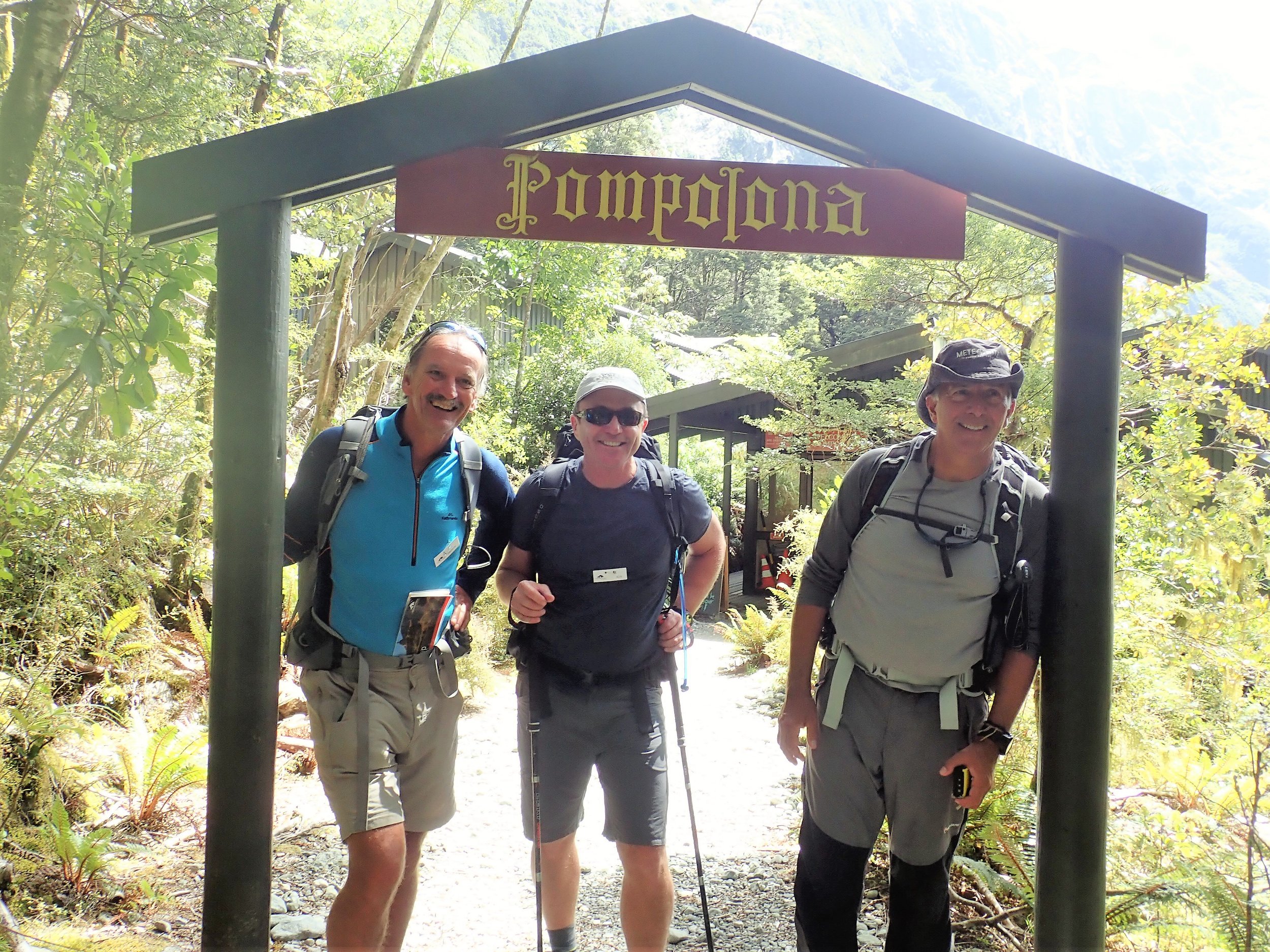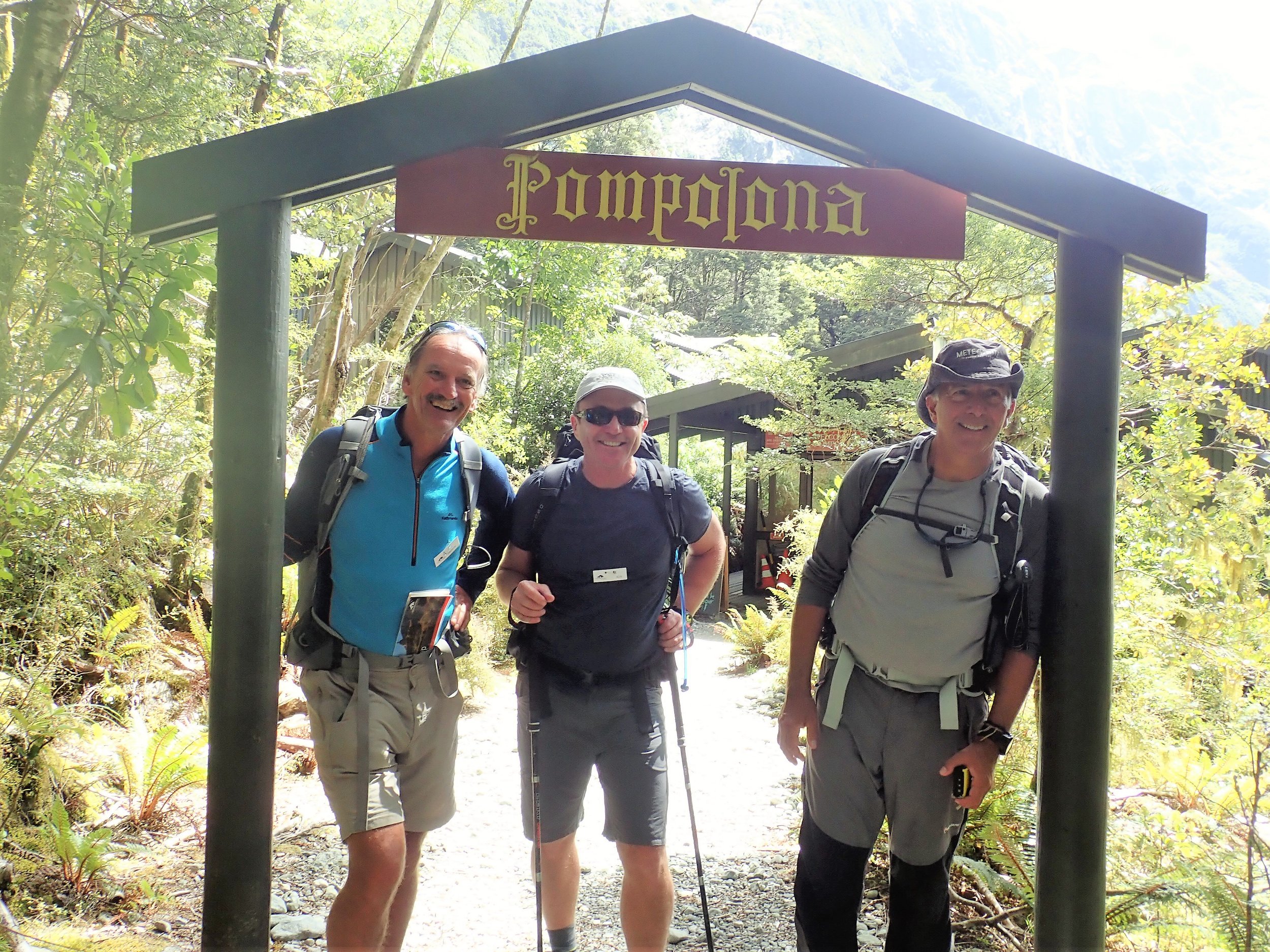 Last day a boat trip up Milford Sound, which is not a "Sound", but a fjord which flows out into the Tasman Sea
What's not to celebrate? We've made it, we're with new great friends in a beautiful place. And we are grateful for each moment. Each of us has a story with some sad moments, but we've made it this far and will continue to be grateful and make the most of it.