Tahiti & Moorea
Tahiti is our first stop in the Society Islands, which also include Moorea, Huahine, Raiatea, Tahaa, Bora-Bora, Maupiti, Maupiha and Motu One. The major Society Islands are steep, picturesque volcanic islands surrounded by coral reefs.
Not too much to say about Tahiti other than the Marina Taina is nice, the boat yard is great, and the provisioning is the best we've seen since Panama. Tahiti is a convenient place for friends and family to visit. The people here are friendly and helpful.
While Altair was on the hard at TechniMarine we stayed in an apartment with a washer/dryer, pool and beach access. Nice.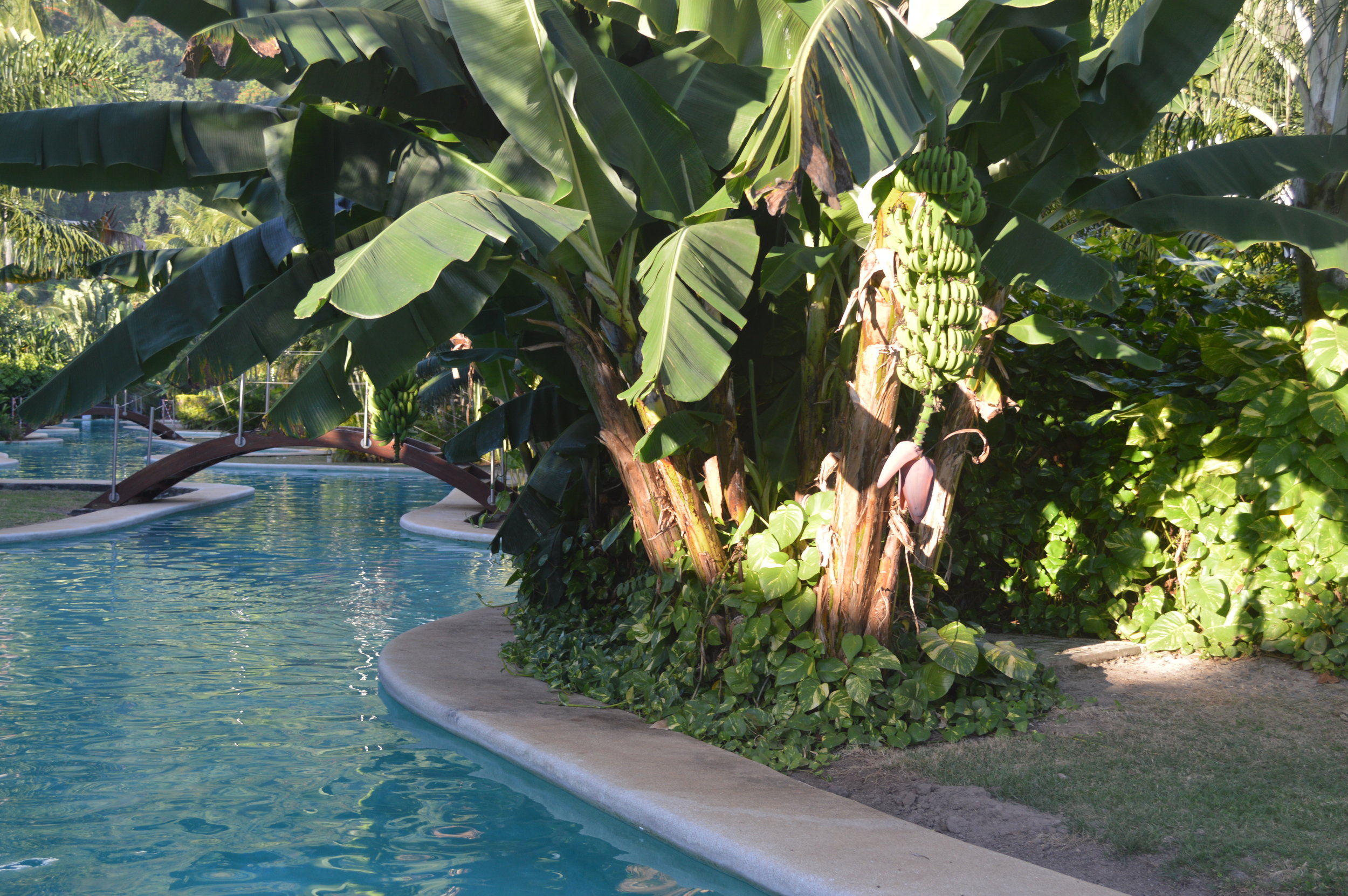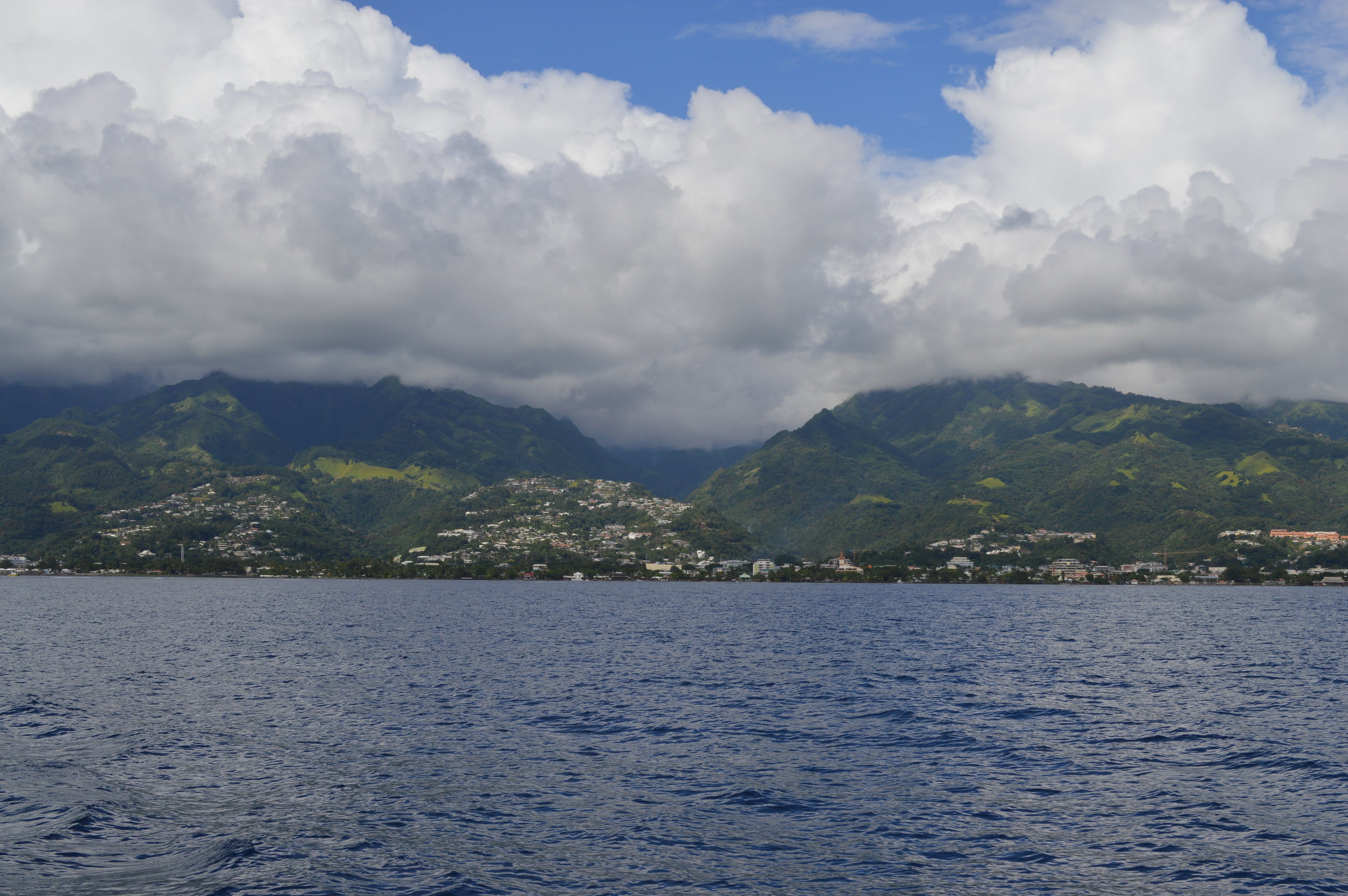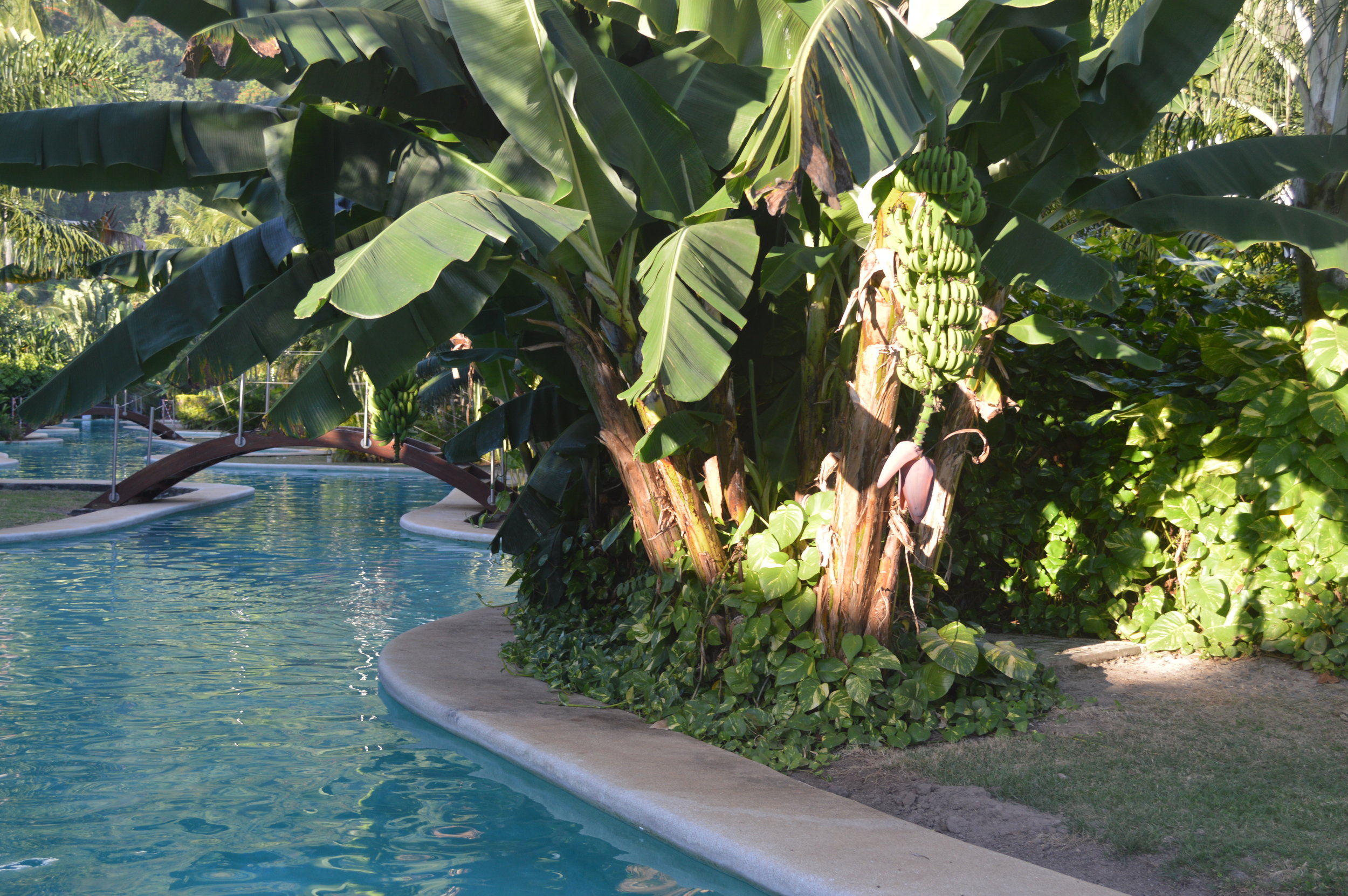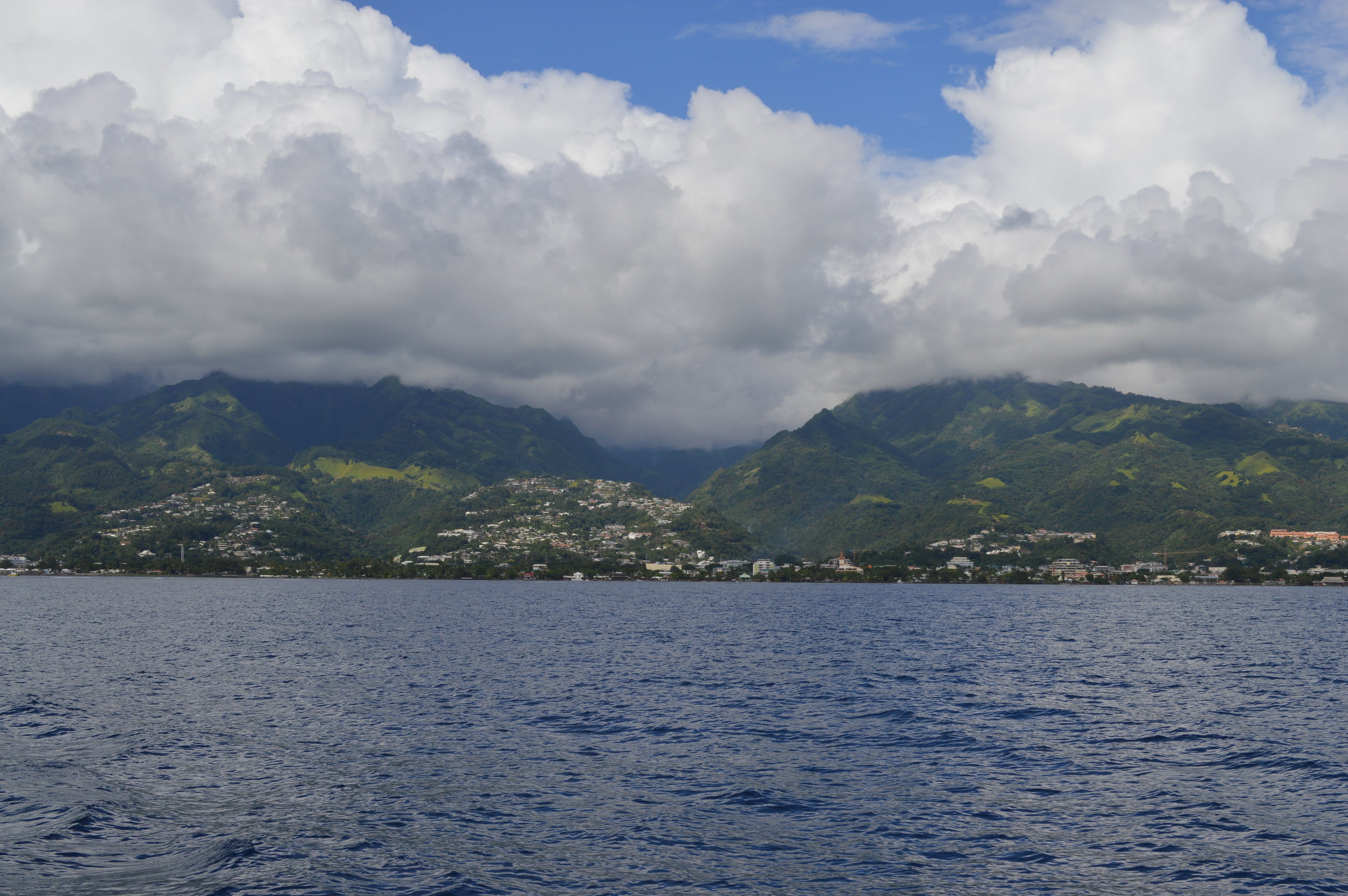 Once we had some of the repairs/maintenance completed we headed for Moorea to relax and scope out activities for Laura and Matt's visit. Ken & I went on a "quad tour", which is one of the ways to see more than the coastline of the island. We drove through all sorts of terrain, including pineapple plantations. Lots of fun. We also rented a scooter to go all around the island. Moorea is beautiful and much less developed than Tahiti. It is the perfect blend of having pretty much all you need, while also feeling exotic and remote. If that makes any sense. The anchorages, surrounded by volcanic peaks, are stunning.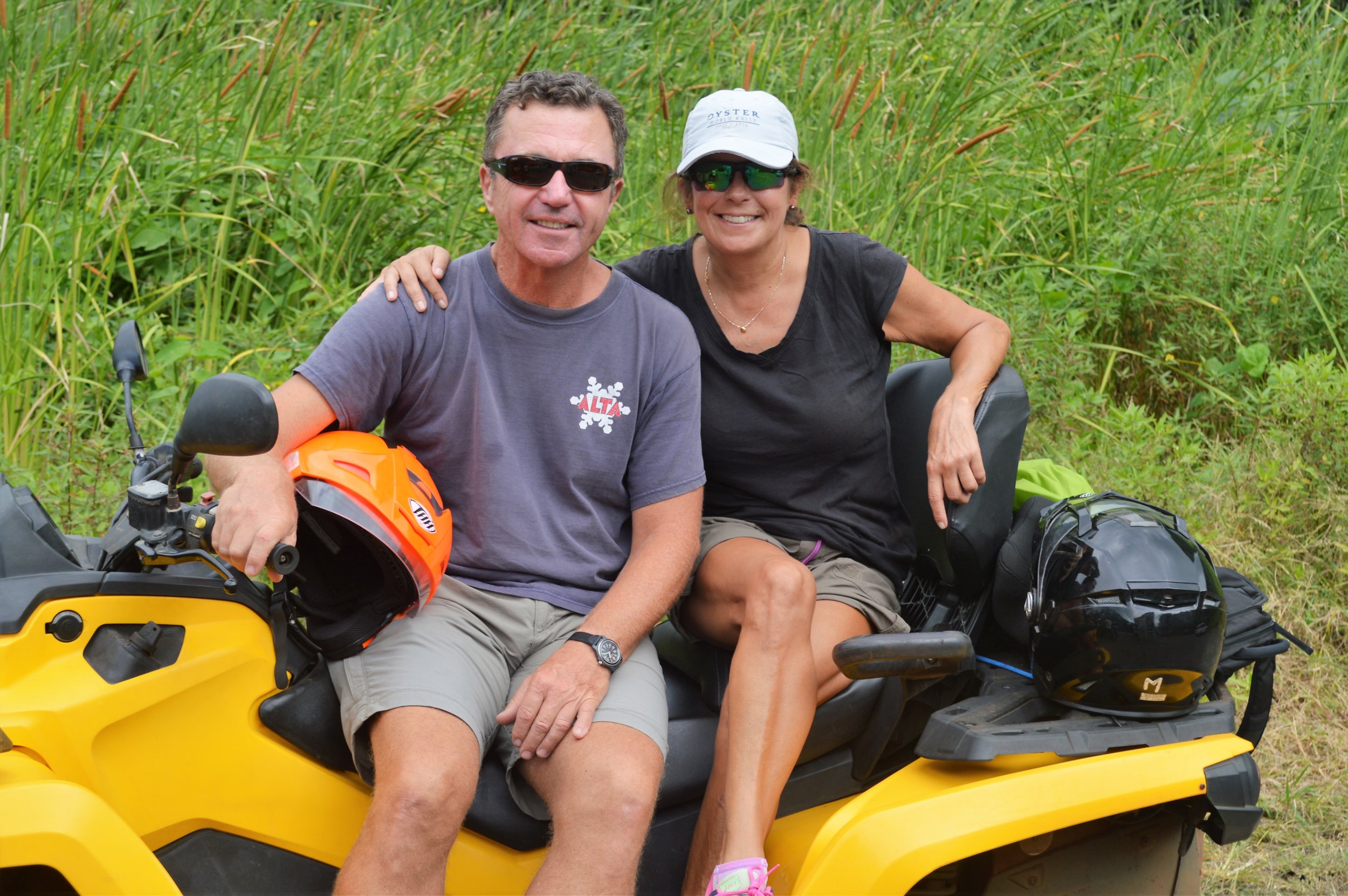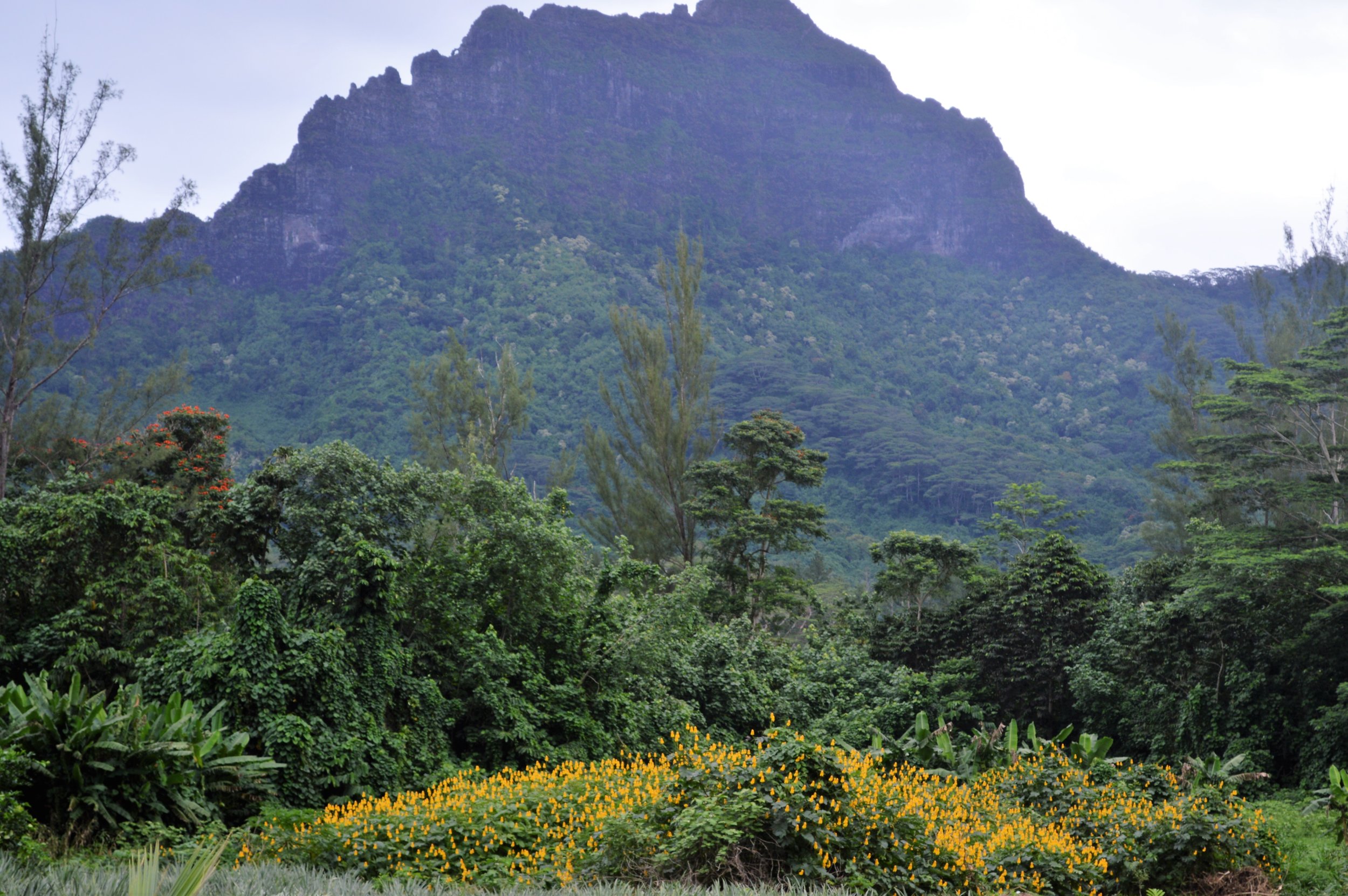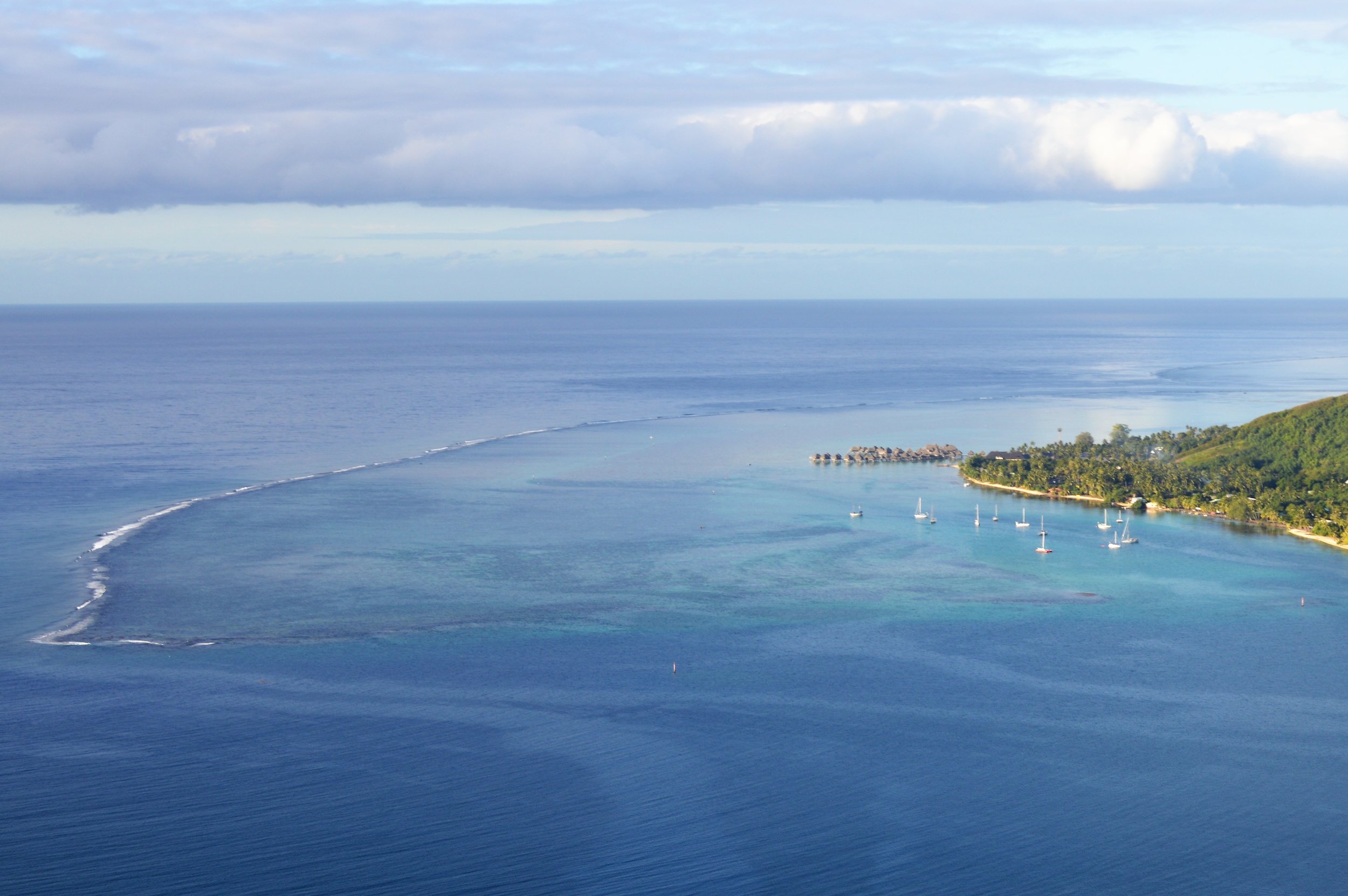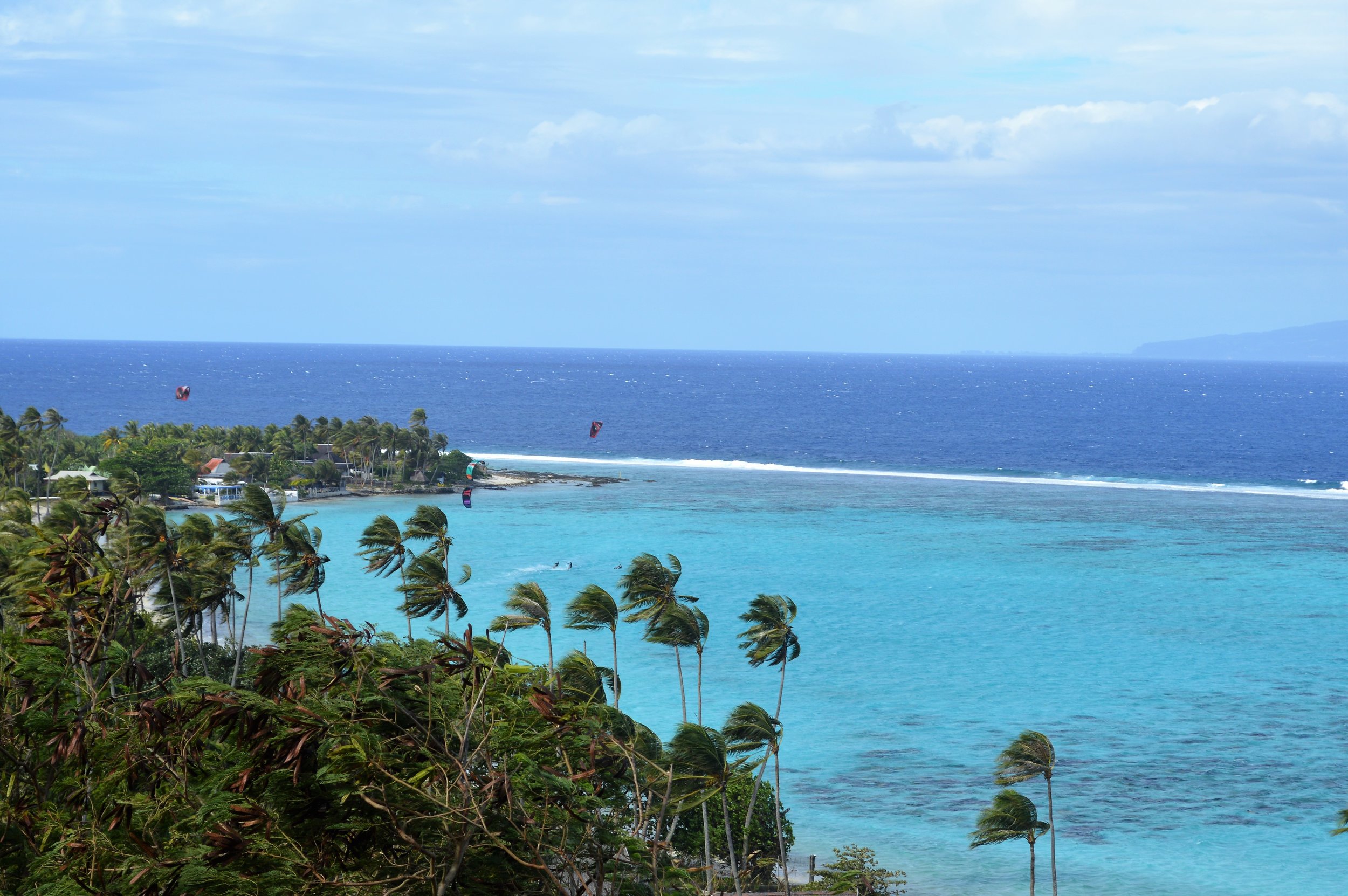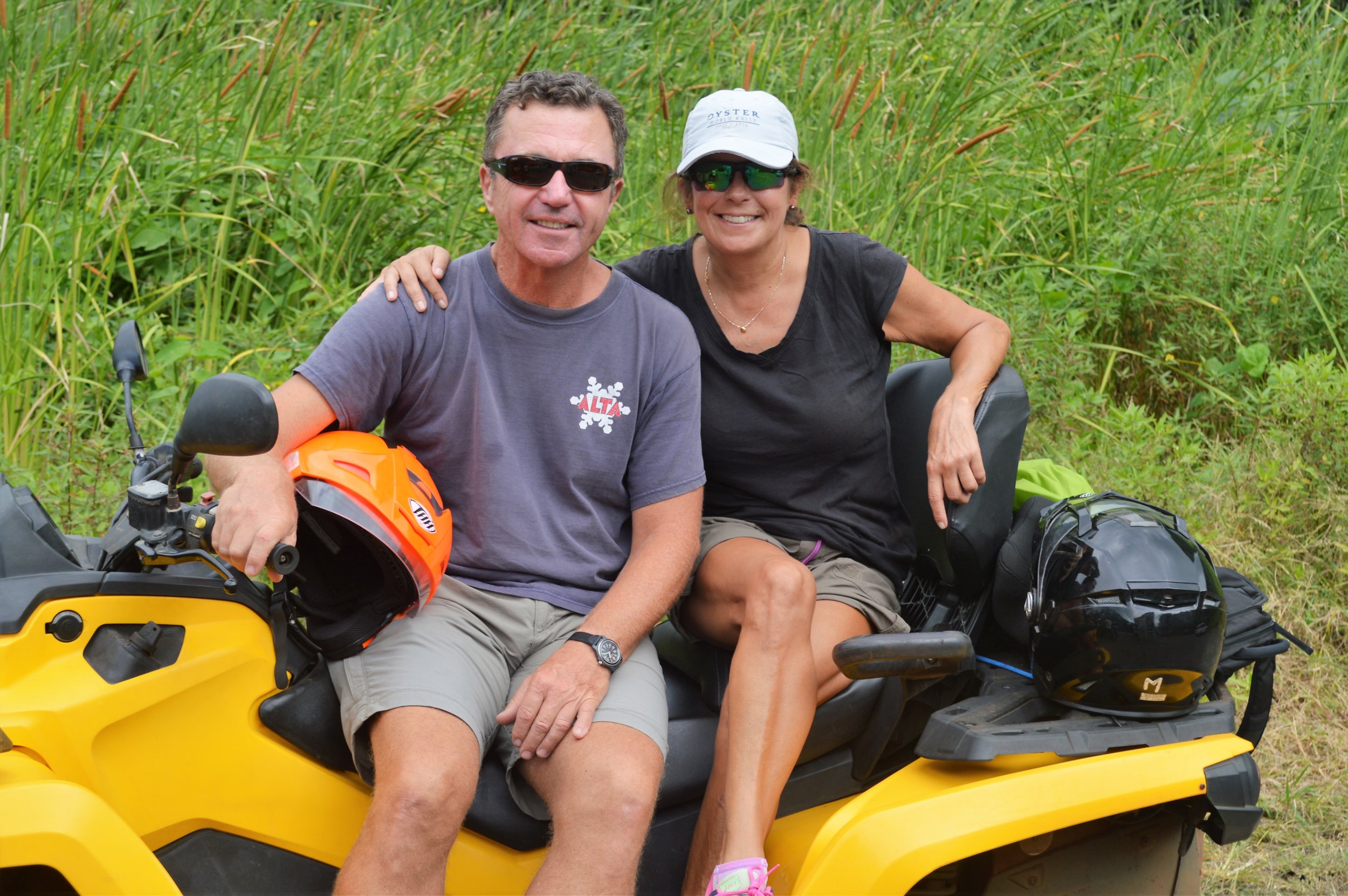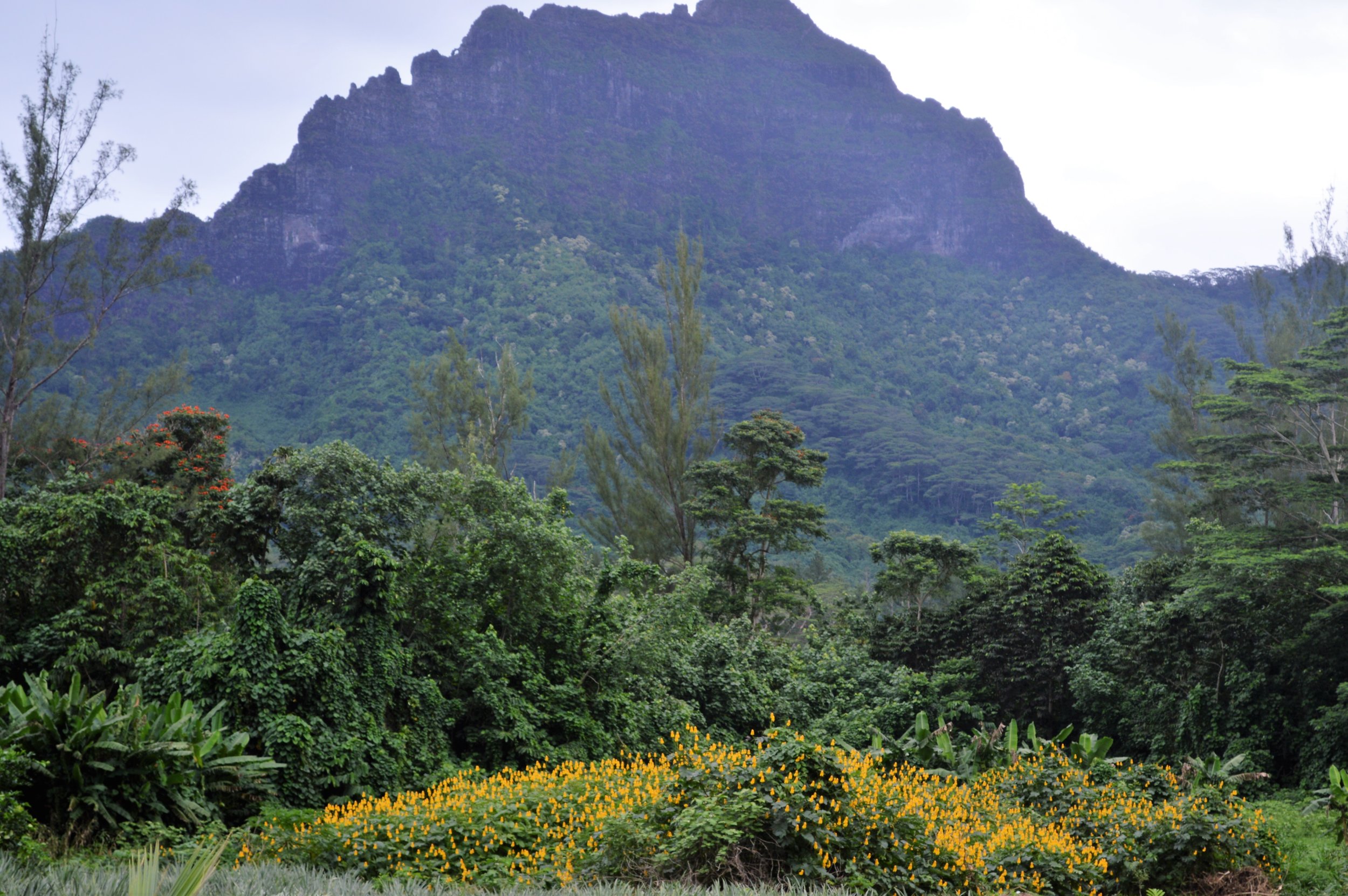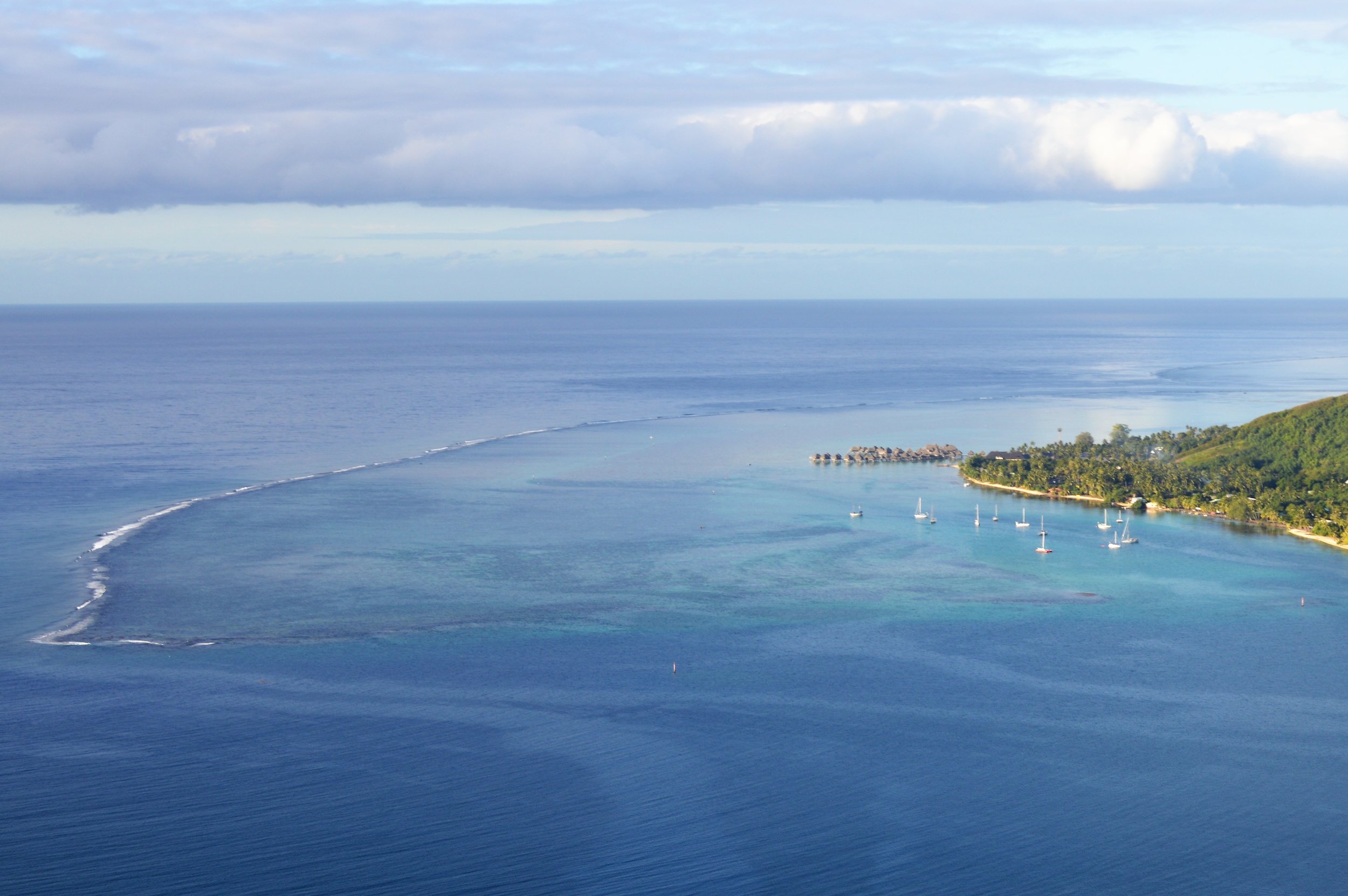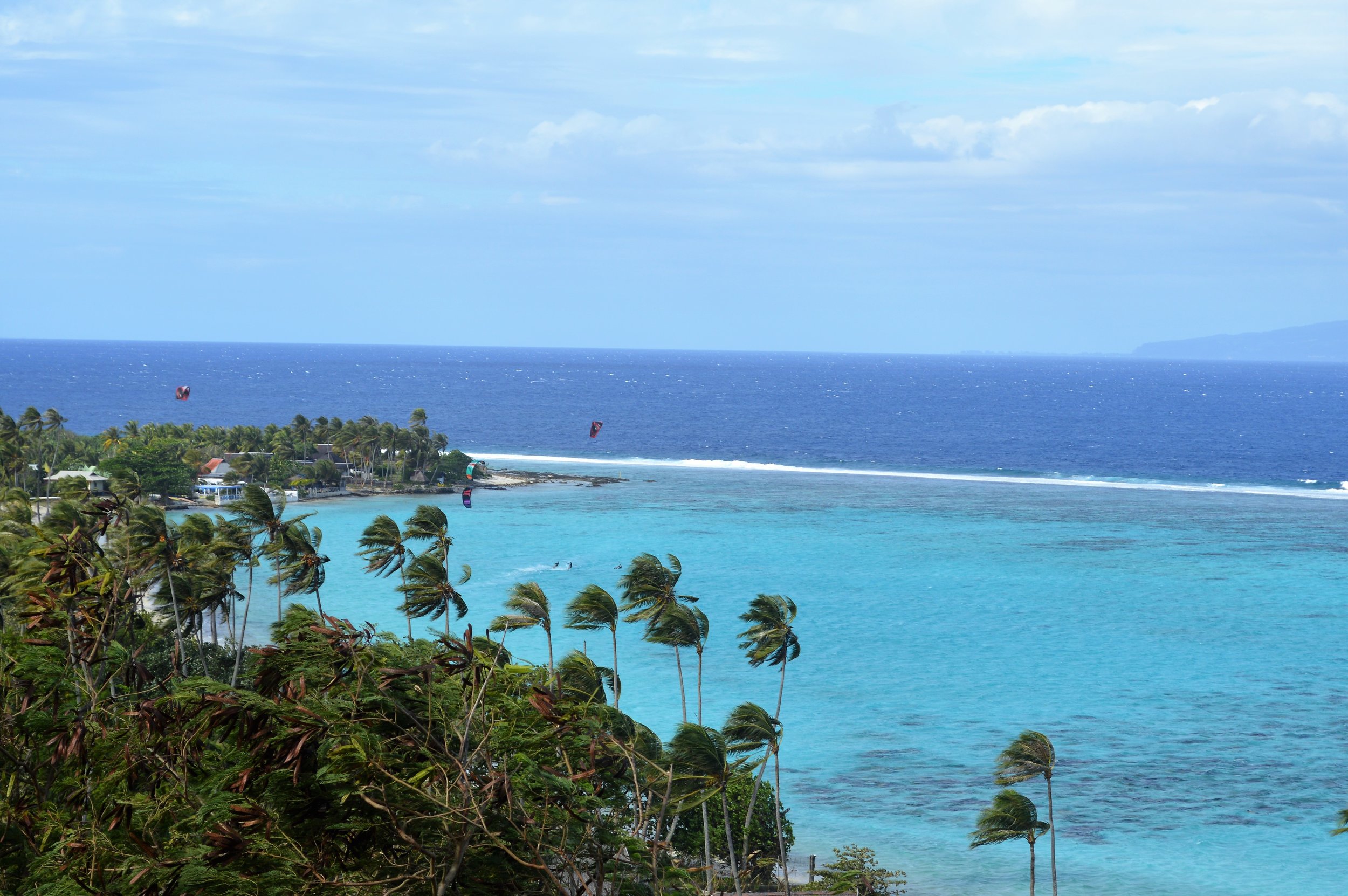 Back to Tahiti to collect Laura and Matt, who flew in from New York. We hadn't seen them since Christmas! They came bearing vitamins, clothes, fuel filters, etc., even a new alternator. And a Go Pro! They jumped right into the Oyster group, which includes some people in their age bracket. We headed back out to Moorea where most of the fleet was gathering. We spent a day on jet skis and another on quads. Lots of snorkeling, eating and drinking.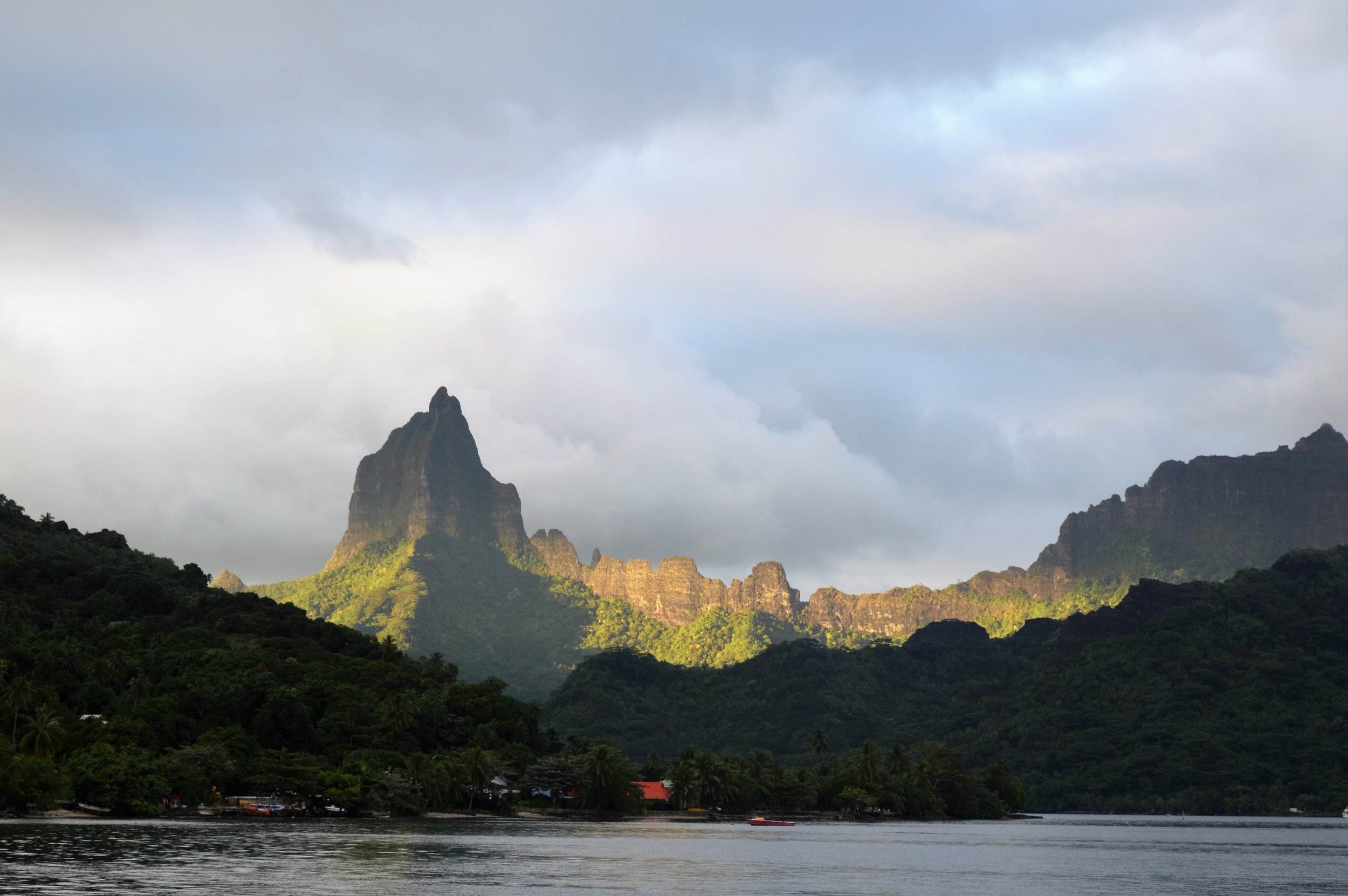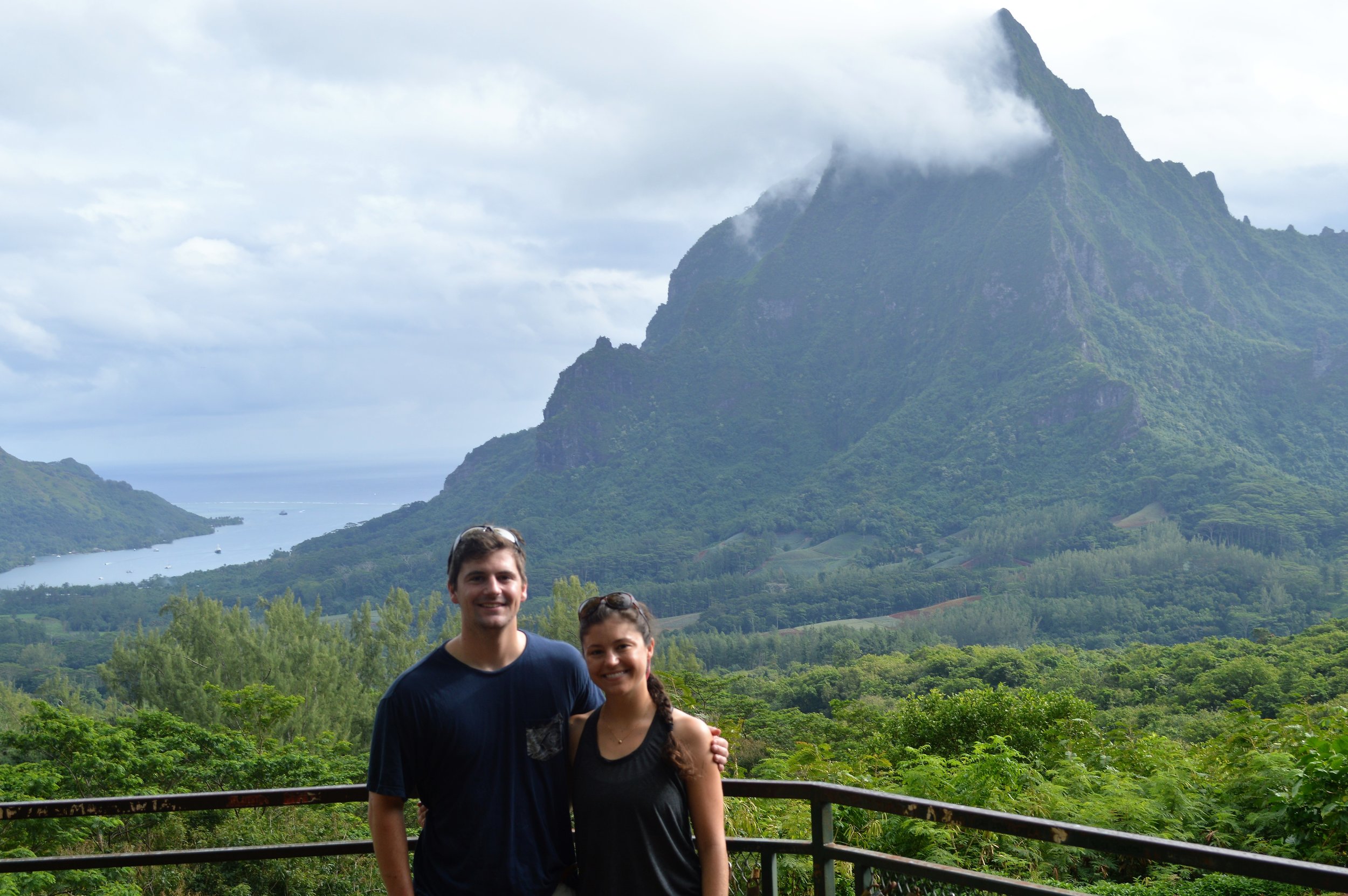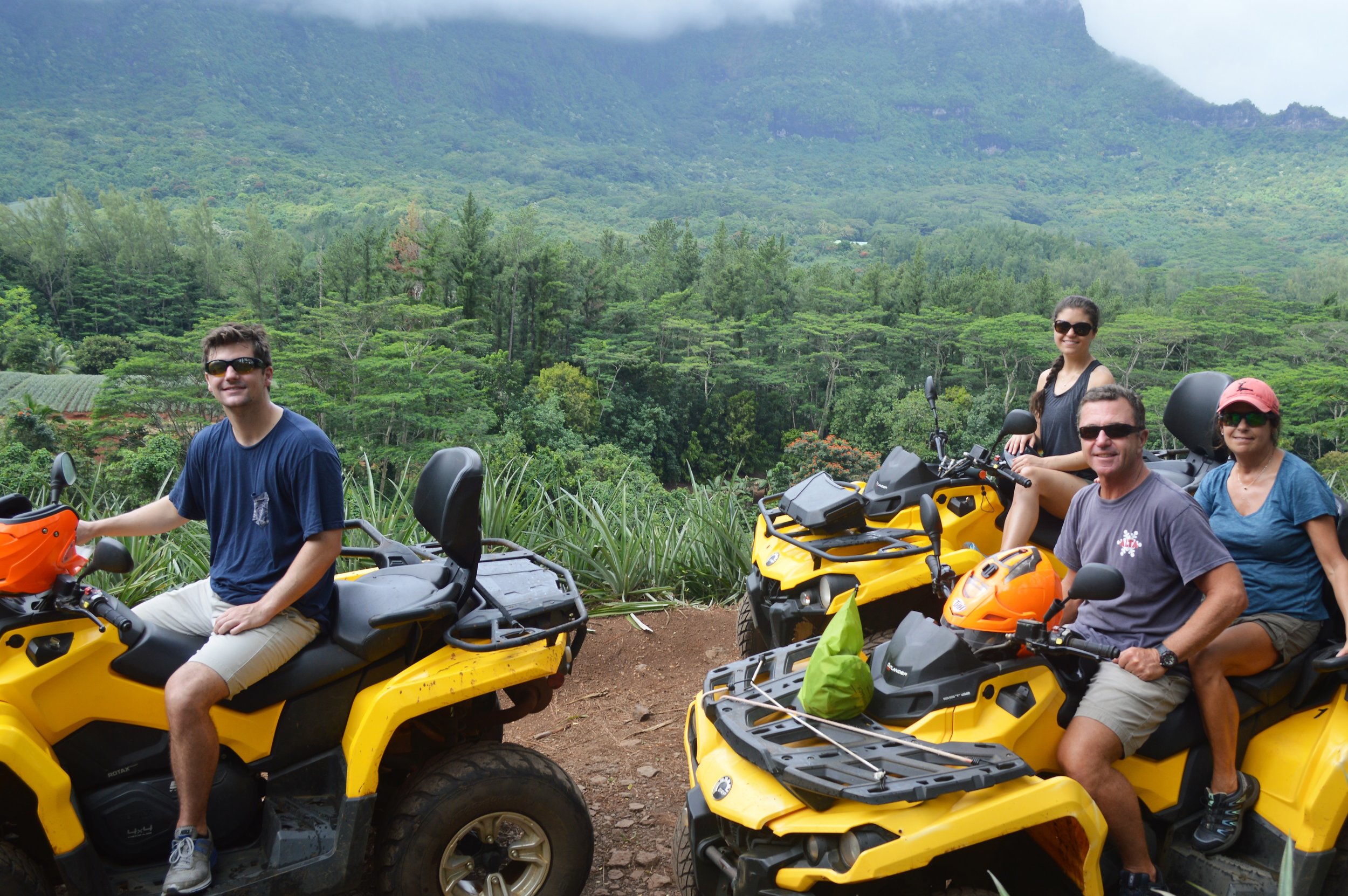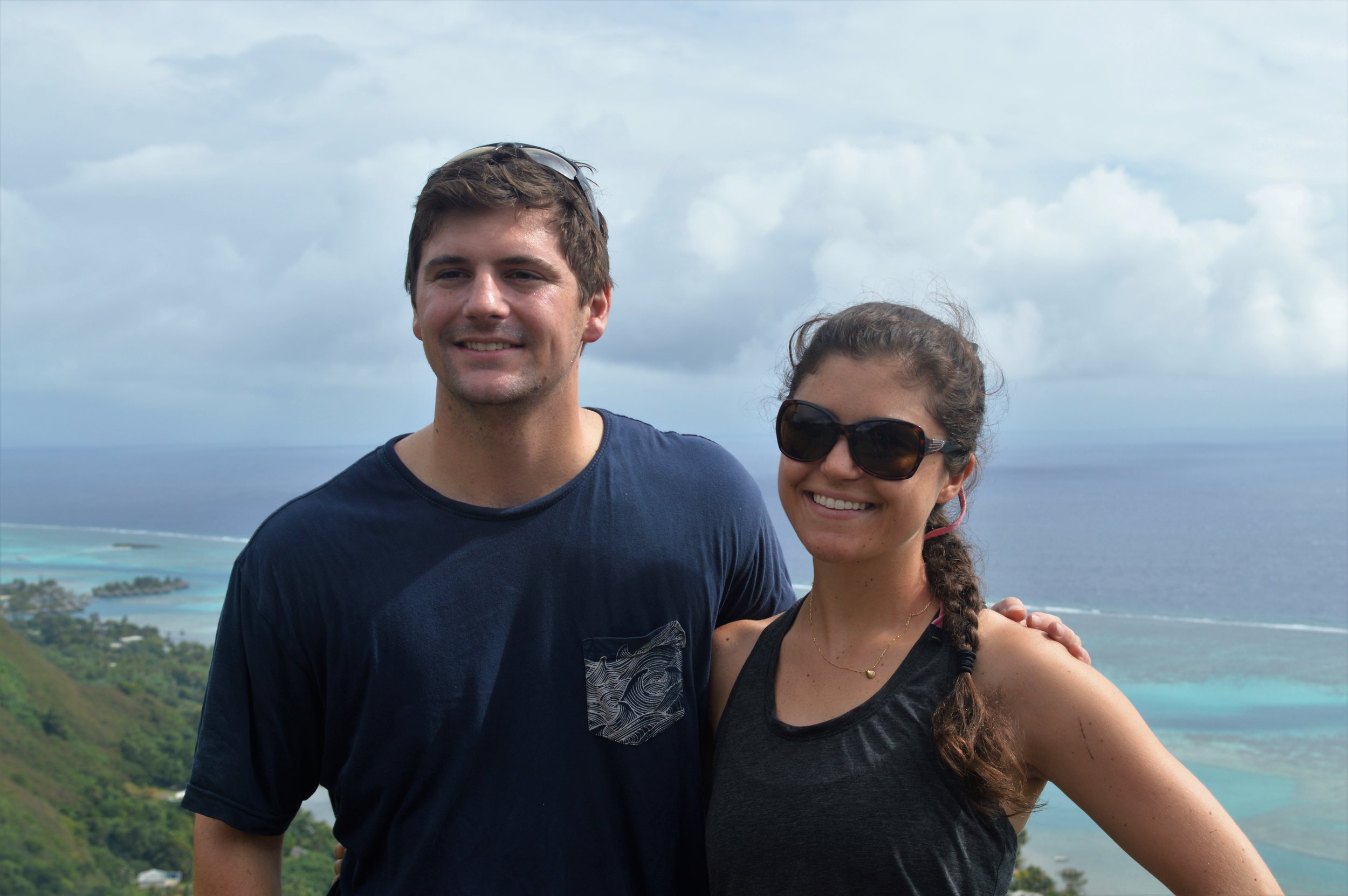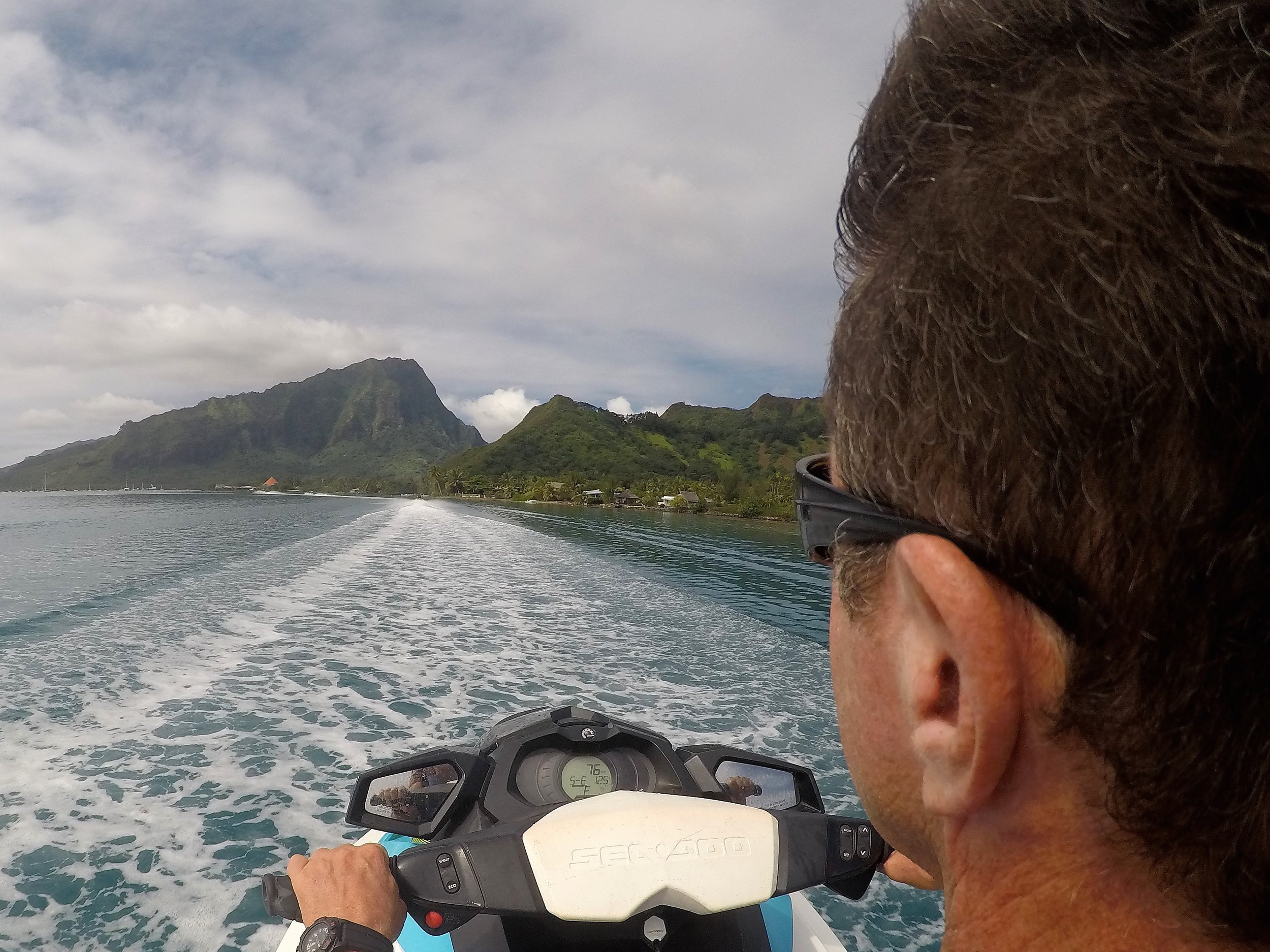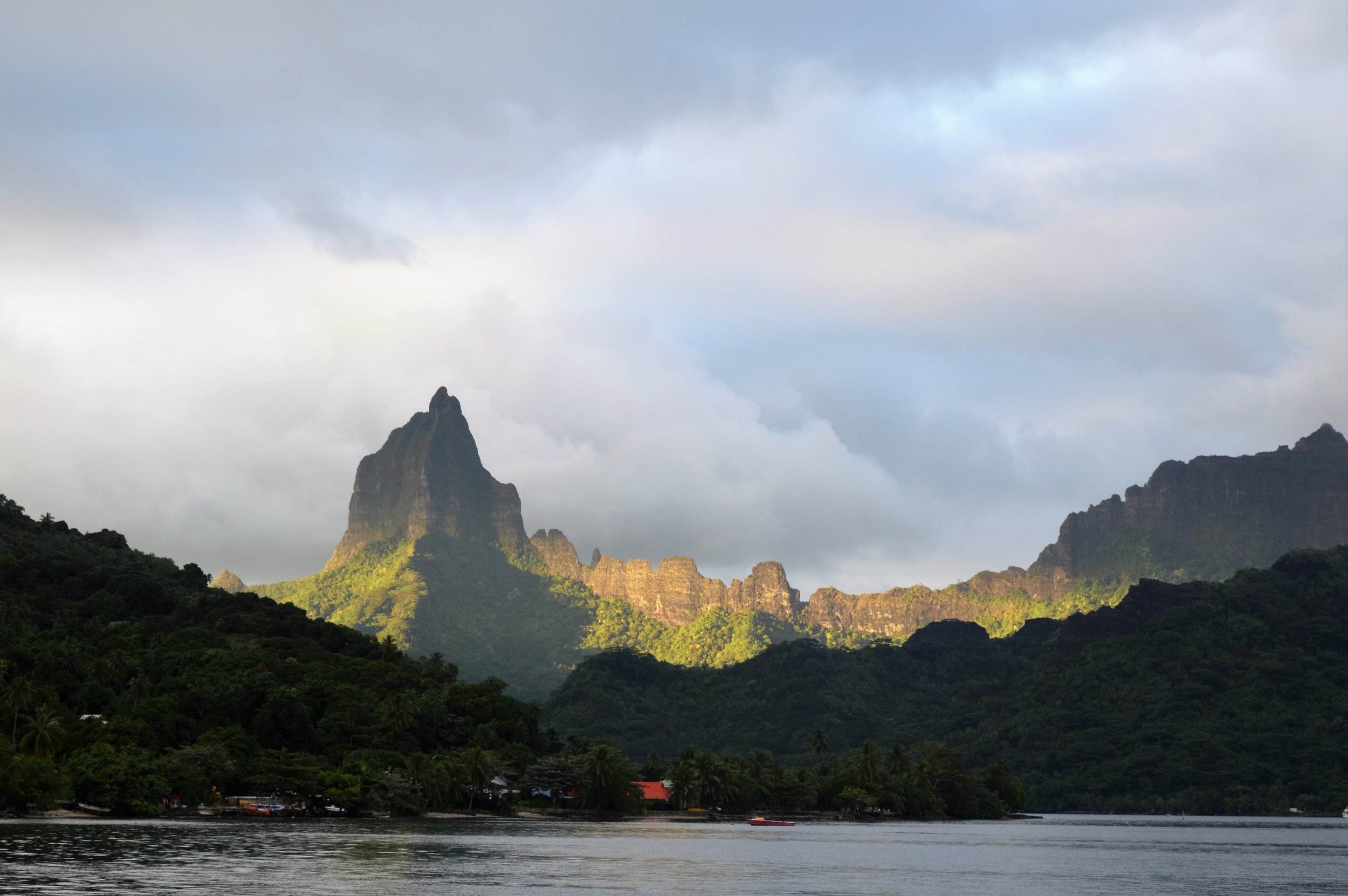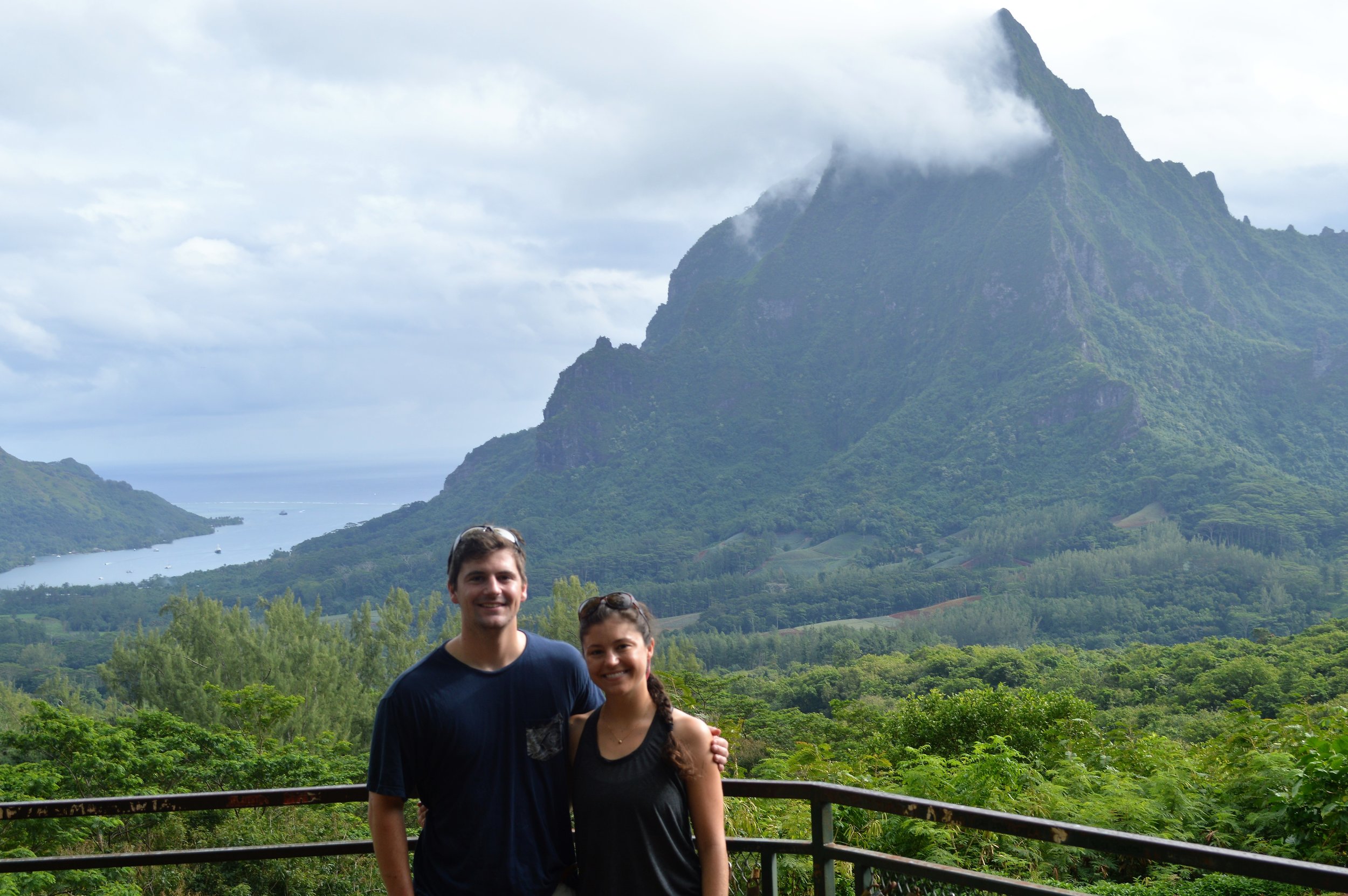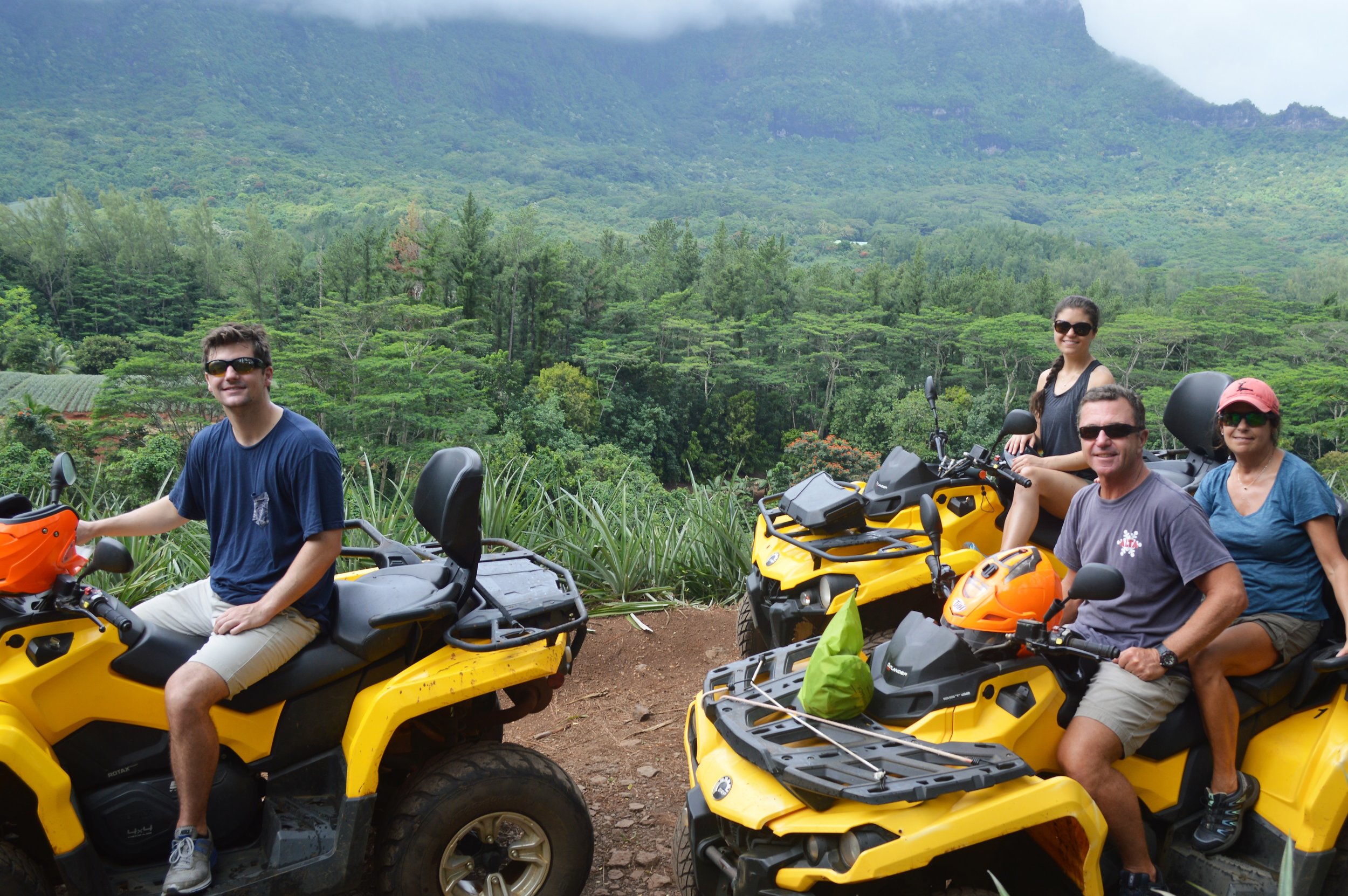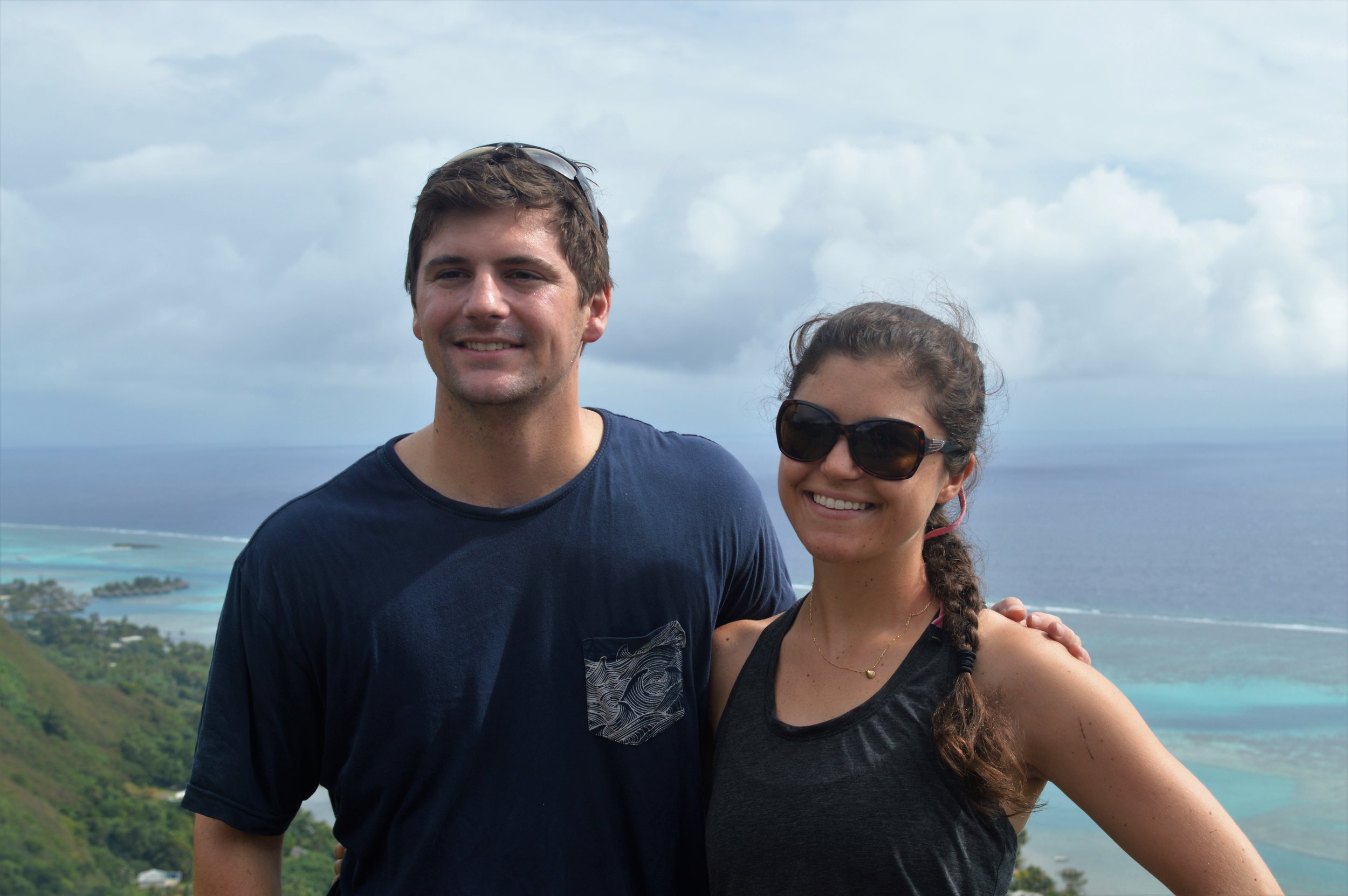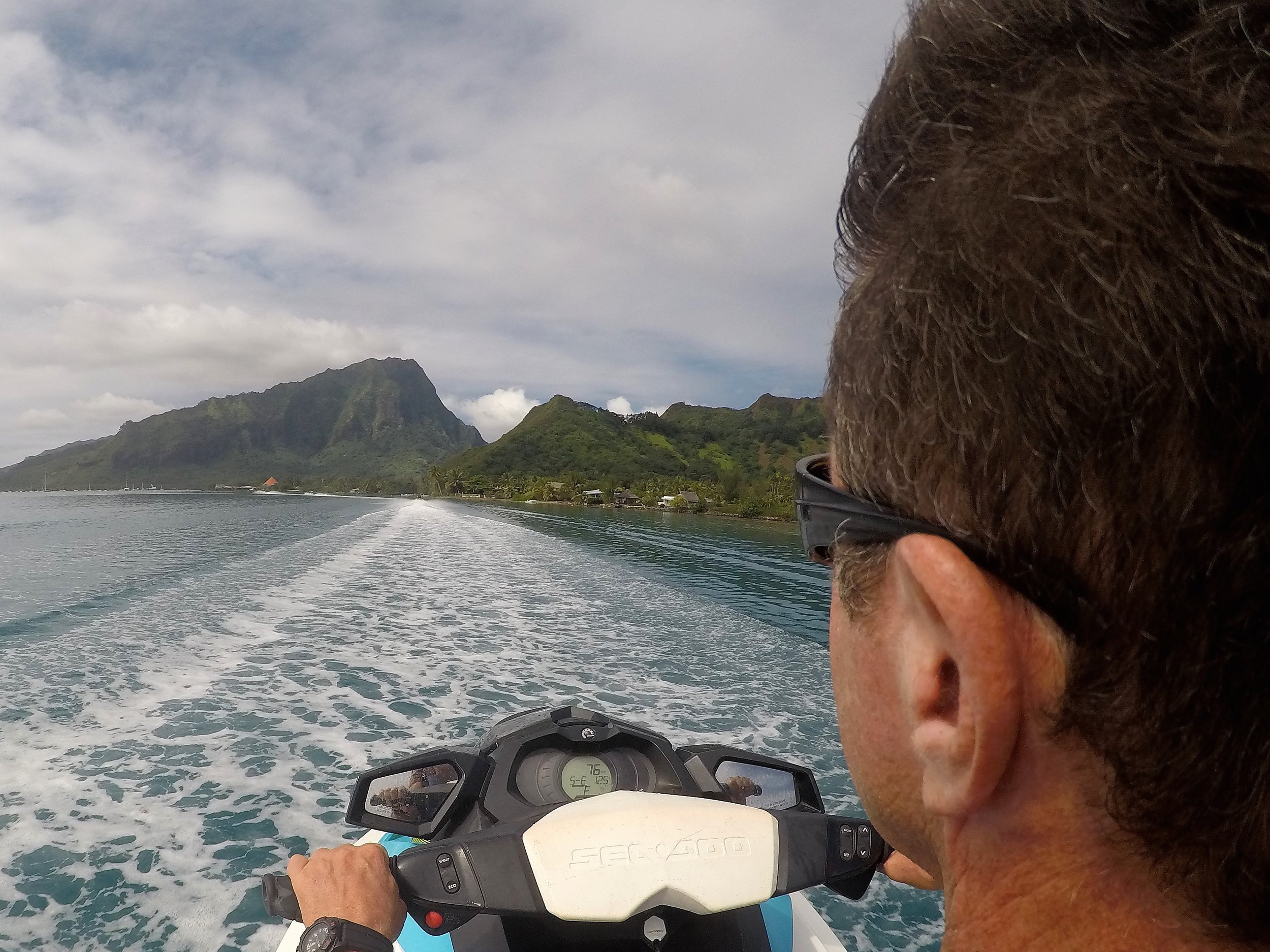 Most of the Oyster fleet anchored in Cooks Bay and proceeded with the usual flurry of activities, big group dinners, etc. Lots of fun. For the 4th of July, Oyster yachts On Liberty and Elise rafted up to host a barbecue. At first it was mostly the Americans, but as the day progressed almost everyone in the fleet stopped by. Sort of funny to celebrate the 4th of July with British friends!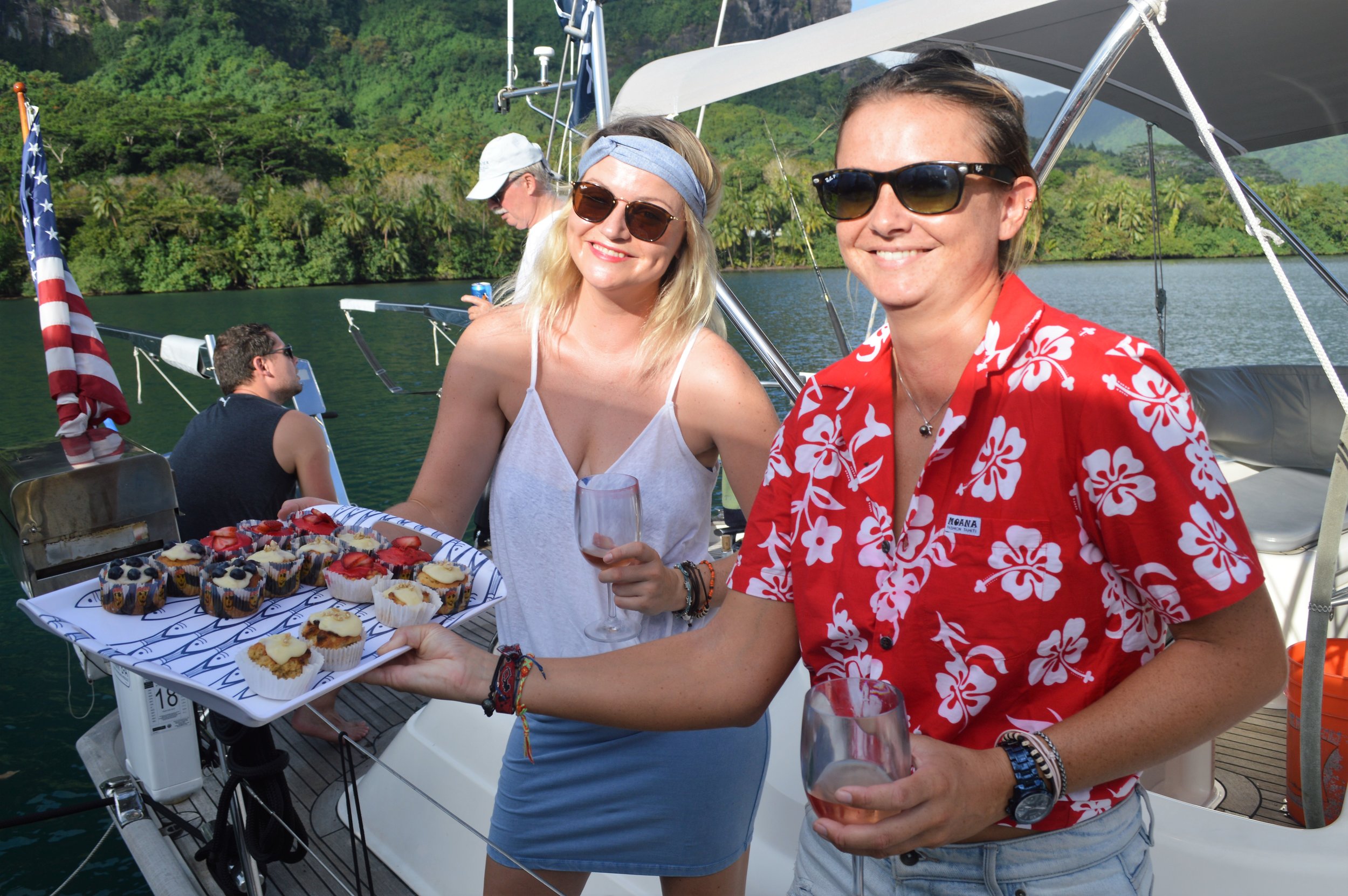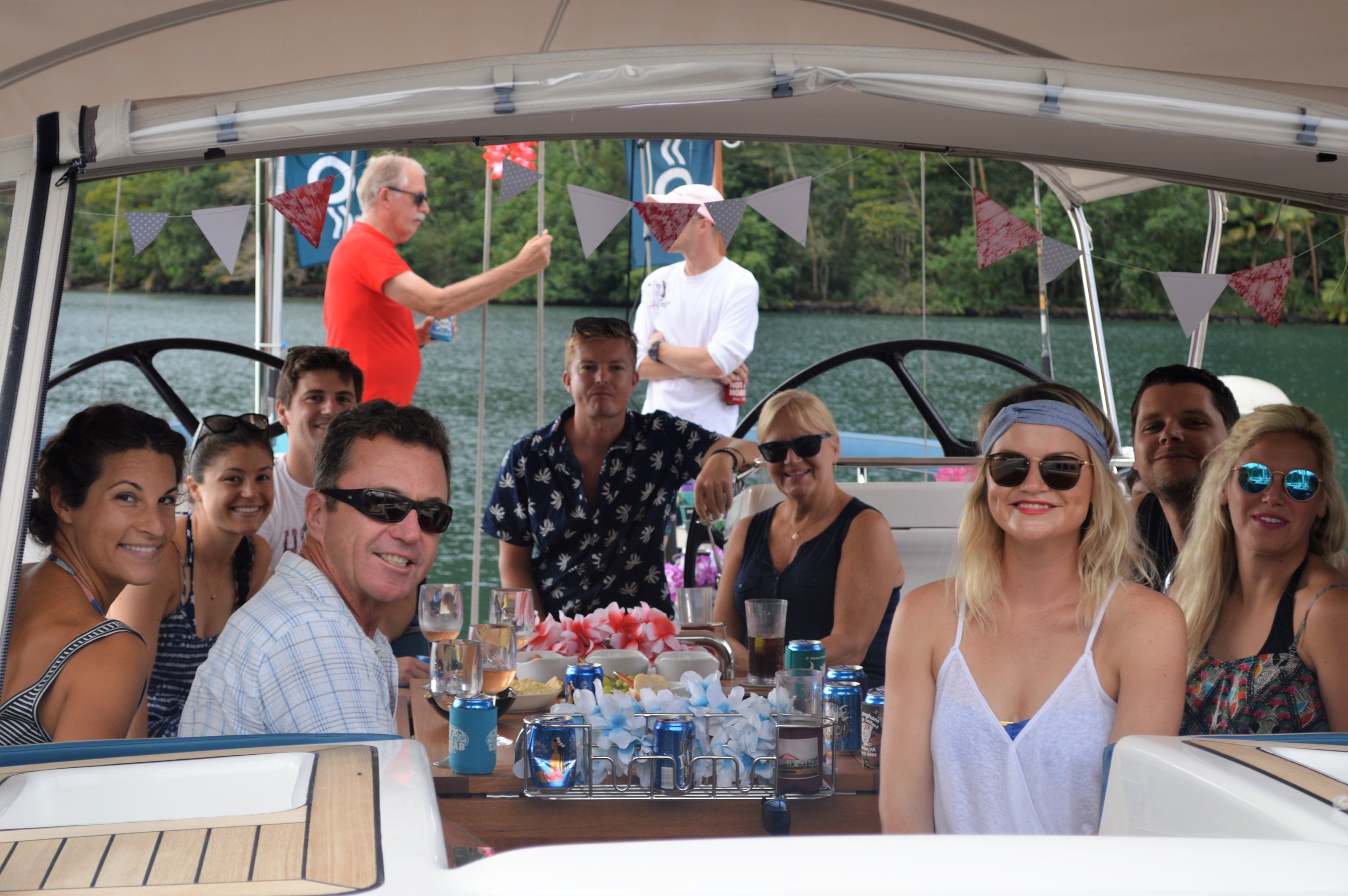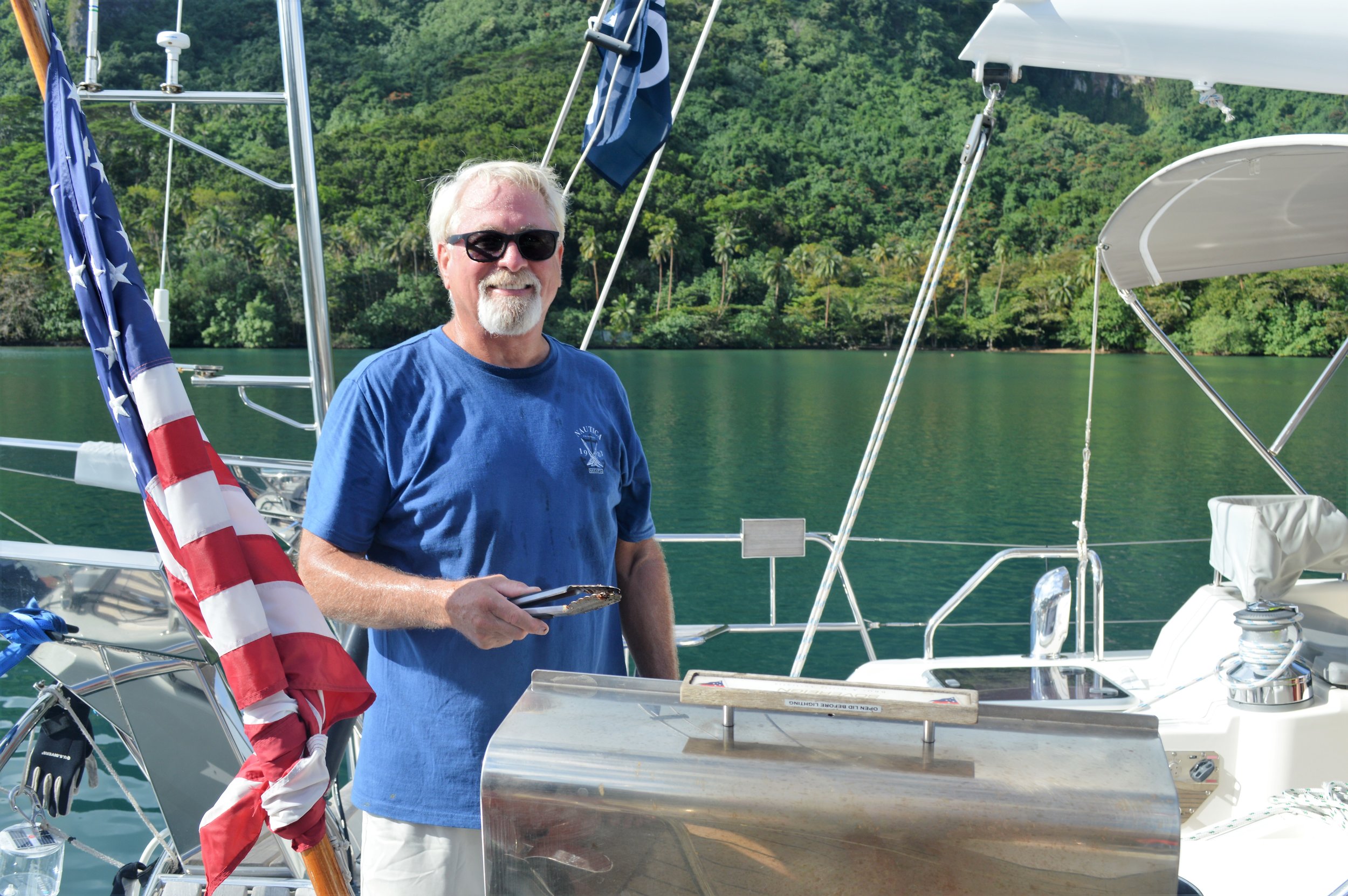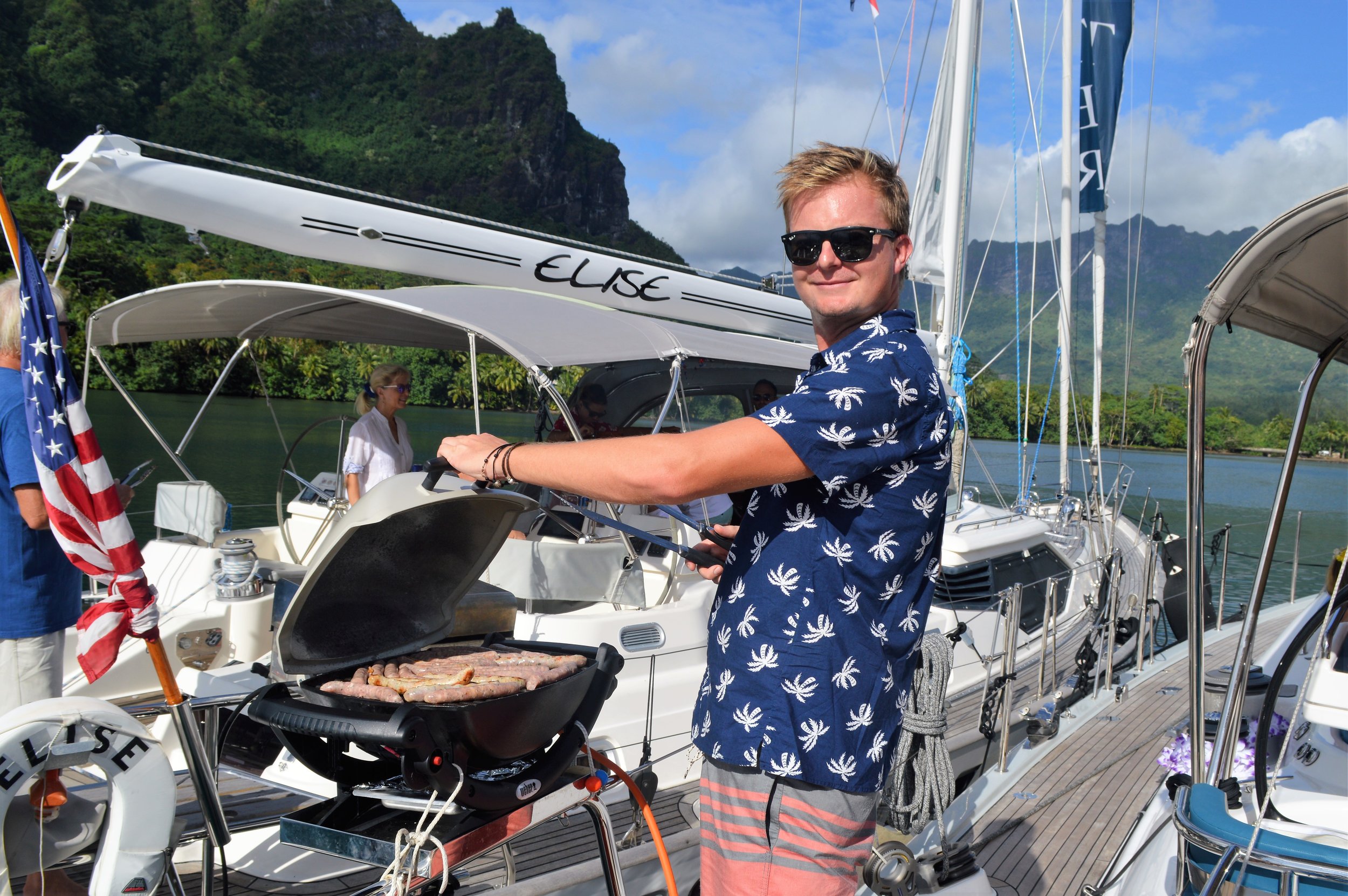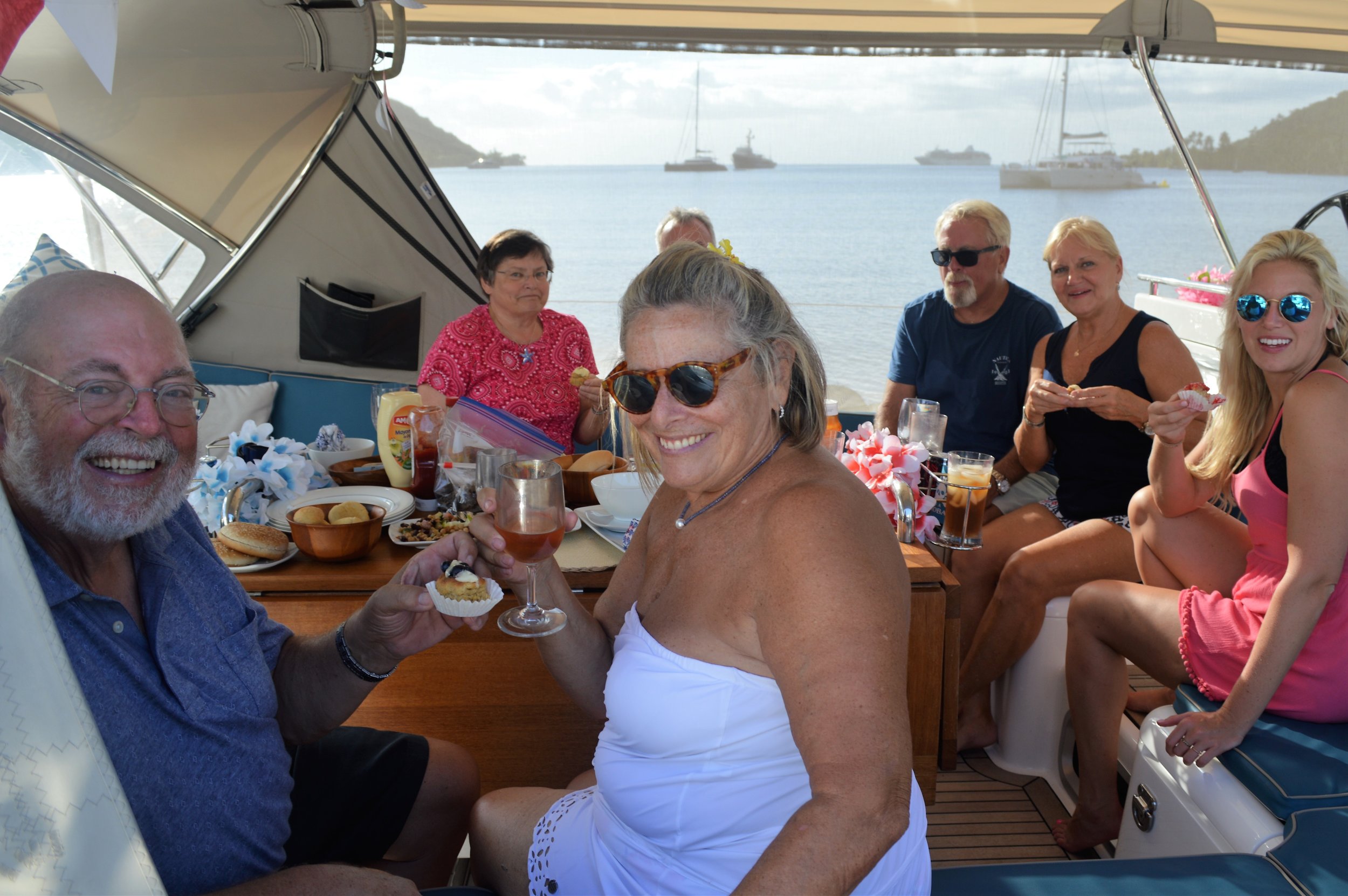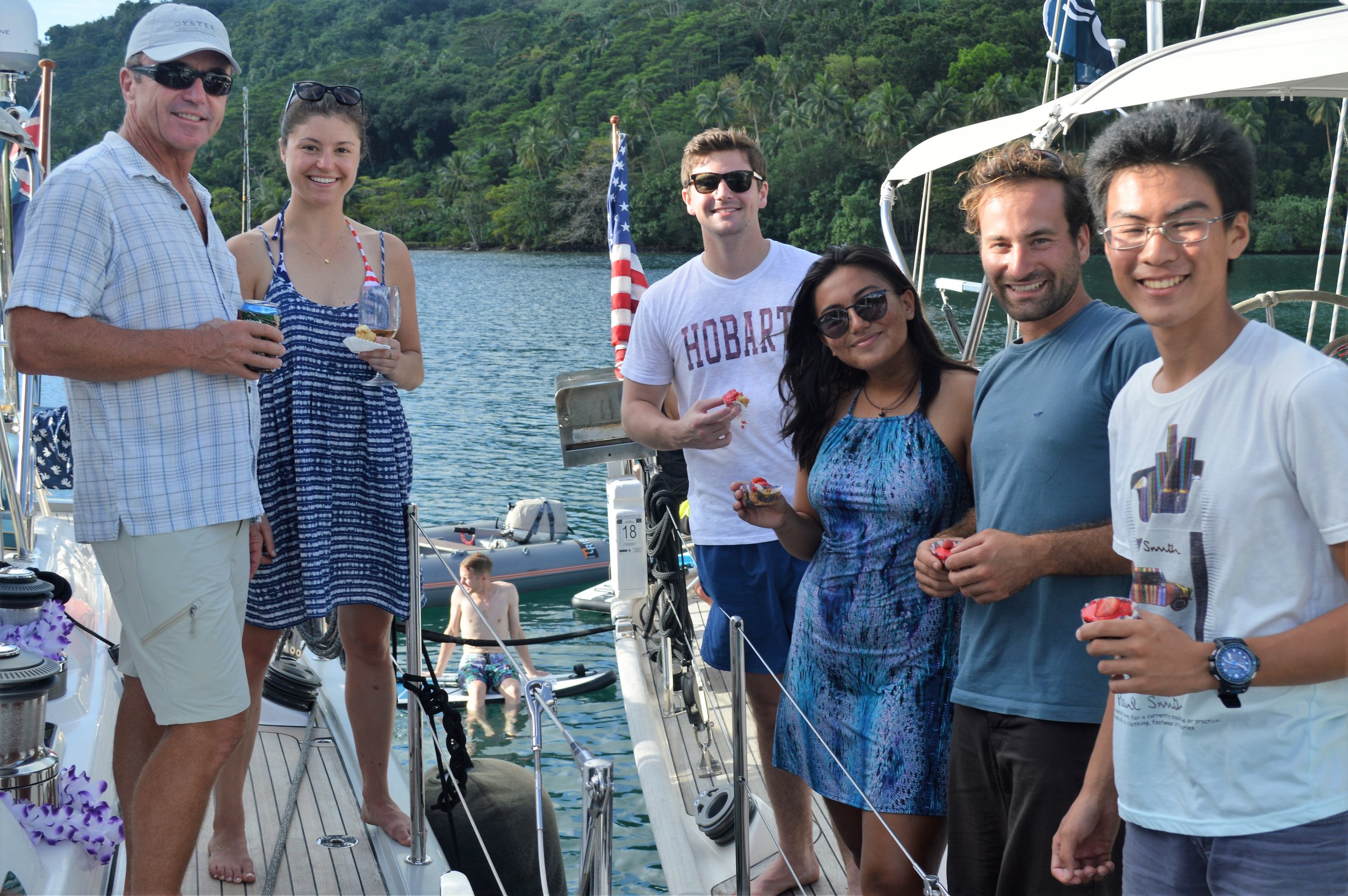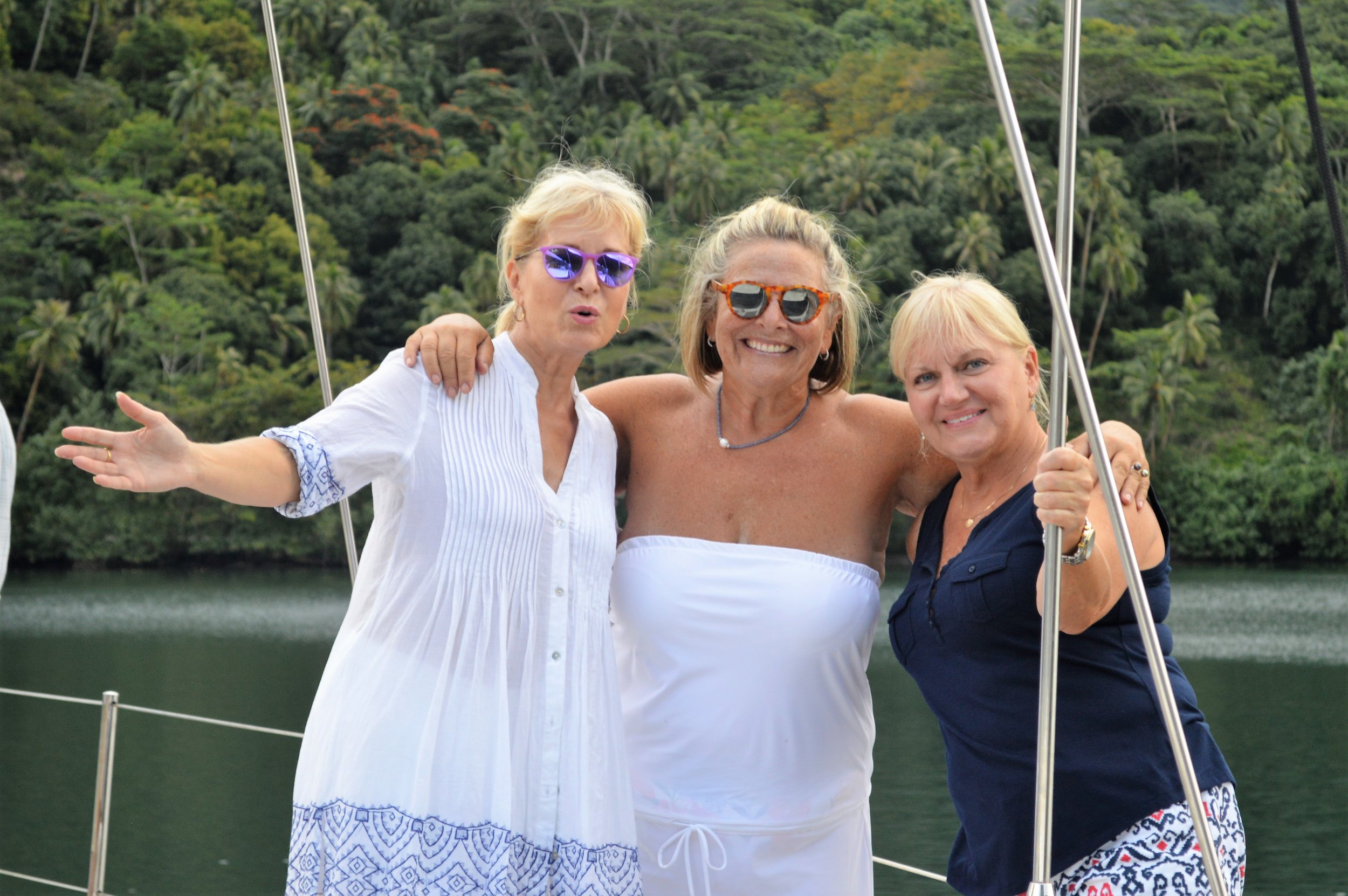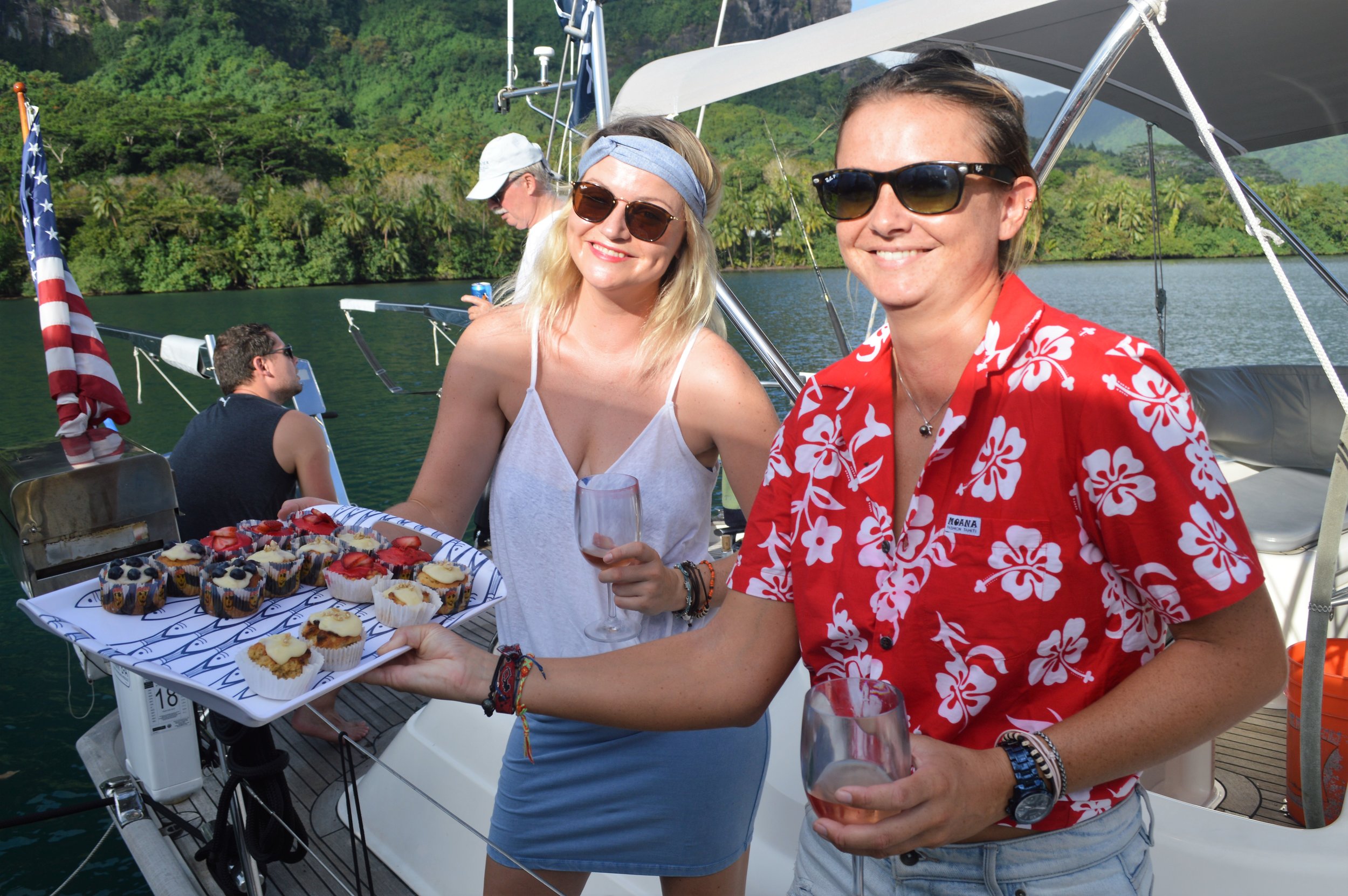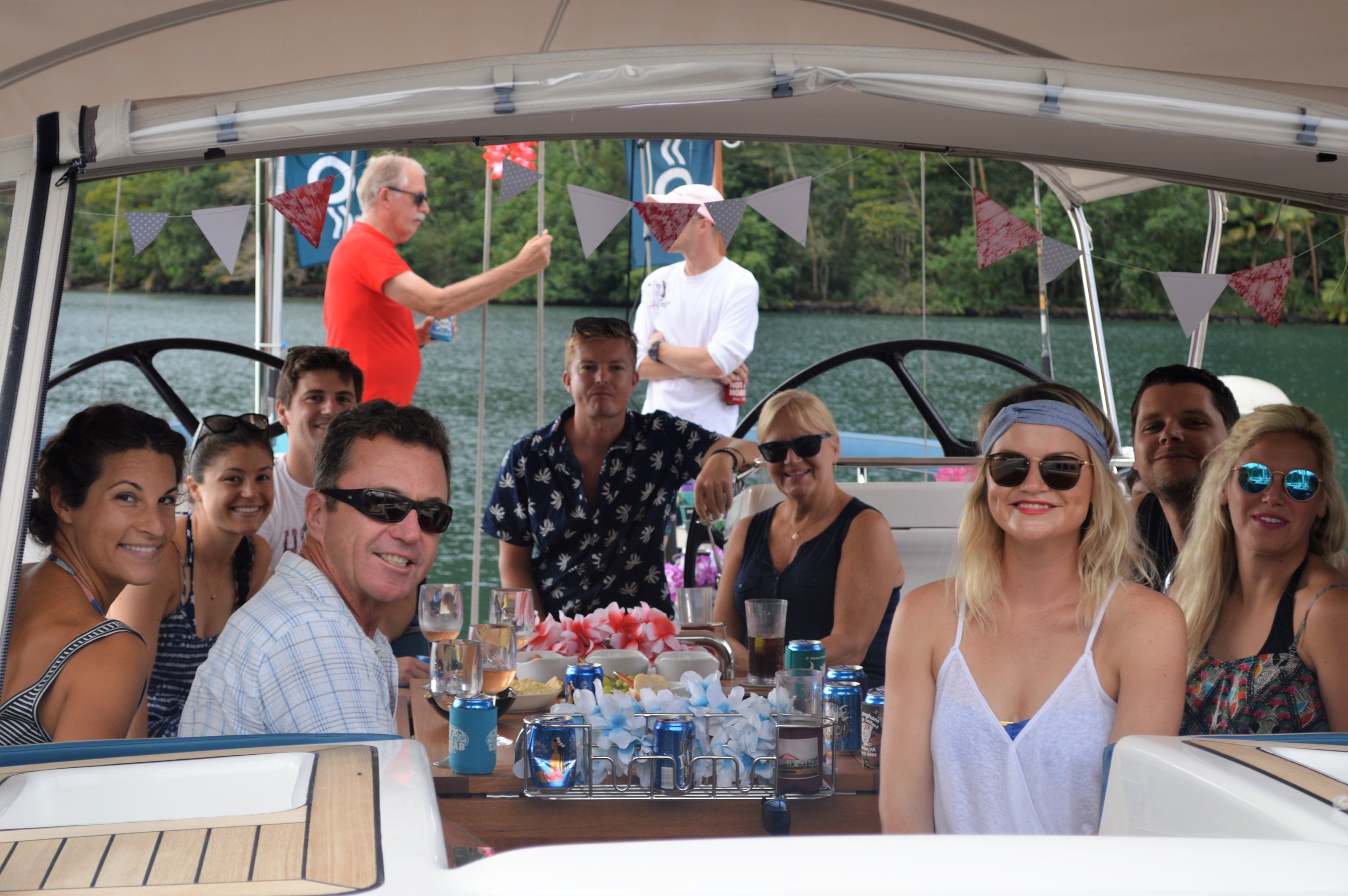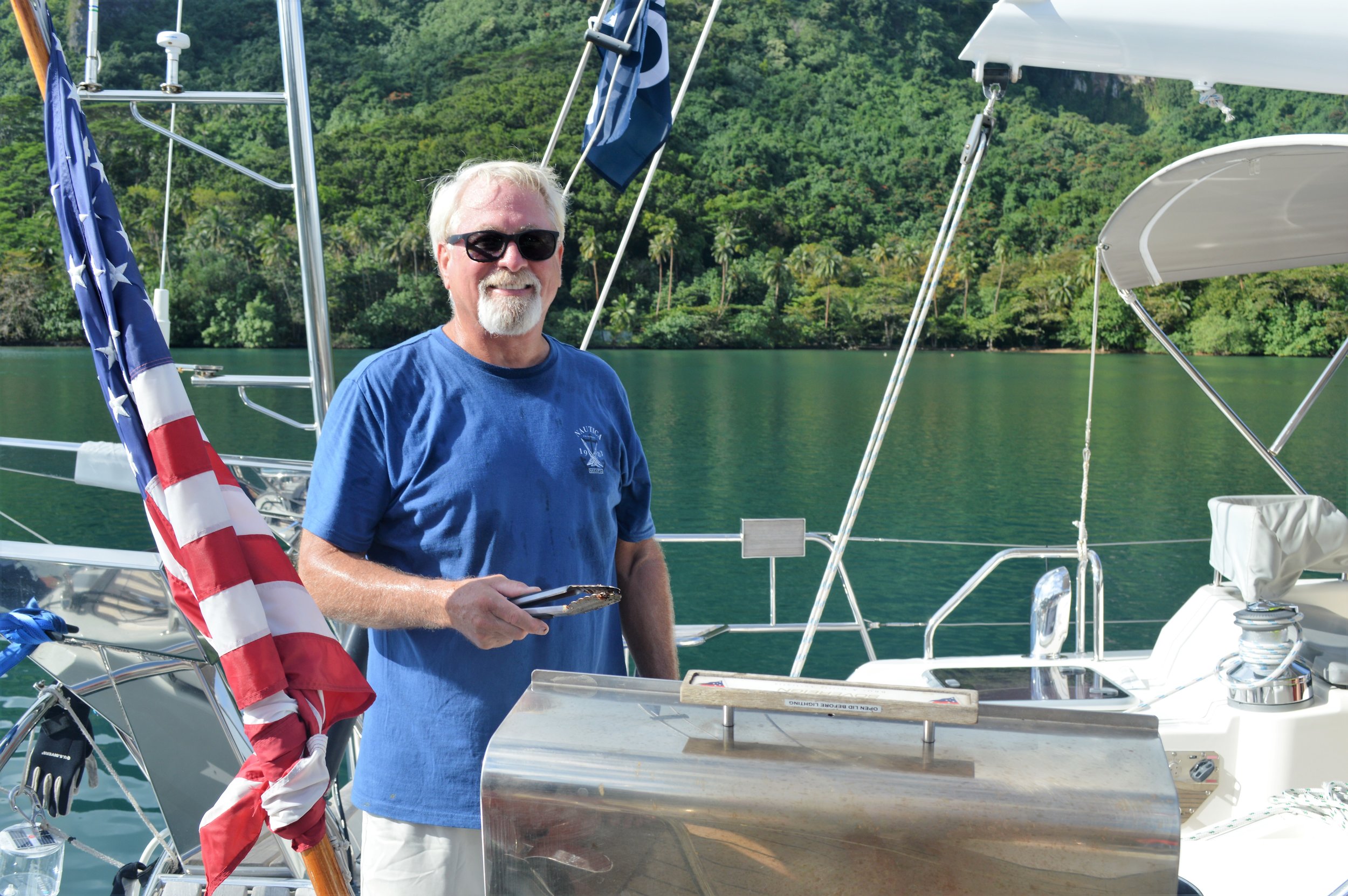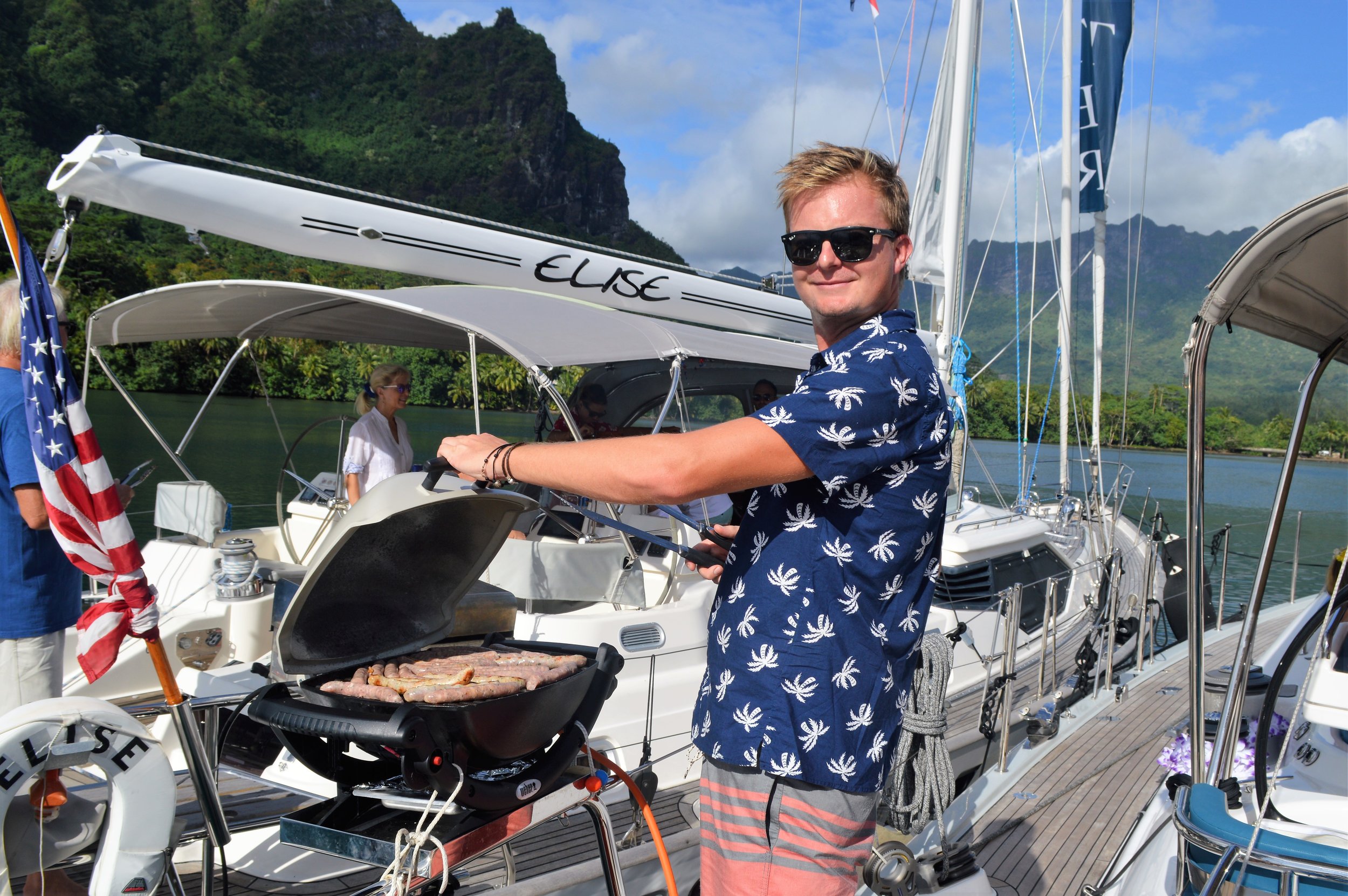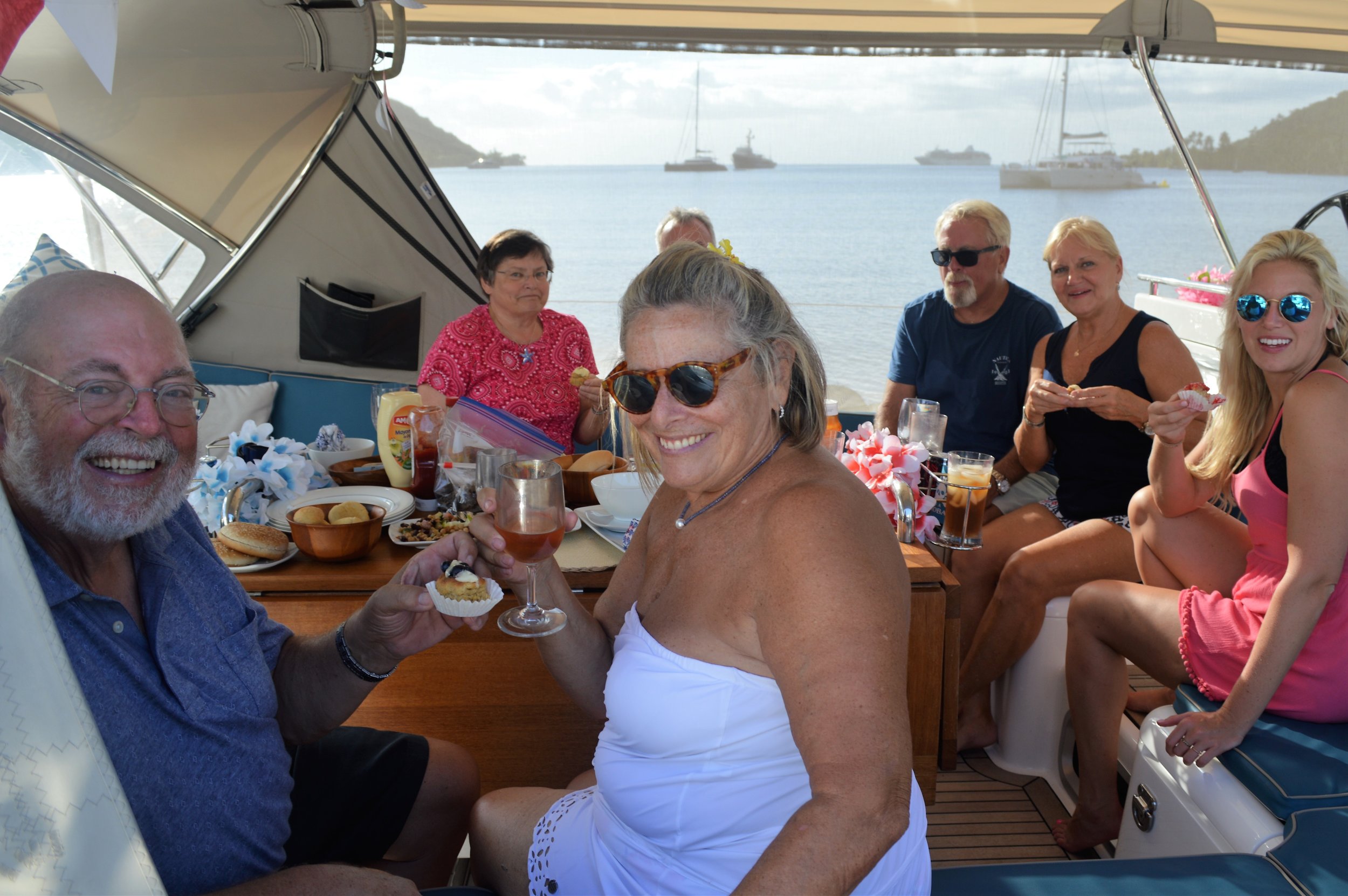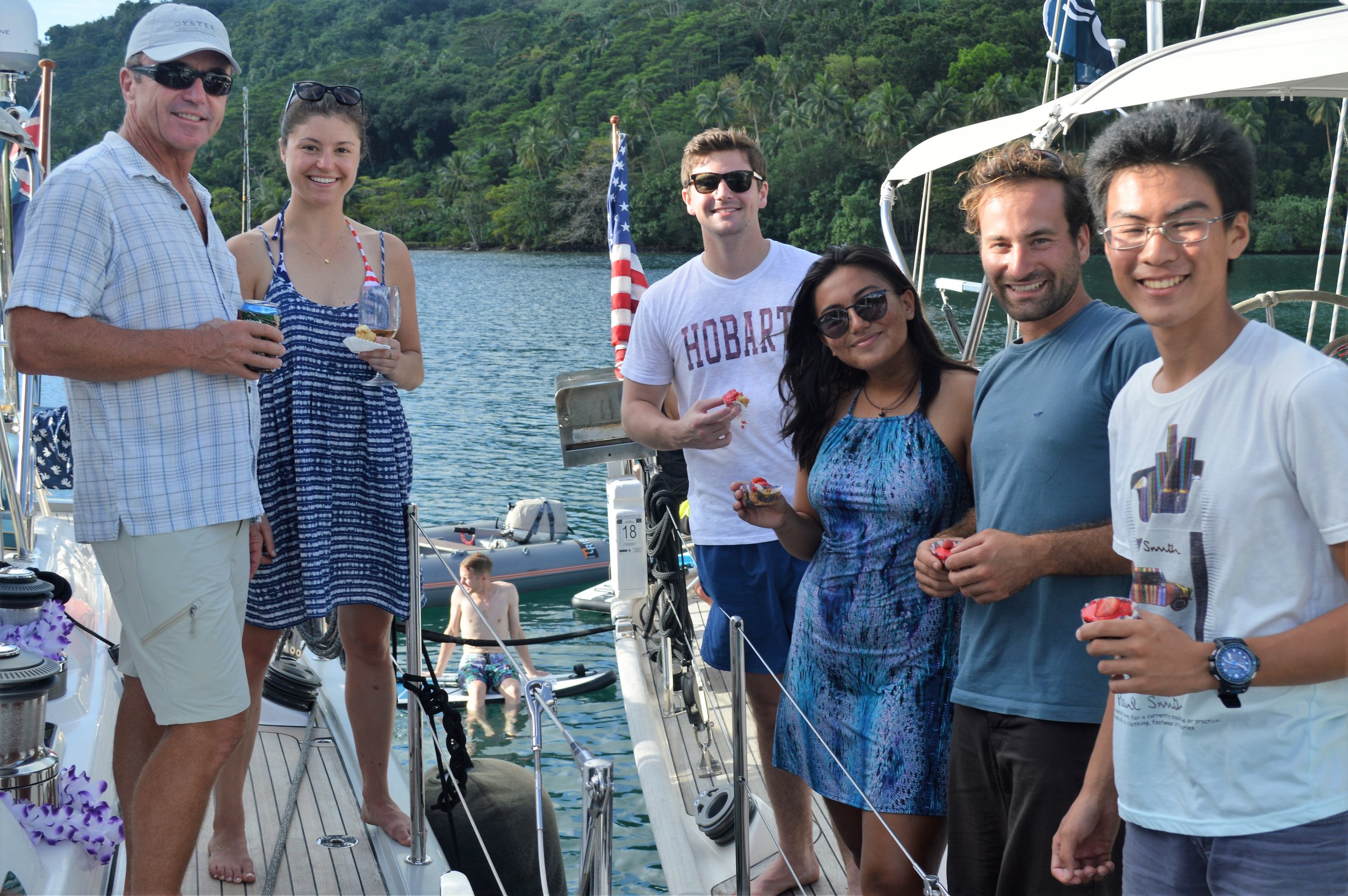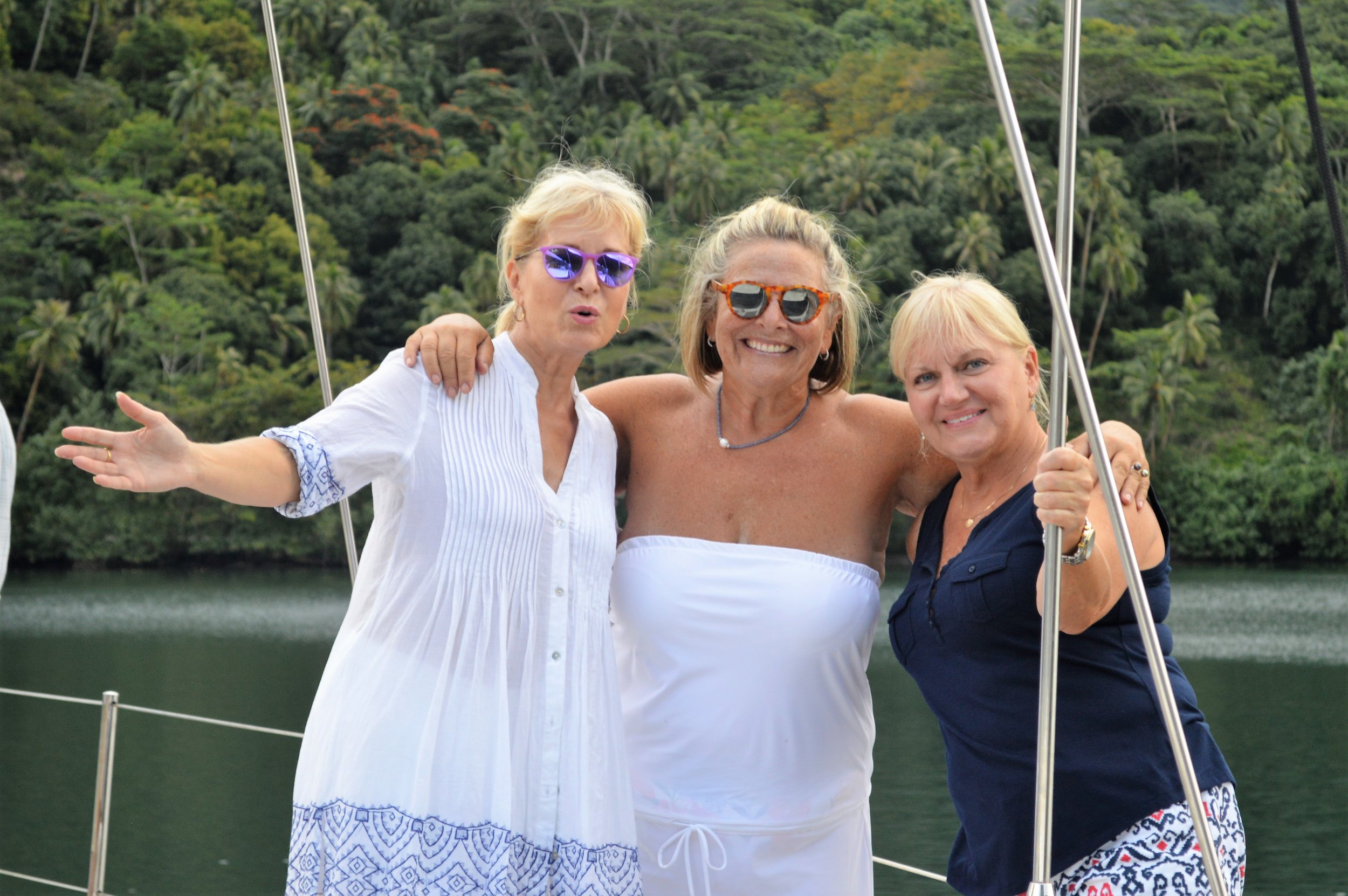 Oyster arranged a Skippers' meeting to discuss some of our future destinations, including the rest of the Society Islands. We also heard from New Zealand representatives about marinas, visas, etc. Afterwards there was a cocktail party at the Bali Hi resort. The next day Oyster arranged for all sorts of activities on shore, including an outrigger canoe race for the fleet. Of course there were local dancers. Dancing plays a big role in French Polynesian culture. Everyone had a blast!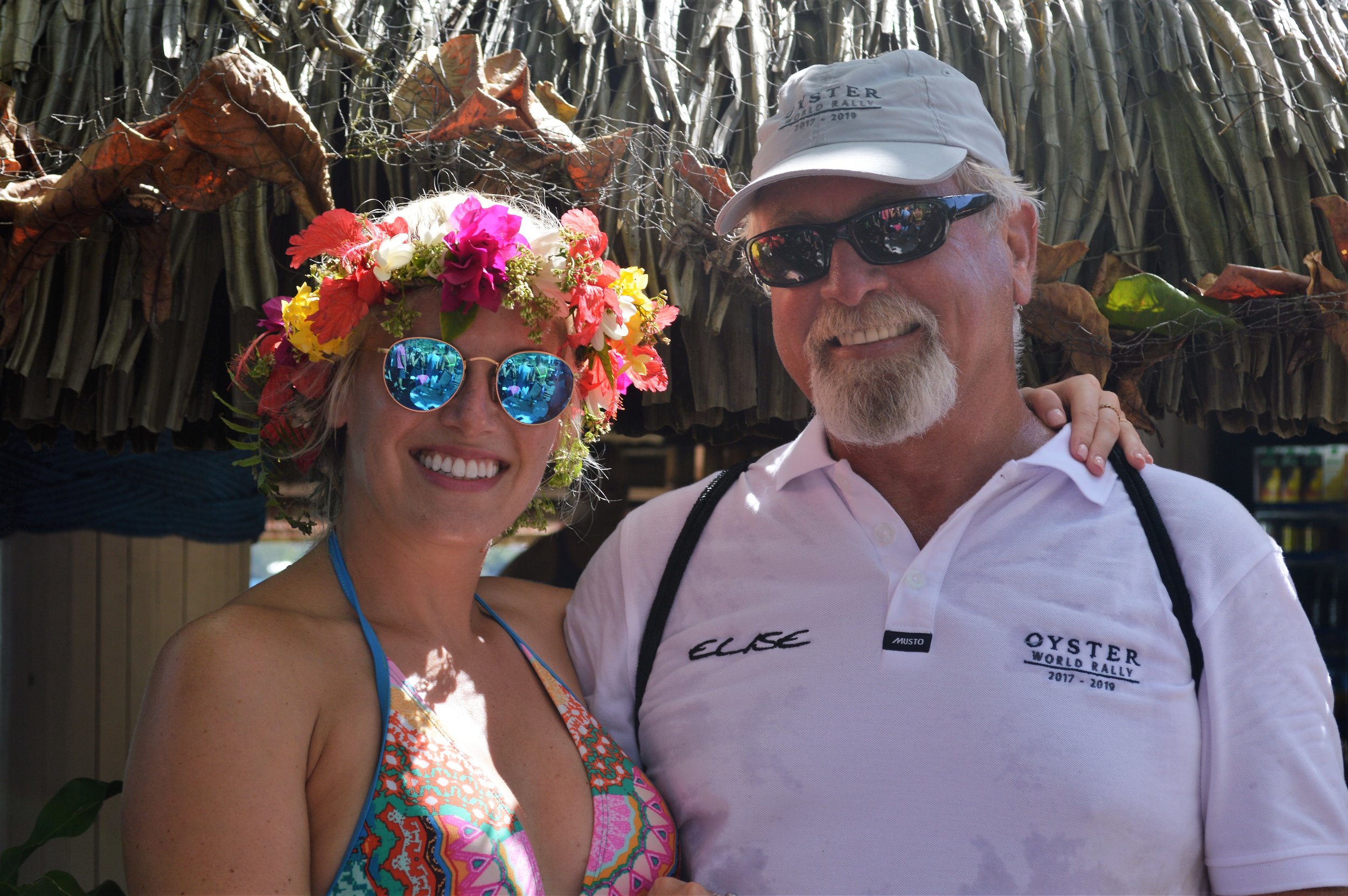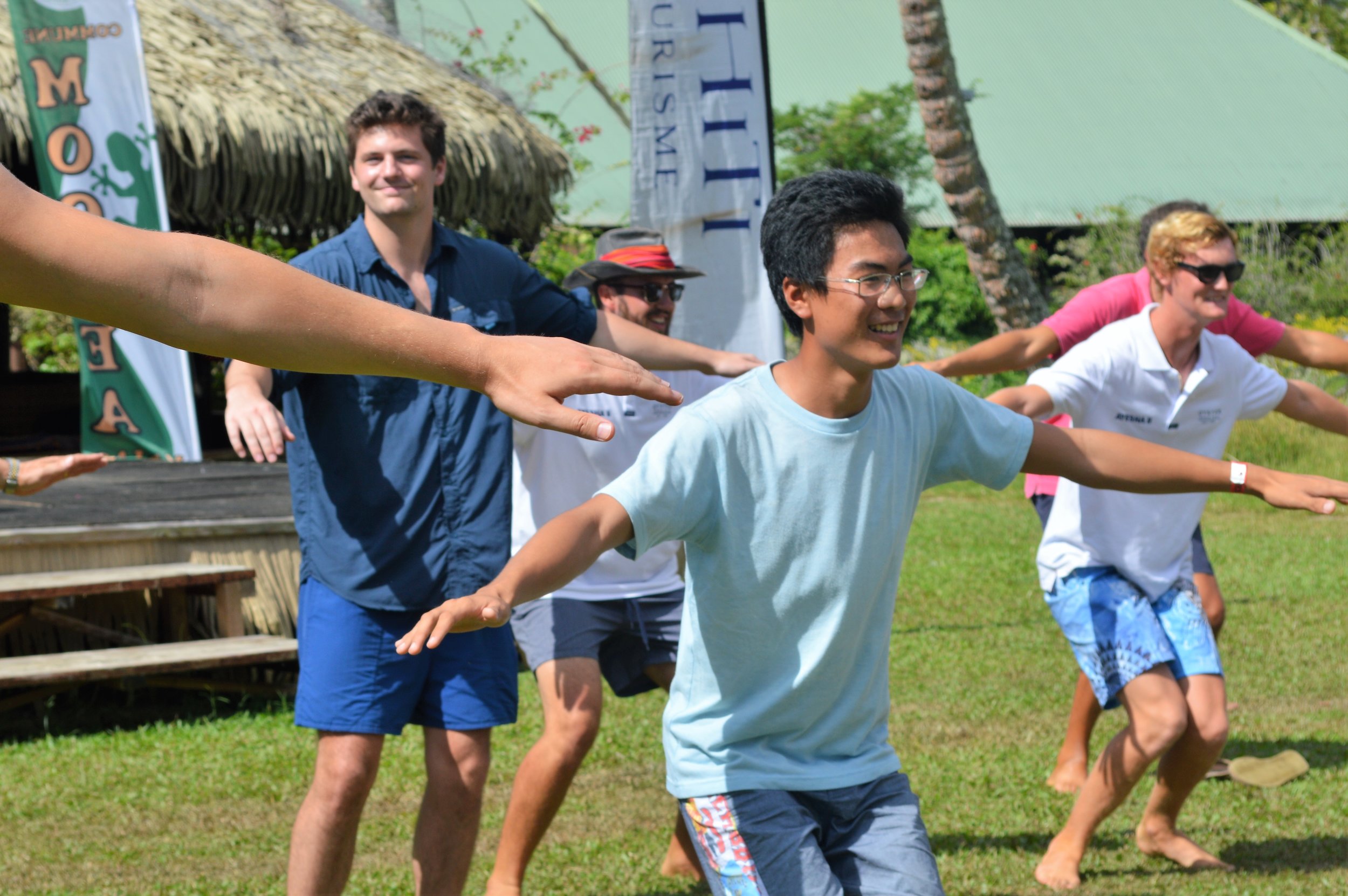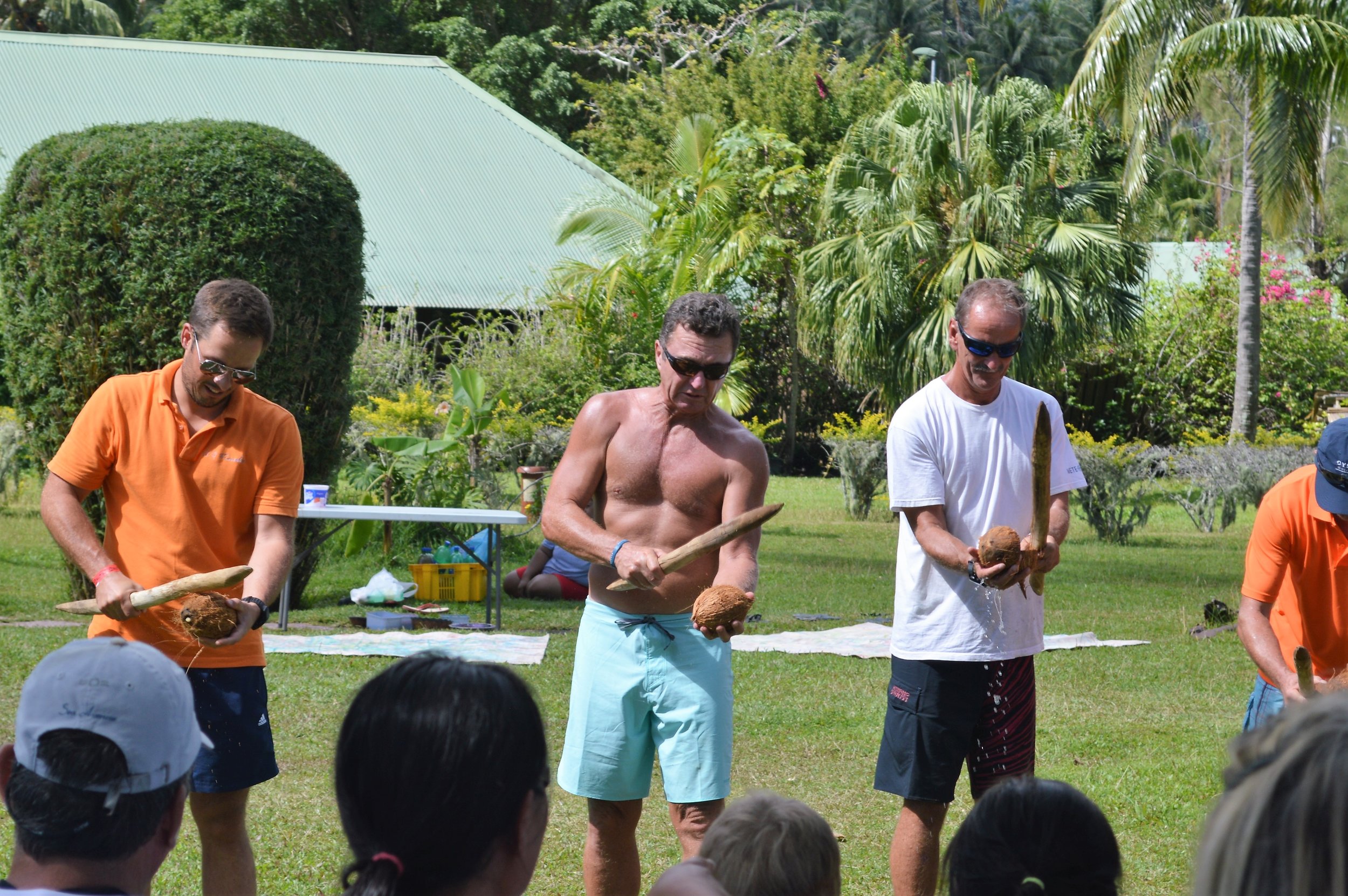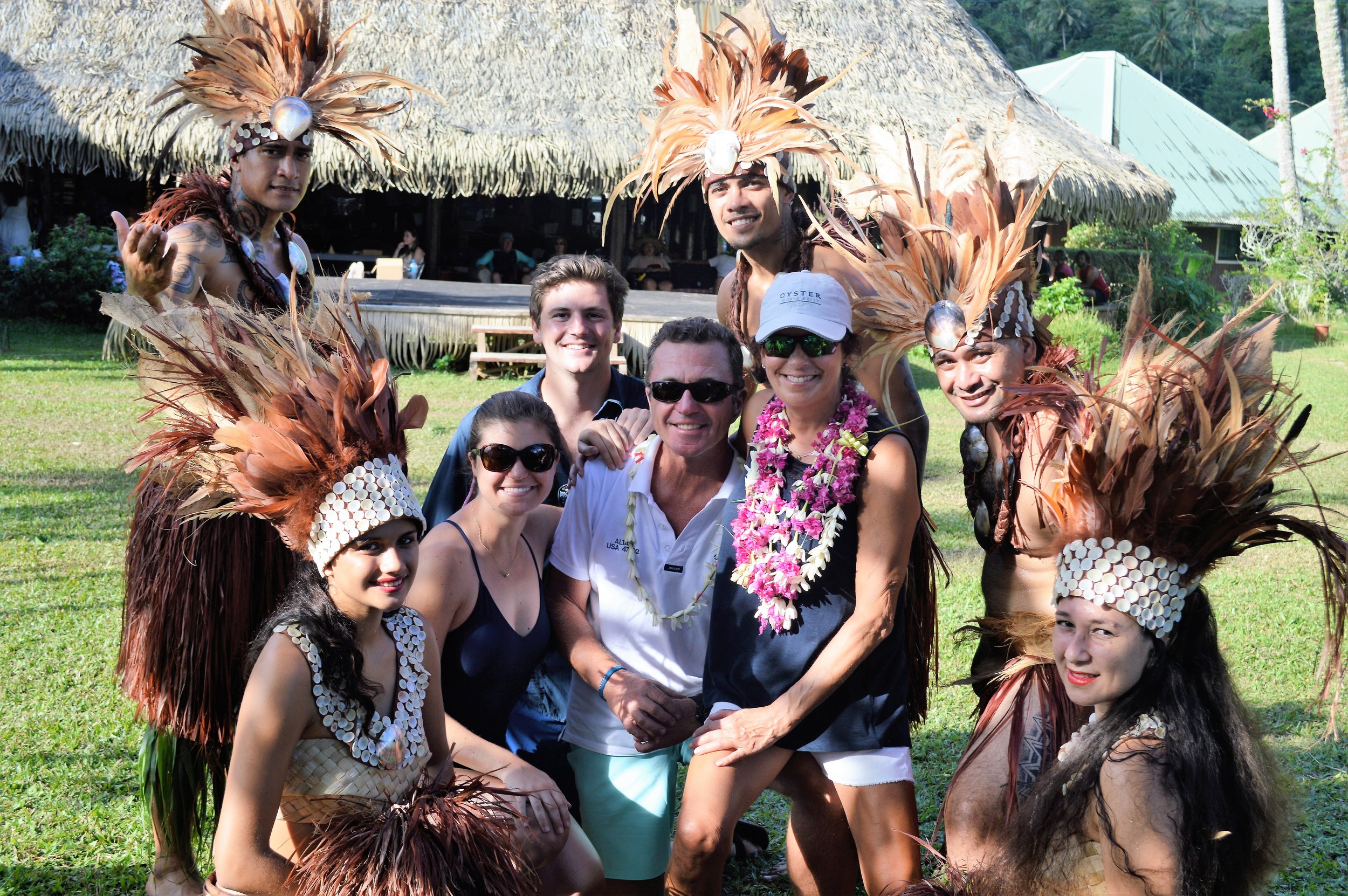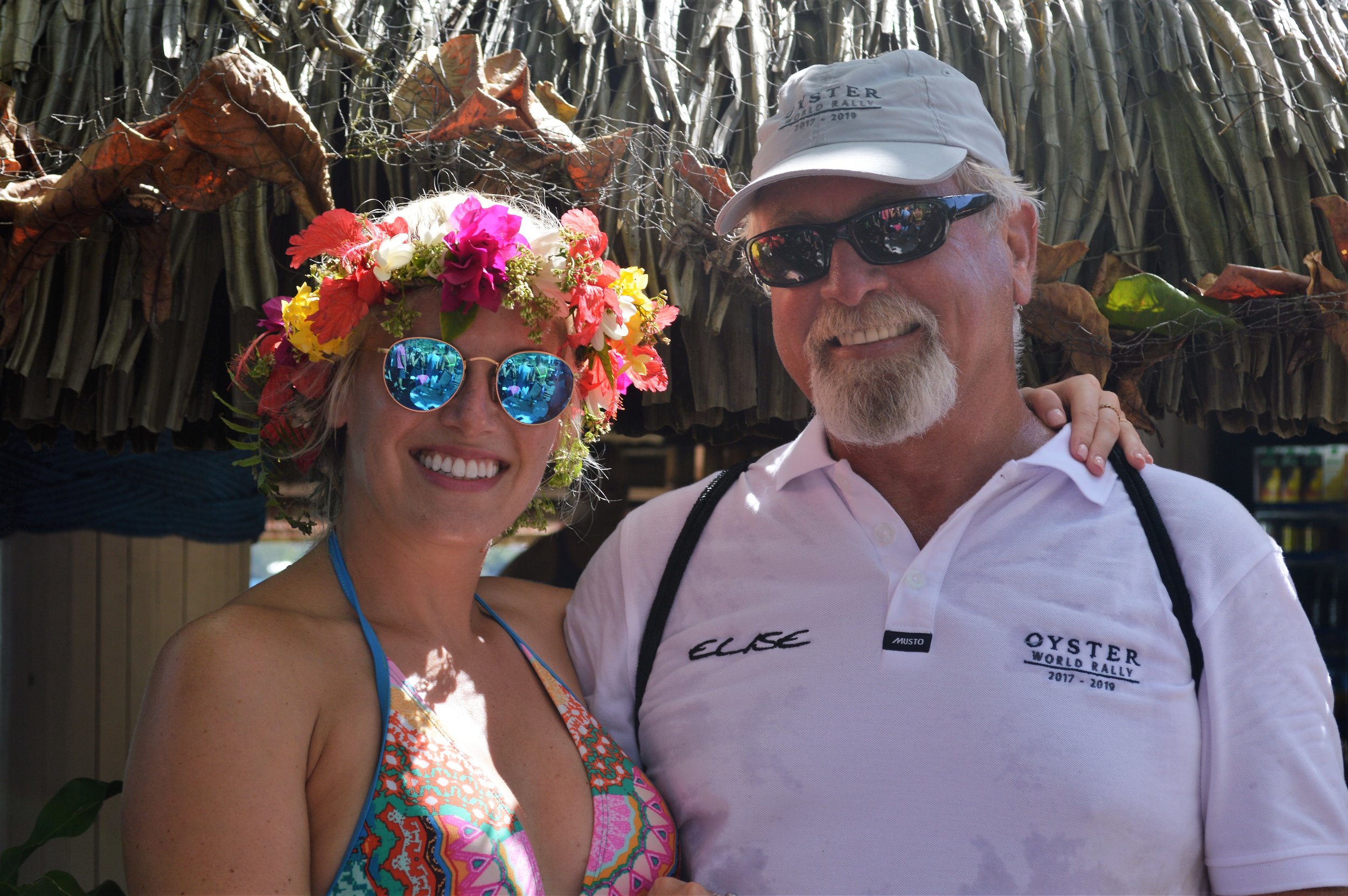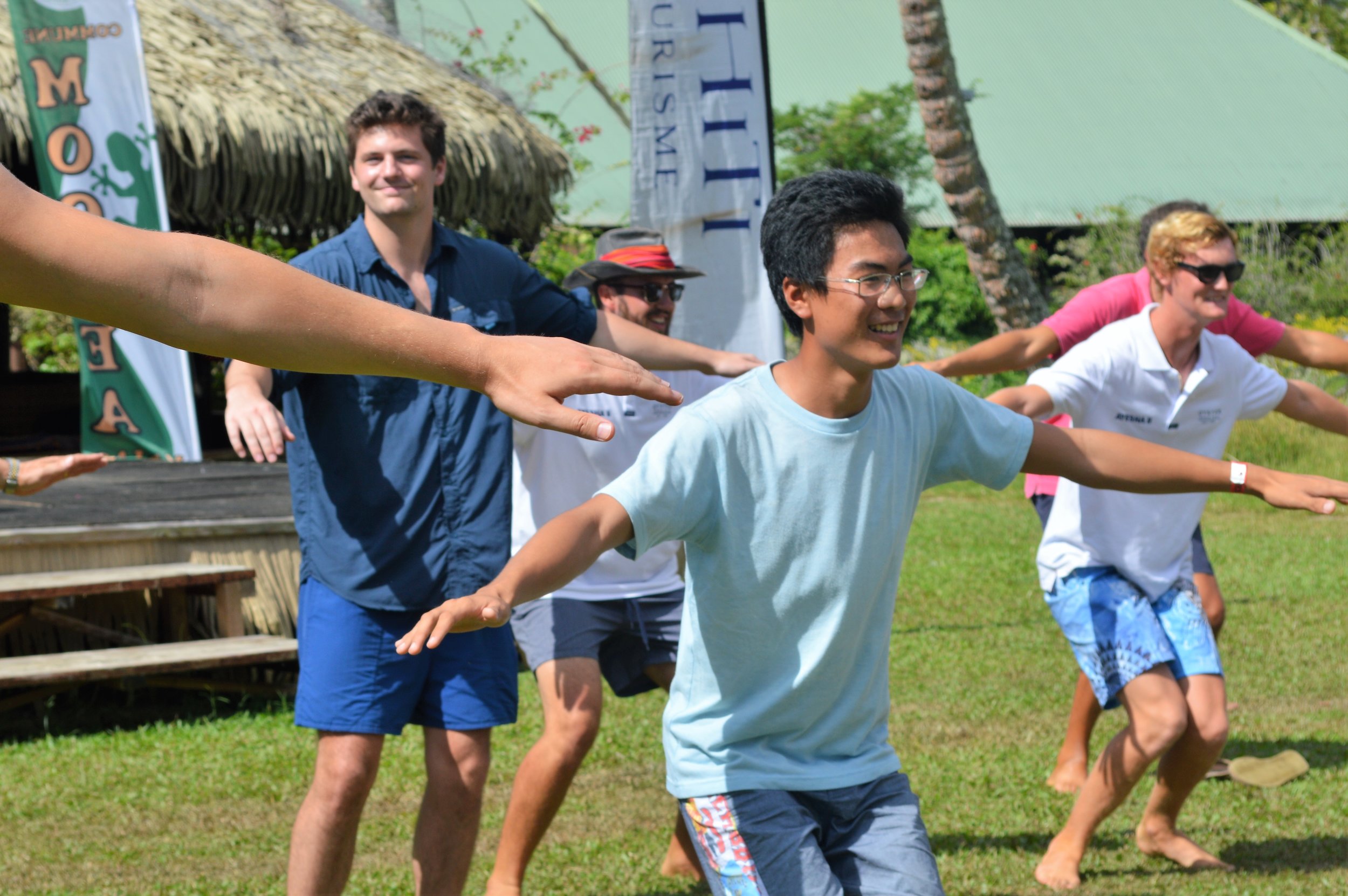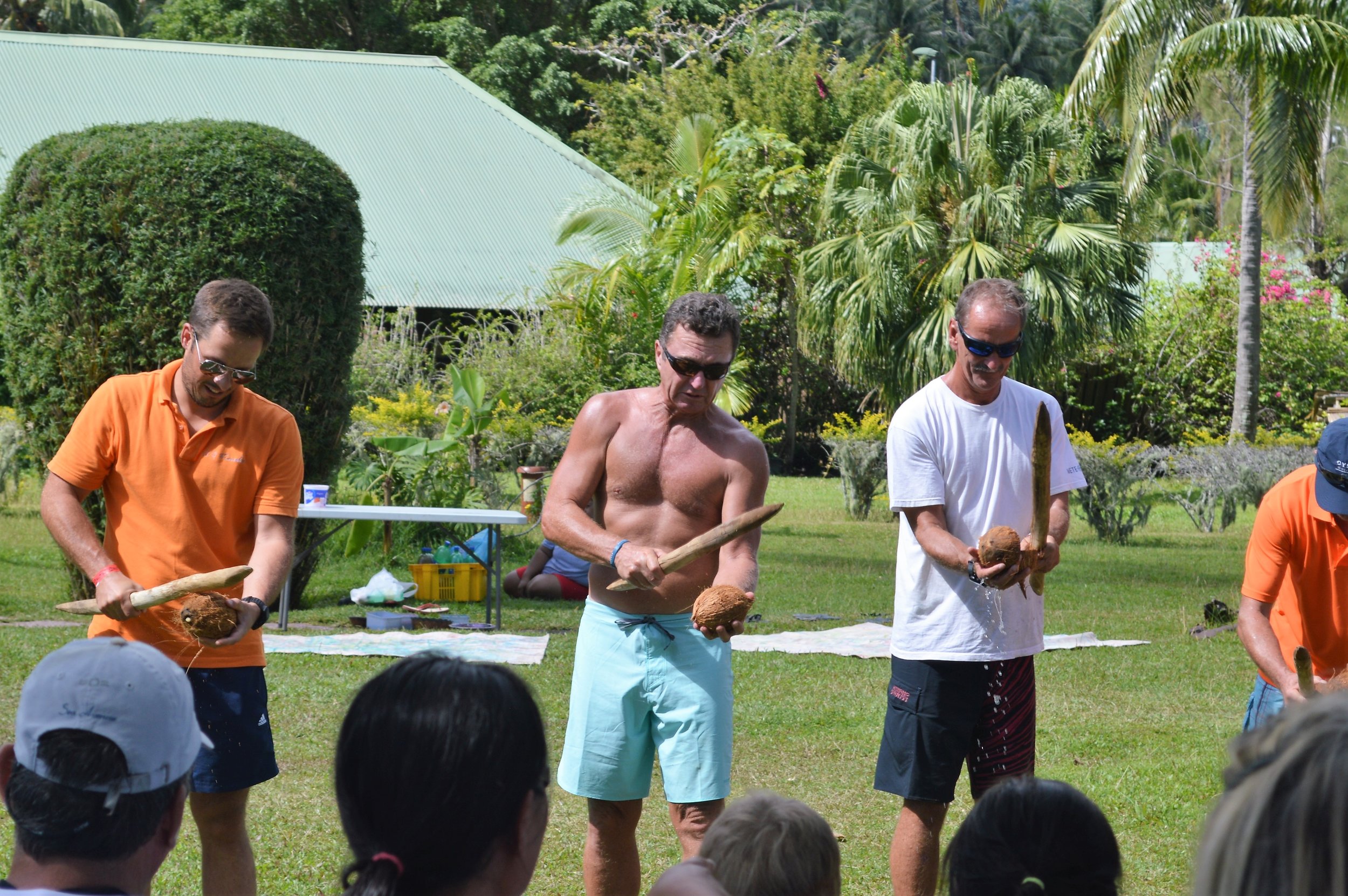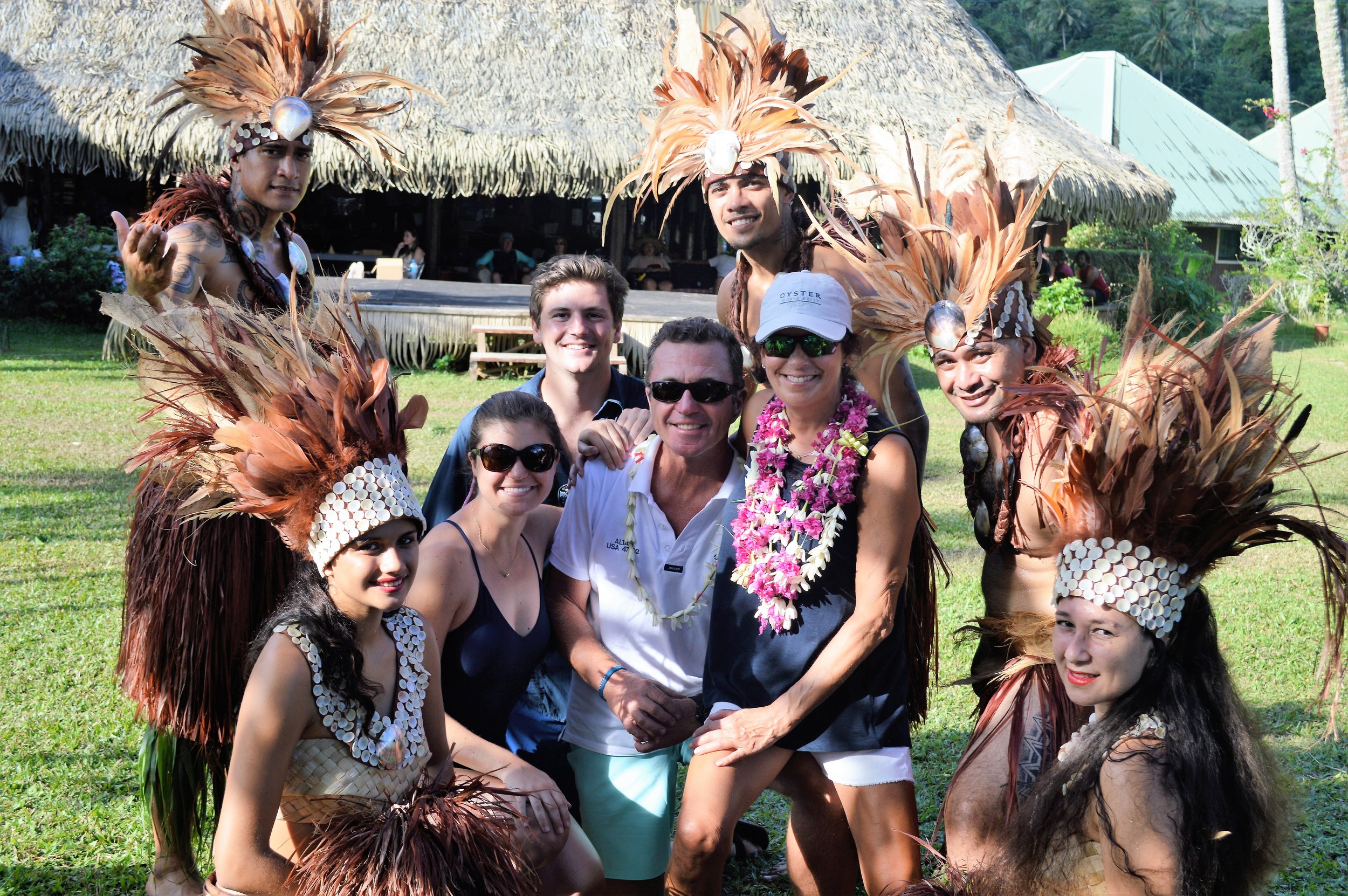 So now we are back in Tahiti, finishing repairs. Laura & Matt flew out last night. Yes, I sobbed. As we were leaving Moorea with them a group of dolphins accompanied us as if to say good bye to L & M.
Captain Cook, (1728-1779) a British explorer, navigator and captain in the Royal Navy, is very big down here, with a bay and a light house named after him, not to mention the Cook Islands. So before we move on to the rest of the Society Islands and beyond, we decided it would be good luck to have our own Captain Cook on board. He arrives tonight!